Of note bans & parallel currencies: experts call coupons at toll booths 'stupid'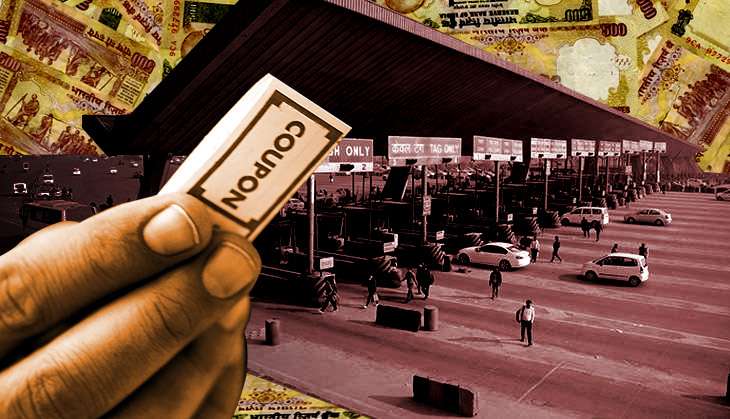 No matter which way you look at it, it is a measure of the lack of planning behind the demonetisation move that the union government is being forced to review its decisions every second day.
One such decision was to stop toll collection at toll plazas across the country on 9 November. The decision has gone through multiple reviews and the latest in the series is the fallback measure of the printing of currency coupons by the Ministry of Road Transport & Highways.
Toll exemption was not an original decision and was taken only after chaos started building up at toll plazas in the absence of adequate change. The first round of exemption was only till 11 November, which was later extended in four rounds to 14, 18 and 24 November and finally to 2 December.
Also read - Why demonetisation isn't the only 'new normal' created by Modi govt
This exemption, of course, could not continue forever since government was losing out on crores in revenue every day. So, it was finally done away with.
However, persistence of the cash crunch across the country has guaranteed problems at the toll plazas.
'Will eclairs be next currency?'
To tide over a possible crisis, the ministry has proposed introduction of coupons of denominations ranging from Rs 5 to Rs 100 that will serve as currency for toll on national highways. They will also be used as change to be returned to motorists after toll deduction.
The move sounds quite baffling as it falls just short of allowing many government departments to issue their own alternative currency. Thankfully, these coupons are not bank notes and therefore do not challenge the RBI's sole right to print them.
However, the concept is problematic on several fronts. Twitter, of course, is full of reactions aimed at exposing this as a laughable exercise. Several users slammed the move.
Congratulations. India just decided to create a new currency for highways. https://t.co/3zkQmIJyh9

— Ankur Bhardwaj (@Bhayankur) December 1, 2016
Hey! A NEW currency! Awesome! I'm sure these are completely impossible to counterfeit! *Facepalm* https://t.co/apczxGWdPI

— VISHAL DADLANI (@VishalDadlani) December 1, 2016
Govt to print coupons of Rs 5, 10, 50, 100 which can be received / used at Toll. Better, through RBI Notification, make Eclairs Legal Tender

— Joy (@Joydas) December 1, 2016
@Joydas Monoply has lot of cash reserve. Govt can borrow those notes too.

— Man Aman Chhina (@manaman_chhina) December 1, 2016
Remember when such "coupons" used to be called currency notes? https://t.co/3D8pRY7GCf

— Prem Panicker (@prempanicker) December 1, 2016
a parallel currency now. What a daft, clusterfuck of a policy demonetization has been.https://t.co/31OYnaOgPu

— Nikhil Pahwa (@nixxin) December 1, 2016
Stupid move: Experts
Experts, too, are apprehensive about the proposal. Well-known economist and former chief economic advisor Ashok Desai told Catch the government is supposed to collect toll with as little inconvenience to highway users as possible but "coupons add unnecessary inconvenience, and are reprehensible".
Desai said if toll collectors would want to make money dishonestly, all they will have to do is ask motorists to pay them some lesser amount in cash instead of a coupon worth Rs 100.
"The government's intention may have something to say for it, but the means it has found are plain stupid", Desai asserted, adding, "as long as there is a single controlling authority for two or more currencies, it is all right". He dubbed this an "idiotic" idea.
Professor Arun Kumar, former professor at Jawaharlal Nehru University and well-known expert on the concept of black economy, said that in a country where the Telgi scam showed that even stamp papers worth thousands of crores could be counterfeited, this move amounts to calling for a scam. He explained that by doing this the government was creating a 'near-money form' and its long-term impact will be that people's faith in official currency will come down.
Kumar suggested that the government should have continued with the toll exemptions till adequate cash reserves came back and should have factored it in as a cost of implementing its demonetisation policy.
According to latest reports, the ministry is yet to begin the use of these coupons. It will be interesting to watch how the plan unfolds.
Edited by Aleesha Matharu
More in Catch - Demonetisation: Toll collection on national highways to resume from midnight
Demonetisation death toll: 82 people & counting as note ban takes tragic turn