#OddEven to return on public demand; two-wheelers still exempt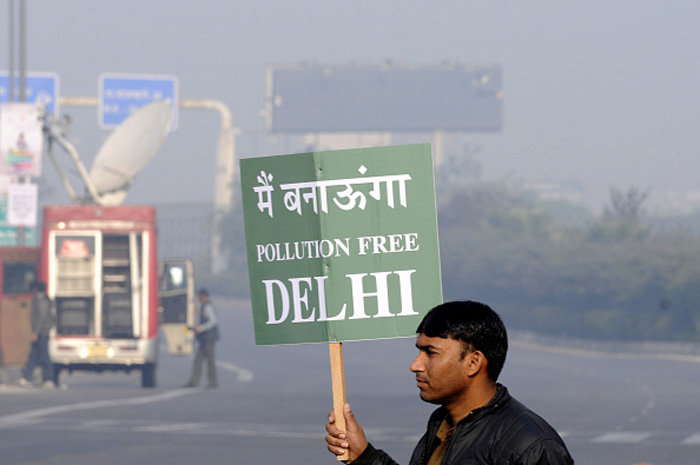 The return
Delhi CM Arvind Kejriwal announced that the Odd-Even scheme will return from April 15-30
81% of people surveyed in the capital expressed a wish for it to be brought back
The details
The govt is thinking of making Odd-Even a permanent feature, for 15 days every month
Two-wheelers will continue to be exempted, since the govt feels 40 lakh extra commuters will put pressure on public transport
More in the story
How will the April weather impact the scheme and pollution levels?
Is there a plan to augment public transport further?
Some people cheered, some were dismayed, and the rest probably set about making plans to buy a second vehicle for their households.
On Thursday, 11 February, Delhi Chief Minister Arvind Kejriwal announced that the next phase of the Odd-Even plan would be implemented from 15-30 April.
However, unlike the first two weeks of January, this may not be a temporary or trial measure. This time, the government is thinking about making it a permanent fixture for 15 days every month, starting April.
Delhi CM Kejriwal announced that the next phase of Odd-Even would be implemented from 15-30 April
Back by public demand
The decision is based on public feedback, an overwhelming majority of which was in favour of bringing the scheme back.
Also read: Odd-Even to be back in Delhi from 15 April to 30 April
A state government survey found that 81% of Delhiites wanted it back, with the sample including 276 mohalla sabhas.
Anumita Roy Chowdhury, executive director, research and advocacy with the Centre for Science and Environment, said: "Even though the last experiment was limited in scope and ambit, we have seen the benefits."
On paper, there is very little difference between the scheme implemented in January and the one that will be put in place in April. The period, 15 days, will remain the same.
Two-wheelers not under the ambit
There has been no announcement yet on what will be the change in exemptions, although Kejriwal did rule out two-wheelers being brought under the Odd-Even ambit.
Also read: Odd-Even 2.0: Five suggestions Arvind Kejriwal needs to seriously consider
Around 40 lakh people use two-wheelers in Delhi, and a bulk shift would put tremendous pressure on the public transport system. In order to avoid that, the government has decided against bringing two-wheelers under the scheme for now.
Kejriwal said deliberations were still on about who else should or should not be exempted.
Kejriwal said two-wheelers could not be brought under the rule since around 40 lakh people used them
But Dr B Sengupta, former member secretary of the Central Pollution Control Board, didn't agree with the government's decision. "Overall, I believe it is a good idea to bring the scheme back, as it would help reduce traffic. But while women should continue to be exempted, I believe two-wheelers should not be exempted," he said.
Need for better public transport
Kejriwal reiterated the importance of building an efficient public transport system. He announced that 1,000 more buses would be added to the DTC fleet by May, while around 3,000 buses would be added by the end of the year.
At the launch of the original scheme on 1 January, around 3,000 buses were added to the existing 6,000. So, in effect, by May, the number of buses will rise to around 10,000.
DTC will add 1,000 more buses by May, which will bring the total number up to 10,000
To ease the consequent congestion, Kejriwal said the government was planning to build elevated corridors, which would have separate lanes for buses and other vehicles.
"The major advantage (of bringing back the scheme) will be a decrease in traffic congestion, which will mean easier movement for buses, making them more efficient. This would eventually reduce the reliance on private transport, and therefore reduce pollution," said Roy Chowdhury.
Also read: Make-or-break Monday: 4 Jan the real test for Kejriwal's #OddEven policy
However, she emphasised that this scheme can be, at best, a temporary solution, and a permanent solution needed to be found.
Will pollution levels decrease?
During the 15-day trial in January, pollution levels were quite erratic.
In fact, Delhi Transport Minister Gopal Rai had hailed the scheme as a success, when PM2.5 (Delhi's major pollutant) levels dropped from 600 micrograms per cubic metre to 400 ug/m3.
But, as per the Delhi Pollution Control Committee, on the first day of implementation, PM2.5 fell in the first half of the day, but increased in the evening.
Data did show that vehicular pollution was a substantial contributor to PM2.5 levels, since the levels increased after 8pm, when the restrictions on the movement of vehicles were lifted.
The System of Air Quality and Weather Forecasting and Research (SAFAR), based at the Indian Institute of Tropical Meteorology in Pune, is working on a paper that assesses the pollution levels and other factors during the 15-day trial.
Dr Gufran Beig, project director at SAFAR, said: "As per our calculations, 38% of PM2.5 emissions come from vehicles, while for PM10, the figure is 24%."
Also read: What Bogota, Mexico City, Beijing's experiences tell us about Delhi's even-odd policy
Sengupta, though, summed it up by saying that the scheme wouldn't make much of a difference to pollution levels.
"With respect to pollution levels, I don't believe there would be much difference, as cars contribute only 15% of the pollution," he said.
Weather a key factor
One thing that may cause much more consternation to Delhiites this time around is the ambient weather.
April may not be the cruellest month in terms of temperatures, but the dry hot Delhi wind, the loo, could obviously make people wish for the comforts of their own air-conditioned cars.
However, experts say the weather would not only help in ascertaining the benefits of the scheme, but a combination of the warmer weather and the expected drop in pollution could benefit Delhiites.
"The weather is a major factor. If the weather is stable, it becomes easier to detect pollution levels and gauge factors like vehicular pollution. So, implementing the scheme during peak summer would certainly be a revelation," Beig said.
Roy Chowdury added: "Even with harsh weather in January, the scheme helped in avoiding peak pollution levels. From a public health perspective, the scheme will reduce exposure to toxic fumes. Less vehicles mean less carcinogens, less toxic gases that would otherwise be blown right on to our faces."
How the public reacted
Public reaction on social media was largely positive. Kejriwal announced scheme through a live Facebook stream, where many commented they were more than willing to have it back. There were very few voices of dissent.
Welcome the return of #oddeven from @ArvindKejriwal but wish two wheelers were not exempt nor women

- barkha dutt (@BDUTT) February 11, 2016
#Delhi#OddEven rule likely to return after Board exams so that it does not inconvenience children or their parentshttps://t.co/WNBoPFCHFB

- Dibang (@dibang) February 9, 2016
Mr. @ArvindKejriwal, I've never been a big fan of the #oddeven, but kindly do not exempt 2 wheelers and ladies this time around.

- Keshav Sharma (@sharmakeshav7) February 11, 2016
@dkottadiel @WRICitiesIndia Seen a lot of progressive developments in the Supreme Court recently #oddeven #Section377 and now cycling!

- Anjana Agarwal (@anjanaa309) February 5, 2016
Super glad!! #oddeven https://t.co/kLqh26QPSf

- anu sehgal (@anusehgal) February 11, 2016
Also read: What PM2.5 pollution really means. And what it's doing to you and your kids