#OddEven is a great move. We need more extreme measures: KT Ravindran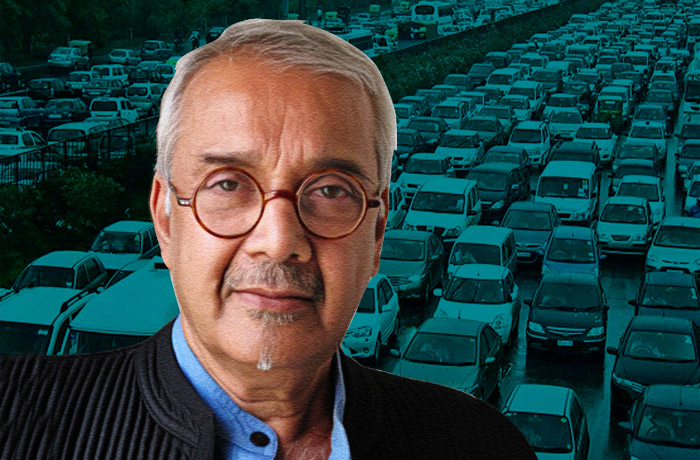 The policy
From 1 Jan, only odd-numbered cars will be allowed to run in Delhi on odd-numbered dates, and even on even dates
The Delhi government is trying out this policy for 15 days to see if it reduces pollution
The vote of confidence
Former head of School of Planning and Architecture KT Ravindran will be among those affected by the policy
However, he thinks it\'s a good move - an extreme measure that Delhi needs
More in the story
What, according to Ravindran, is the only permanent solution to Delhi\'s pollution woes?
How giving pedestrians a proper place to walk can build a public transport culture in Delhi
Delhi is about to witness one of the strongest measures ever implemented to curb pollution in the city. Starting 1 January 2016, the odd-even policy, which aims to halve the number of cars on the streets for a 15-day trial period, will be implemented.
The Centre has already called it a "headline-grabbing" move. But what do environmentalists and city planners feel about CM Arvind Kejriwal's decision? Will it actually curb pollution in the short term? If it doesn't work, what options does the city have to clean the hazardous air we breathe?
Also read - #Odd-even alone is useless. We need better urban redesign: Dunu Roy
Catch put some of these questions to KT Ravindran, architect and former head (urban design) of the School of Planning and Architecture and the Delhi Urban Arts Council.
Do you think odd-even will work to curb pollution in Delhi?
I think it's a very good move. I'm in full support of initiating some kind of extreme measure. It will certainly reduce pollution.
There are some problems with it, such as the exemptions. Motorcycles, which are a huge contributor to particulate matter, are exempt. Minus these drawbacks, it would largely work.
Importantly, it would create the environment for more long-term measures. So it's a good start.
I'm in full support of initiating some kind of extreme measure. It will certainly reduce pollution
You've said earlier that Delhi is a badly-designed city, and if we don't fix that first, it's bound to be ill-suited to such a measure.
Yes. Delhi is a radial city. Its road configurations are very dense, which is not amenable to public transport like Mumbai or Calcutta, which are linear cities and thus easier to connect.
In a radial city, it is quite difficult to introduce a comprehensive public transport system, unless the networks are completely linked.
With vehicles moving in different directions, there needs to be inter-nodal connectivity. It's difficult to get that with the Metro alone. You'll need buses, autos and other modes of transport to ensure complete point-to-point connectivity across the city.
So how should one go about connecting a radial city like Delhi?
The only thing that can be done is to introduce intra-radial connectivity through a secondary system of transport, which is either buses or phat-patis, or rickshaws or motorised rickshaws or share-taxis. There should be a planned system connecting different nodes of the city. This has to be separately planned; only then can you have long-term reliance on public transport.
For instance, share-taxis or share-autos which go in fixed directions, such as in Calcutta, are a good solution. In Tehran, the capital of Iran, you have orange-coloured taxis which can be waved down. If the driver is going in the direction you want, you can hop on. There are mostly north-south directional taxis. Also, the cost is cheap, which motivates people to take it. It's a good substitute for buses. The only thing is that you are riding with complete strangers.
Also read - Want odd-even policy to succeed, Mr Kejriwal? Learn from the BRT fiasco
What are some other things that can be done to curb pollution in Delhi?
The one thing we hugely lack is pedestrian connectivity, which is the most important part. There is no place to walk; even in central Delhi, except on Rajpath and Janpath, where you have granite floors.
If it were possible, I would like to walk one or two kilometres to get to a Metro station, but I can't walk because there aren't well-lit streets, there are potholes I could fall into or the stench of urine on sidewalks. There is no way you can negotiate the city. How do you expect people to walk and curb pollution?
In New York, you can easily walk through the city, no matter how many kilometres you have to go. And so, lots of people do. In Delhi, even walking for a kilometre is a nightmare. There are garbage dumps, illegal parking, hordes of hawkers and urinals which obstruct our walking path. If there is no pedestrian connectivity, no public transport system can function, no matter how efficient you make it.
Without pedestrian connectivity, no public transport system can function, no matter how efficient
The mood of the city would change if you can walk in the city. People would look each other in the eye. Delhi would become a more friendly city.
There are a whole bunch of soft moves one can make to improve the public transportation in the city.
What are some good alternative measures to odd-even?
The primary solution is to reduce the number of automobiles. That is the only solution. All these are interim measures. You can't keep on increasing the vehicle population and then keep on restricting them. Instead, increasing the cost of buying cars is one way of restricting numbers; exponentially taxing every second or third car being bought by the same individual is another.
How are you and your family going to manage?
All I know is, from 1 January, I'm going to be in trouble. My wife and I are close to 70, so it's hard for us at this age to hop on and off crowded buses and suffocating Metros. And we keep only one car.
I am going to have a serious problem in going across the river to Noida, where I work. I don't have any direct connectivity from where I live.
The primary solution is to reduce the number of automobiles. All these are interim measures
It's not just the senior citizens who will find this hard. I know of young girls who have been molested while using public transport. They would never want to climb on a bus again. With double the crowd, how can they trust the government to make it safer?
Lastly, Kejriwal has said that odd-even will only be a success if the people of Delhi willingly cooperate and make it their movement. Do you think people will cooperate?
Everybody wants pollution to be reduced. But the people of Delhi are a strange lot, so much so that they haven't decided which side of the road to drive on. All they know is they can get away with it as Delhi is known to be a city with no sense of conviviality.
One of the reasons for that is that Delhi has poor pedestrian connectivity. If it encouraged people to walk, it would create more human contact, more eye contact and create more friendliness. That would surely make people cooperate better.
More in Catch - BS Bassi unaware of odd-even formula dry run on 30 December
Congress calls Delhi odd-even formula 'stupid', says it will cause chaos
Odd-even formula: Delhi CM Arvind Kejriwal not exempt, but find out who is