#Odd-even is necessary. Delhites just can't cop out: Anumita Roy Chowdhury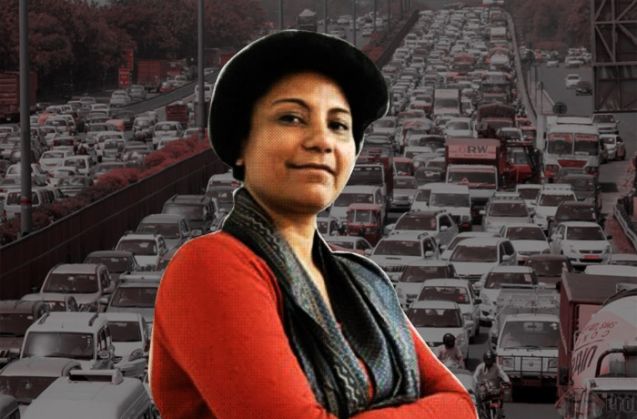 Delhi is about to witness one of the strongest measures ever implemented to curb pollution in the city. Starting 1 January, 2016, the odd-even policy, which aims to halve the number of cars on the streets for a 15-day trial period, will be implemented.
The Centre has already called it a "headline-grabbing" move. But what do environmentalists and city planners feel about CM Arvind Kejriwal's decision? Will it actually curb pollution in the short term? If it doesn't work, what options does the city have to clean the hazardous air we breathe?
Catch spoke to Anumita Roy Chowdhury, excecutive director, research and advocacy with the Centre for Science and Environment. She feels that the Odd Even formula is a much needed emergency action. The pilot, she feels, will be an opportunity to put more efficient public transport systems in place that is the first step to long term change.
Edited excerpts:
Do you think the Odd Even formula is what Delhi needs?
Absolutely. Delhi needs emergency action to control the very rapid build up of smog that happens during the winter. For the first time, a pilot (project) is looking at an emergency response. This is only the beginning. Its important that this pilot is allowed to be implemented properly.
The way we look at it is that this is an opportunity. During the coming fortnight when the number of cars will be halved on the road, this will free up a lot of space for the city's public transport to become more efficient. That will also lead to a more efficient utilisation of the existing fleet, unlike today where bus operations have become so inefficient today just because of road congestion.
Studies show that buses don't even get to complete the scheduled trips. So when you're freeing up space, all modes of public transport will function better - be it autos, taxis or buses. The overall system efficiency to carry more people will improve dramatically.
Also read - #OddEven goes live: Delhi, 1 January 2016, at a glance
So the systems that will be created for the fortnight will be sustained even after the pilot.
Isn't 15 days too little to bring about systemic changes in our public transport and behaviour?
15 days is only meant for Odd and Even. After 15 days they will create more restrained measures like taxation, parking, to restrain the number of personal vehicles on the road. But during the 15 days whatever systems they are going to develop to intensify the metro services, bus services, organised auto, institutionalise car pooling, those systems should be sustained even after the odd and even. So this is an opportunity for the foundations to be laid.
There are some recent studies to show that cars only contribute to 10% of the city's pollution. Is this true?
These are odd numbers and not the way to understand pollution. The way to understand it is the effect has on your entire health. Therefore the toxicity of the pollution will depend on where the pollution comes from.
Various people will tell you that the main cause of pollution is dust, but dust isn't going to cause cancer. But a diesel emission will cause lung cancer. So it isn't just a question of quantum. It's a question of toxicity.
Globally, mega studies are starting to show that what is emitted from coal-based power plants and diesel vehicles are much more toxic and cause heart disease. But there is no such correlation with soil dust. At the end of the day you have to talk in terms of public health. Vehicles are also responsible for your exposure. You are constantly travelling on roads, you live on road sides, so you inhale vehicular fumes more.
Also read - #OddEven is a great move. We need even more extreme measures: planning guru KT Ravindran
Also these kind of number games come up only when vehicles are targeted. You never hear these when you talk about trash burning or power plants getting closed. Today if you make a check list of pollution sources you'll find that a lot of measures have been taken on other polluting emissions than on cars. For the first time a pilot is targeting cars.
Do you think long term solutions should include finding ways to reduce the number of cars on the road?
Yes, those are long-term solutions. People should not confuse odd and even with those measures. Odd and Even is an emergency action not to be implemented on 365 days a year. On the other days you need measures like a parking restraint policy.
You cannot give hidden subsidy by giving free parking, whether it is commercial or residential areas. You need to introduce an annual road tax on cars just as it is levied on buses. You have to make a car user and owner pay the right cost of owning and using a car.
Also read - #Odd-even alone is useless. We need better urban redesign: Dunu Roy
What are some immediate short term alternatives to Odd and Even?
What else can you do as an emergency measure to bring down pollution more immediately? This is what Milan, Beijing and Paris are doing. But, alongside, public transportation will have to be scaled up. More buses will have to be brought in and be made to ply more efficiently. Metro will have to be better connected. Last-mile connectivity will have to be bettered by developing walking and cycling infrastructure. You need to implement a series of actions and decisions immediately.
Chief Minister Arvind Kejriwal says that the success of the pilot rests entirely on the willingness of Delhiites to cooperate. Do you think they will, especially the affluent?
It's true to some extent. But the people of Delhi will have to accept the decision. The same affluent society, for over a year, have been beating its chest about how unlivable Delhi has become and how they want to run away from the city because their kids cannot breathe. Many have claimed that they are compelled to consider living outside the country because of unbearable pollution or that they need air purifiers and masks to live here. We've heard all this.
Now when they have to own up and claim responsibility, they cannot be hypocrites. They have to really cooperate. The tail pipes of their cars are contributing hugely to the dangerous toxic pollution and they cannot look away from what are responsible for emitting. They cannot cop out now.
More in Catch - BS Bassi unaware of odd-even formula dry run on 30 December
Congress calls Delhi odd-even formula 'stupid', says it will cause chaos
Odd-even formula: Delhi CM Arvind Kejriwal not exempt, but find out who is