Not rape or misogyny, the real threat to Indian women is a handshake
In May this year, Uttar Pradesh was given Lonely Planet's 'Best Cultural Destination in India' award. However, going by UP tourism's latest guidelines, this 'culture' needs to enter the 21st century.
While Twitter is still roasting Culture and Tourism minister Mahesh Sharma for his 'no skirts' advisory, the UP government went one better (or worse), advising western tourists not to shake hands with locals...especially those of the opposite sex.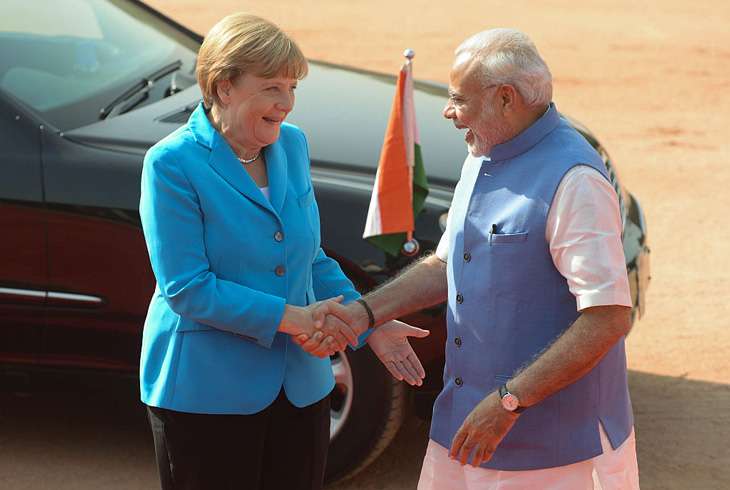 PM Modi seen here flouting UP tourism's guidelines (Photo: Pankaj Nangia/India Today Group/Getty Images)
Instead, visitors to the state are advised to only greet locals with 'a smile' or, better still, the more sanskari 'namaste'. While the bizarre diktat has since been deleted from UP tourism's list of dos and don'ts, UP's tourism minister Om Prakash Singh has justified the logic.
Speaking to Asian Age, Singh said the advice "is a suggestion to avoid any trouble for tourists". If a tourist's safety in India's 'Best Cultural Destination' is threatened by a mere handshake however, maybe UP is the problem, not visiting tourists.

Also read - 'Don't wear skirts' is not Mahesh Sharma's first controversial remark. Here are 5 others

Shaken not stirred
Evidently though, Singh's suggestion has more to do with protecting the fragile Indian woman's modesty rather than tourists, as he goes on to say that "many women are not comfortable with handshakes".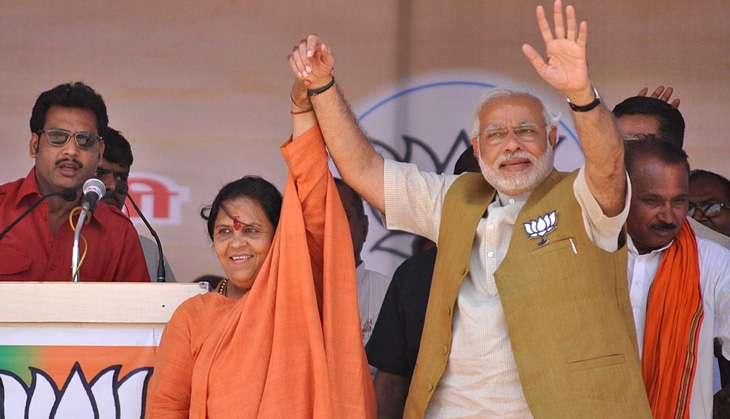 PM Modi seen here making UP MP Uma Bharti visibly uncomfortable by holding her hand (Photo: Manoj Yadav/Hindustan Times via Getty Images)
But the fact is that this diktat protects no one. Is there some epidemic of crime we don't know about, where UP women are being terrorised by handshakes? All these backward "suggestions" do is make India seem like it is still mired in the dark ages while ignoring real law and order threats that tourists face.

Also read - Gul Panag on #ShortSkirtBan: State can't decide what women wear; speak up, Kirron Kher

In attempting to speak on behalf of Indian women, all Singh is really doing is ensuring that Indian women stay locked away and oppressed. To Singh, the way to protect women isn't through empowering them or creating a society in which they needn't be afraid, it's to ensure they are untouched by even the most banal of gestures.
So he must have been horrified when he saw this raunchy display:
However, in trying to 'protect' Indian women, all Singh has managed is to prove that he knows nothing about the actual problems being faced by women in this country. Indian women do face many real dangers, literally from the moment they're conceived to the moment they die - handshakes, one imagines, are at the bottom of the list. If they're on the list at all.
The greater threat to India's women
In fact, tourists are probably the least of Indian women's problems. You know what is a major threat to Indian women though? Indian politicians and their backward mindsets.
Instead of making the country better for Indian women, politicians across party lines have ensured that women in this country are unsafe.
In fact, Singh's own party leader, Mulayam Singh Yadav, is a prime example of this. He once trivialised rape, terming it a "mistake" and saying "boys will be boys".
It's not just UP though, the misogynistic streak among politicians is a pan-India phenomenon. In Madhya Pradesh, the BJP's Babulal Gaur said rape "was sometimes right and sometimes wrong". A Trinamool Congress MP, Tapas Pal, even went as far as threatening to have the family members of his rivals raped.

Also read - Cultured minister: the world according to Mahesh Sharma

And if they aren't endorsing or normalising sexual violence, they're blaming women for it. BJP MLA from Madhya Pradesh, Kailash Vijayvargya, stated that rape would happen if "the limit of morality is crossed by women".
Botsa Satyanarayana, an Andhra Pradesh Congress leader, even went as far as blaming the Nirbhaya incident on the victim. He said that she shouldn't have been out late at night (9:30 PM), and shouldn't have boarded a bus with only a few people on board. Others have blamed violence against women on their choice of clothing.
With all this, Indian women are really up against it. Luckily though, our politicians are saving them from handshakes.