#ChennaiFloods: unlearnt lessons & a disaster told in numbers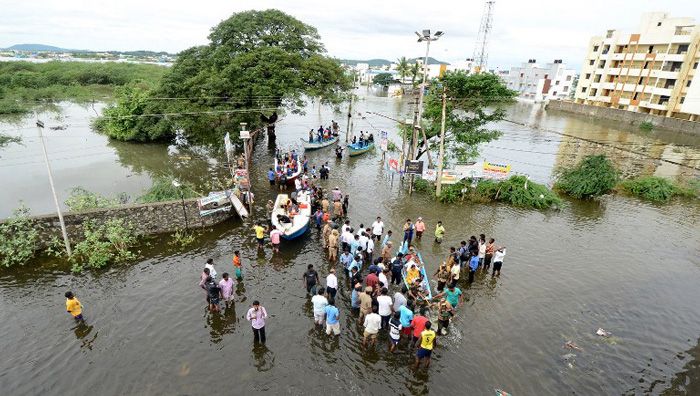 The Chennai floods have taken a heavy toll, leaving about 200 people dead, 400,000 displaced and over 20,000 hectares of cropland under water.
Is this devastation just "nature's fury"? Or is inept urban planning to blame?
LIVE: People tweet out SOS messages as night falls in Chennai
As floods become increasingly frequent in India, unrestrained "development" is being seen as the main culprit.
Here are some numbers to show how sordid the state of affairs is.
Deaths reported across Tamil Nadu so far.
The flood, said to be the state's worst in over 100 years, has shut the Chennai airport, leaving 700 fliers stranded, and forced cancellation of about 50 trains.
Additionally, the flood had displaced 400,000 and destroyed 20,000 hectares of cropland.
The army, air force and the National Disaster Response Force have been deployed to conduct rescue operations.
rupees
Estimated damage due to the floods, according to chief minister J Jayalalithaa.
She has requested the Centre for Rs 2,000 crore for relief operations.
The Centre had so far released Rs 940 crore.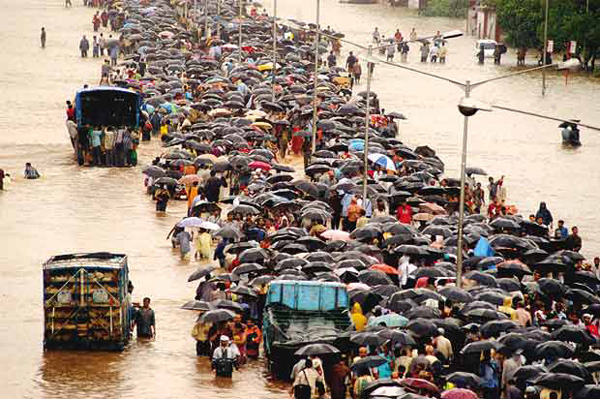 The amount of rainfall the state is expected to receive over the next two days.
The record rainfall is the result of a depression over the Bay of Bengal, 460 km southeast of Chennai that intensified into a cyclone and crossed northern Tamil Nadu on 8 November.
The average number of people killed by floods in India every year.
The annual average damage to public utilities, crop and houses is about Rs 1,807 crore.
This amount is nearly 10 times the Central Water Commission's budget for 2015-16. "Flood control" is one of the primary responsibilities of the CWC.
Every year, floods affect about 36.8 million people in India. This is equivalent to the combined population of Rio de Janeiro, Paris and Buenos Aires.
rupees
Annual central spending on flood control between 1998 and 2011.
Flood control budget rose by over 400% between 2004-05 and 2010-11, from Rs 914 crore to Rs 3,948 crore.
Flood control mechanisms in India - constructing embankments, dams, reservoirs; identifying natural detention basins; improving drainage systems; diverting flood water.
"The government's anti-flood measures have actually boomeranged. Dams and embankments have now become an important cause of floods," says Anil Agarwal, one of the country's foremost environmental activists.
As of 2011, flood control measures have saved an estimated 18 million hectares from damage. On the other hand, the average annual loss stands at 7 million hectares.
Primary reasons why floods have become so frequent in both rural and urban India.
Climate change: Alters weather patterns and causes heavy rainfall.
Urbanisation: This has led to encroachment on flood plains, loss of natural water storage basins, inadequate drainage systems, indiscriminate waste disposal.
In recent years, several south Asian cities such as Dhaka, Rawalpindi, Mumbai, Jamshedpur, Patna and Ahmedabad have been ravaged by floods. One thing common to all these cities is unrestrained construction, and inadequate civic infrastructure. And it's now seen as a major cause of flooding.
Chennai conforms to the pattern. The city has only 855 kms of storm drains as against 2,847 kms of urban roads. According to a study, between 1997 and 2001, some wards of the city lost about 99% of their vegetation to "development".
MORE IN CATCH - #Chennaifloods : A city waiting to be rescued
Flood fury: why Uttarakhand, Assam, J&K & Mumbai will be hit again. And what can be done
#Chennai Floods: "We are holed up and helpless"