Noise pollution is a big problem and we don't even realise it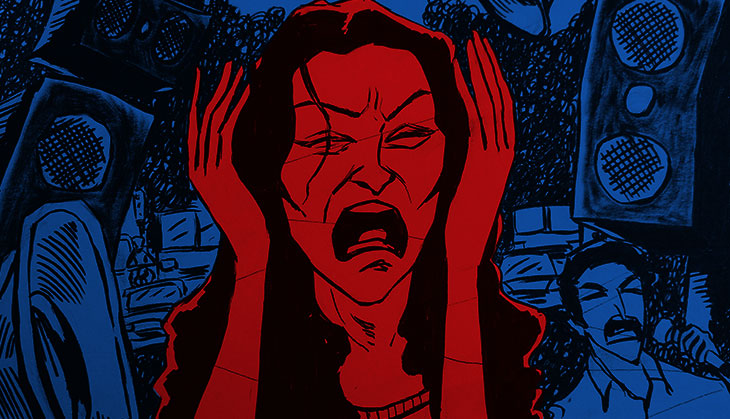 Air pollution is clearly a worrying issue in most Indian cities. In Delhi, the suffocating atmosphere lead to transport policy changes and an intervention and push by the apex court to clean up the city's air.
But what is also emerging as an equally troubling environmental peril is noise pollution. This is according to a report by the Central Pollution Control Board (CPCB).
Read: Will a pollution tax and firecracker ban help Delhi breathe easy?
Here are few of the latest findings of the CPCB, according to the Real Time National Ambient Noise Monitoring Network, that was set up in 2011 across nine cities (which has a population of over 9 million) - Delhi, Mumbai, Chennai, Bangalore, Hyderabad, Kolkata, Lucknow, Navi Mumbai and Thane.
Primary effects of noise pollution: auditory, physiological and behavioural.
Auditory consequences are 'hearing loss', 'change in predator-prey relationship and mating interference'.
Physiological effects can cause 'stress, metabolic and hormonal change, weak immunity and reduced reproductive capacity'.
Behavioural aspects can lead to migration and loss of wildlife habitat and population reduction.
Number of noise-monitoring stations across nine cities.
Of this, 14 stations are on commercial properties, six on residential properties and the rest in the 'silence' category, which has hospitals and educational institutions.
From 6 am-10 pm, industrial areas are allowed up to 75 decibels of noise. Commercial areas can go up to 65 db, residential areas 55 db and and silence zones 50 db.
At night (10 pm-6 am), the permitted decibel levels are 70, 55, 45 and 40 respectively.
Mumbai leads all these places with maximum number of noise pollution violations.
The Maximum city is followed by Lucknow, Hyderabad, Delhi and Chennai.
Kolkata and Bangalore on the other hand, have the least noise pollution.
In the top five cities with maximum violations, some of the worst hit areas are ITO (Delhi), Vashi Hospital (Navi Mumbai), Bandra (Mumbai), Triplicane (Chennai), Hajratgunj (Lucknow), Punjagutta (Hyderabad) among others.
Prominent recommendations made by the CPCB to check noise pollution:
Awareness programmes 
'residential colonies should be constructed with such an architectural design as to reduce the level of noise reverberation'
create more vegetation buffer zones and roadside plantation
commercial activity should not be so close to residential colonies 
Edited by Anna Verghese
More in Catch:
Mind = blown. Plants may have memories too, says game-changing new research
Varanasi can never be just one colour: Ghulam Ali's concert a success
Heritage at risk: is NGMA another inferno in waiting?
#DroughtDiary: Farm loans rise in Maharashtra; water supply schemes fail in Gujarat