No festive cheer on Gurupurab: Punjab farmers reel under demonetisation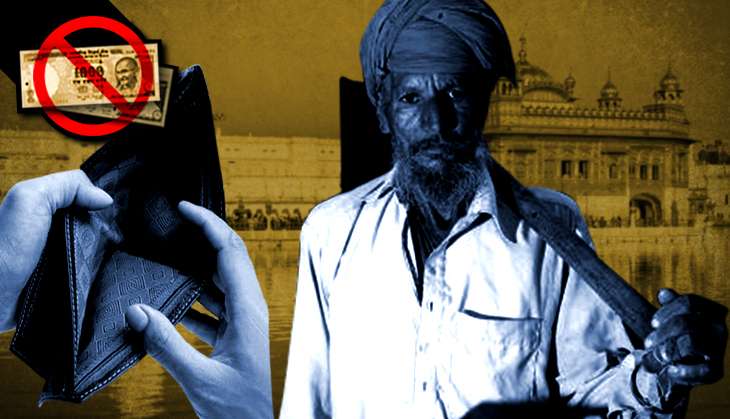 It was only to be expected - when every walk of the common Indian's life has been hit by the demonetisation of Rs 500 and Rs 1000 currency notes, could the celebration of Guru Nanak's birth anniversary remain unaffected?
The Gurupurab is being celebrated across the country on Monday, 14 November, but unlike every other year, the celebrations seem muted, especially in Punjab, where the festival is celebrated with as much fervour as Diwali.
Rural Punjab is among the worst hit - the farmers in these areas do not have money to sow wheat, leave alone celebrate the Guru's birthday. Reports say that only 40-45% of the 35 lakh hectares where wheat is to be cultivated have been sown till now. Agricultural experts say the first fortnight of November is the best for sowing wheat.
In addition, the Arhtiyas, traditional commission agents who extend cash to the farmers, have nothing to do this year, as their entire work is based on cash.
"This time, Gurupurab was expected to be celebrated on a large scale, since people did not celebrate it with great fervour in rural Punjab last year on account of the incidents of desecration of holy texts. Normally, stalls selling sweets and crackers come up three days prior to the festival. But this time, they exist only in name. The shopkeepers do not have money to purchase raw material or crackers from wholesellers in the city, nor do the farmers have ready cash to spend," says Shiv Inder, a political observer from Burj Letan village of Ludhiana.
Cashless existence
Farmers say it has been a traumatic few days for them since Prime Minister Narendra Modi announced the move on the evening of 8 November.
A lot of them complain that they've faced tremendous hassles; nobody told them they would have to stand in long queues to withdraw their own money to celebrate their biggest festival. They have been unable to gift their children new clothes to celebrate the festival.
"You need cash for everything, whether it is new clothes or sweets. There is a practice of families going to prominent Gurudwaras in nearby cities. It is an outing where people make small purchases for their homes too. Now, people do not have cash even for travel. The scale of programmes during the festival has also been very small," says Aman Singh, a farmer from Dhanoakalan village on the Indo-Pak border in Amritsar district.
Jaswinder Singh Jahangir, a farmer leader from the Aam Aadmi Party (AAP), says: "The worst affected are labourers and marginal farmers in the border villages. Shopkeepers want them to make purchases for Rs 500 if they want to use the old currency. Be it procuring seeds, celebrating Gurupurab or making daily purchases, the poor have been hit very hard by this step of the government."
Prof. Gian Singh, agriculture expert at the Punjabi University in Patiala, adds: "The worst affected is the farmer, who needs ready money at this point of time since the sowing of wheat is on. He needs to purchase seeds."
Commission agents' woes
Commission agents, too, are up in arms. One agent, who operates at Balheda grain market in Patiala district, says: "You will see agitations in the next one week by both commission agents and farmers. Even if we make payments to the farmers by cheque, he is harassed while withdrawing Rs 4,500 from the bank on a daily basis, after standing in a long queue. Does the government think that a farmer has no other work to do? He has just got free from paddy harvest, and is looking forward to sowing wheat. He has to make payments to various people from the money he receives from the sale of paddy. He cannot keep going to bank daily."
Agents say that this being the marriage season has added to their misery. "This is the time when farmers take advance payments from us as loans to organise marriages. The demonetisation has had a very negative impact on these marriages," says an agent from Nabha.
Agriculture experts say that with these commission agents also involved in money lending and also taking deposits on interest, it is a known fact that all their transactions are done completely in cash and informally. All these transactions have come to a halt for now till the new currency comes into circulation.
However, experts and agents agree that the impact on them would be short-term, and that it is the farmers who'll suffer more.
"There will be a temporary impact on their (agents') transactions. But things will get back on track after the new currency is out. The farmers are taking a beating on this count, since a large number of them do not own cheque books. How can they even withdraw the Rs 4,500 that the government has agreed to pay daily?" says Dr RS Ghuman, agricultural expert at the Centre for Research in Rural and Industrial Development (CRRID) in Chandigarh.
Amarinder's attack
Among the political forces in the state, Punjab Congress president Captain Amarinder Singh has launched a scathing attack on PM Modi for this step.
Making a stopover at a State Bank of Patiala branch on Sunday, he accused Modi of having taken taken the joy out of Gurupurab, as the harried people had no money to spend on Guru Nanak Jayanti.
"It is such a huge festival for us, and yet, for no fault of ours, we have been deprived of the opportunity to celebrate it with the usual fervour and gaiety," people complained to him.
Amarinder said the way the Modi government has executed its decision is 'despotic' and 'tyrannical' in the extreme, and has put the common people of the entire country through unprecedented hardship.
He added that it is only the poor and the innocent who are suffering in this entire affair - with the corrupt again going scot-free.
Edited by Shreyas Sharma
More in Catch
The dead and their currency notes: The human cost of sudden demonetisation
Demonetisation and its discontents: why black money isn't going anywhere
'Who all did you inform about demonetisation before hand?' Kejriwal asks Modi