'No armed guards in MP prisons, blame 120-year-old manual for SIMI jailbreak'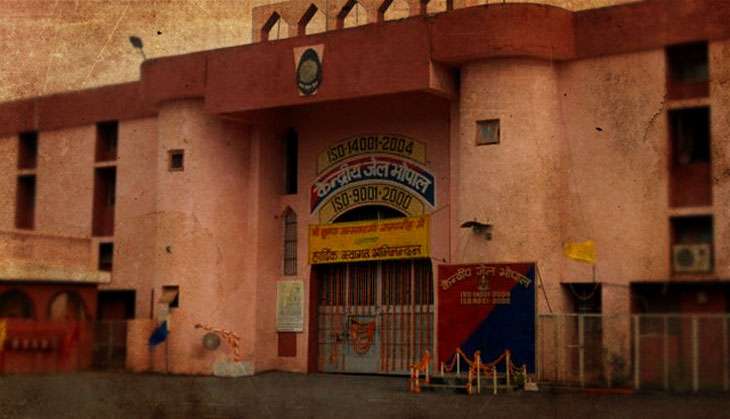 How could as many as eight inmates escape from the most secure jail in Madhya Pradesh? The Bhopal Central Jail housed, till Sunday, a total of 29 alleged SIMI operatives [now 21]. There are some other 'high-profile' inmates, including alleged ISI agents and top CPI (Maoist) commanders.
The eight undertrials, apparently, were resisted by just two prison guards, one of whom they managed to kill. Three out of the eight men killed on Monday had escaped from another MP prison, in Khandwa, three years ago. Could it be that easy?
RS Vijayvargiya, who, till six months ago, was DIG (Law), Prisons, and has, for several decades, been a part of the prison administrative system, confirms the worst suspicions.
In an interview to Catch, he explains how a 120-year-old manual, which governs MP's prisons, has made it so easy to walk out of the state's jails. Excerpts:
How is it that eight high-profile inmates were able to escape from the most secure jail in Madhya Pradesh?
There could be several reasons for it - the jails are not modernised, they're understaffed, and there is not one armed guard in the entire jail premises.
Exactly how understaffed is the staff there and why are there no armed guards?
There are only about 175-200 unarmed guards to look over 3,000 inmates in the prison. The prison needs at least 100 more guards. Because the state government did not give us more guards; we used to loan two to three constables from other prisons.
The reason we have no armed guards is because we still operate under Prisons Act, 1894, which was conceived by the British more than 120 years ago. Various states have amended this Act and brought it up to date, but not Madhya Pradesh.
This act doesn't allow armed guards inside the jail premises, to avoid the possibility of inmates snatching their weapons and using it against them, except when there's a disturbance or revolt in the jail premises. But it's an outdated premise now. Everywhere else, where jails have been brought up date, you find at least half-a-dozen armed guards keeping a 24x7 vigil over the premises.
All that the guards inside are armed with are two feet batons. What can the poor guards do with just these batons?
Some people, based on the photographs of the encounter, have pointed out that the undertrials were found with belts and boots, which is something not allowed in our prisons. Is this a significant anomaly?
This is again because of the outdated prisons manual that we operate under. Forget belts, at the time of framing this Act, the inmates used to wear pyjamas. So, of course, there is no mention of belts in the Act. And, of course, in my opinion, they shouldn't be allowed. Inmates can use belts to kill themselves or to kill guards accompanying them.
Did the prisons division ever try to get these rules changed to bring them up to date?
Yes, the previous DG Prisons proposed that at least five armed guards be deputed inside MP prisons at all times. This and some other proposals were made by the DG in March this year, and were accepted in principle. But he was transferred, and the wheels of change stopped, so to speak.
Could you give a sense of what the Bhopal Central Jail is like?
See, the jail is spread over 51 acres. About 25% of this area is where these inmates were kept, in Block B, to be specific, surrounded by an inner wall. Outside this perimeter, there are two more parallel walls, the outermost of which is 35 feet high.
One can easily climb over the first two walls by making a human pyramid, snatch the keys from a constable after murdering him, and unlock a gate in the outermost wall and walk out. This is my suspicion about what must have happened today.
But is there no alarm system in the prison to signal a jailbreak?
Well if there are no armed guards or sentries around, what can the alarm system do? I'm sure it's still ringing [laughs].
Edited by Shreyas Sharma
More in Catch
Opposition parties demand judicial probe into SIMI encounter, BJP miffed
Dead men walking: the SIMI encounter was about more than just a jailbreak
8 SIMI activists killed in MP: An encounter or cold-blooded murder?