NLU-Delhi study: 80% of death row convicts were tortured in prison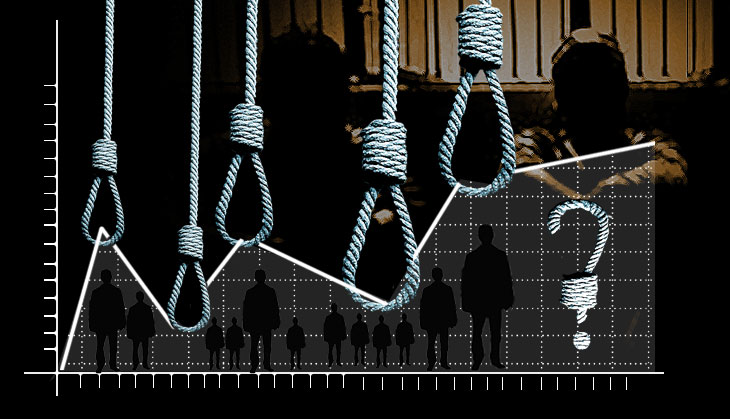 The debate on the death penalty in India only comes to the forefront when someone is hanged. And in the past decade, only three people were executed in India - Yakub Memon, Afzal Guru and Ajmal Kasab.
Thus, the irrationalities or justification of capital punishment only gain currency sporadically.
But recently, Delhi's National Law University released a study, titled the Death Penalty Research Project, which has brought out the morbidity of capital punishment. NLU's team interviewed 373 of the 385 death row inmates and/or their families.
Here are a few grim details that emerged from the study.
Number of prisoners whose mercy petitions are pending before state governors or the President of India, plus those whose death sentence has been upheld by the Supreme Court, but a mercy petition has not been filed.
Maharashtra (14) and Bihar (5) account for the highest of number of these prisoners.
Twenty-one of the 373 prisoners' mercy petitions have been rejected by the President.
Karnataka (9) and Uttar Pradesh (4) had the highest number convicts whose mercy petitions have been rejected.
Among the pending appeals, 270 are in high courts, while 52 are pending at the Supreme Court.
Among those whose mercy petitions have been rejected by the President, the average time spent in jail is 16.9 years.
The longest incarceration time was 25 years for Navinder Singh, accused of murdering 13 people. Finally, his death sentence was commuted by the Supreme Court, citing inordinate delay.
The median year for incarceration is 12 years, among the 30 prisoners whose mercy petitions are pending at various levels.
A total of 216 out of 270 respondents who spoke about police custody admitted to being tortured in custody.
Haryana, Gujarat and Kerala had the highest number of prisoners facing torture.
Some horrific forms of physical torture employed by the police are: 'being immersed in boiling water', 'made to urinate on heater', and 'fingers broken with pliers'.
Psychological torture is another way used to extract confessions.
One prisoner said: "The police blindfolded me and fired gunshots in the air. I feared for my life with every passing moment. The only way to end this was to confess before the magistrate."
Nearly three-fourths of prisoners on death row were economically vulnerable, employed in the unorganised sector, in factories, as manual scavengers or auto drivers.
In Kerala, 93% of these prisoners were poor, followed by Maharashtra (88.9%) and Delhi (80%).
Another appalling fact: 61% of prisoners awaiting the gallows did not even complete secondary schooling.
However, death row prisoners have an equal mix of socio-religious communities : 34.6% belong to Other Backward Classes, 24.5% are Dalits and tribals, 24% are from the general category and 20.7% belong to the religious minoritie