Nitish declares prohibition in Bihar. Is it worth the cost and effort?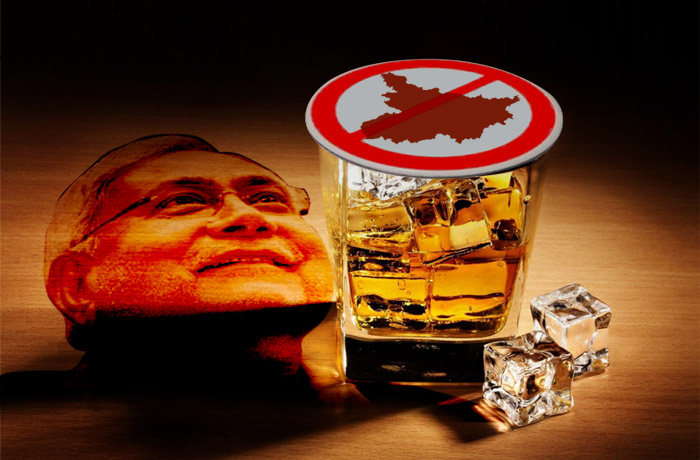 Fulfilling a major campaign promise, Nitish Kumar Tuesday imposed total prohibition in Bihar.
The chief minister announced that the sale and consumption of India-made foreign liquor - known locally as English liquor -- would be banned across municipal and town council areas with "immediate effect".
His government had earlier banned country-made and spiced liquor in rural areas from 1 April, but allowed the sale of foreign liquor in urban areas with the rider that it would be banned gradually.
What brought about this sudden change of mind to immediately declare total prohibition?
Also read: Dry run: Bihar bans liquor in rural areas, restricts sale in urban centres
Nitish claimed the decision was motivated by the "tremendous response of the people, particularly women and children, to the liquor ban in Patna and other towns". There was now a "conducive environment" against alcohol in the state, he added.
Analysts though feel the decision was informed by negative feedback the government may have received from rural areas against the previous ban's perceived bias in favour of the urban rich. So, extending the ban to foreign liquor and urban areas could be intended to prevent a rural backlash.
In any case, the prohibition is a "gift" to the vast majority of Bihar's women who, according to Nitish, had been demanding it for long. It was welcomed by most experts as well.
Worth the cost
Prof Naval Kishore Chaudhary, economist and former principal of Patna College, hailed the prohibition as a historic decision. And if it's effectively imposed, he claimed, violence against women will come down as will road accidents, and there will be an improvement in the law and order situation.
Although Prof Chaudhary cautioned that corrupt officials may try to render the ban ineffective, he expressed confidence that "when the chief minister himself is leading a social movement by doing things like getting people to take a vow to abstain, these obstacles will be overcome".
Also read: Soon, liquor will be cheaper than water in Telangana
He also said while the state exchequer will suffer a revenue loss of nearly Rs 4,000 crore, the "social gain" will more than make up for it.
Prof Shaibal Gupta, founder of the Asian Development Research Institute, Patna, too downplayed the revenue loss. He said it could be compensated by cutting administrative costs, raising internal resources and such measures. If the state's tax to GDP ratio is raised on a par with the national average, that alone will raise a huge amount of revenue, Prof Gupta explained by way of example. Bihar's tax to GDP ratio is 6.5% while the national average is 16.6%, which in itself is well below OECD's average of about 34%.
Prof V Mukund Das, director of the Chandragupt Institute of Management, Patna, agreed that the revenue loss from the ban could be compensated. For one, the tax on gold could be raised. He argued that in a cost-benefit analysis, the social cost of alcohol was high and successful implementation of the ban will bring down the people's as well as the state's expenditure on healthcare.
Beware the pitfalls
Bihar's former chief secretary Anup Mukherjee sounded a note of caution. While the ban will indeed be beneficial, he said, it will be quite difficult to impose because the "implementation machinery is corrupt". He pointed out that historically, prohibition has hardly ever worked, citing America's brief experiment with it in the 1920s and 1930s.
Also read: Tears flow, alcohol dries up in Bihar as Nitish imposes ban on sale of liquor
In the US, as in Bihar, the demand for prohibition was led by women, he recalled, but when it was finally imposed, it led to corruption, bootlegging and emergence of the mafia. Noting that the US had to withdraw the ban eventually, he wished Bihar "all the best in this experiment".
Shashi Bhushan, former economist at Patna's AN Sinha Institute of Social Studies, said the ban was a Hobson's choice for Nitish. Women want alcohol banned because it's an enemy of conjugal life, Bhushan explained, but when addicted men are unable to get alcohol, they may turn to violence, especially against their women. So, the choice facing the chief minister was stark: not declare prohibition and risk upsetting Bihar's women who are his major votebank, or impose it and risk deterioration in law and order.
The US is not the only example of the failure of a state's attempt to impose prohibition. Closer home, Haryana was forced to withdraw prohibition in 1998 within just two years. In 2014, Mizoram lifted its 18-year-old ban on alcohol, while Manipur too is mulling doing the same. Will Bihar fare any better?
Edited by Mehraj D Lone
More in Catch:
Alcohol ban to cost Bihar a whopping Rs 4,000 crore annually in tax revenue