New selfie with daughter online museum takes on Haryana's patriarchs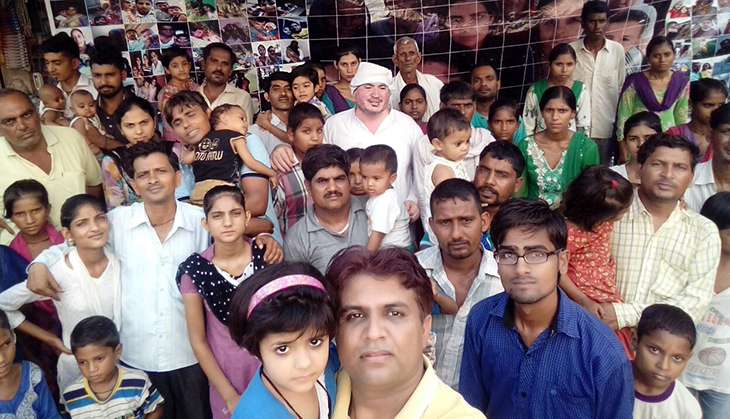 Haryana just built something to be proud of - an online museum of selfies with daughters.
In a state known for its abysmally low sex ratio, Sunil Jaglan, the Sarpanch of Haryana's Bibipur village is doing something remarkable to change it all. Jaglan shot to fame with his hugely popular #selfiewithdaughter campaign that he launched last year, which even got a mention by Prime Minister Narendra Modi in his Mann ki Baat.
"Such an environment was created that every father wished to click a selfie of himself with his daughter and post it on social media," Modi had said in his telecast about Jaglan.
Ever since he was flooded with selfies clicked with parents and their daughters on his WhatsApp number from across the country and some from even abroad.
"At first I wanted to build a physical museum to celebrate these photos. But since that is too expensive I decided to do it online so that it can be an interactive museum that people can keep adding to," Jaglan told Catch.
The selfie museum was launched on 9 June by Anil Vij, the health minister of Haryana. To mark the launch, the minister posted a selfie with his niece on the website.
Of course, Vij has been in the news for the wrong reasons, particularly on the gender front. Last year, he rudely shouted at woman IPS officer Sangeeta Kalia telling her to "get out" after she voiced her disagreement with him on a particular issue. She was transferred the very next day.
But notwithstanding Vij, the selfie with daughter went viral soon after its launch.
Within a few hours of going online, the website recorded more than 13,000 visitors. In two weeks since it has reached 60,420 visitors who have uploaded over 1200 selfies on to the portal.
The man behind Haryana's gender campaign
There is a little story behind how it all started. In 2012, Jaglan and his wife had a baby girl. As a 30 year old brand new dad, he was ecstatic and offered sweets and tips as a way of saying thanks to the nurses and hospital staff. At first when they refused, Jaglan didn't understand. It was through the silence that he understood that in Haryana, celebrations are reserved to welcome boys. Girls are only received with pursed lips, blank faces and an uncomfortable silence.
Badminton star Saina Nehwal with father Harvir (Photo courtesy: http://selfiewithdaughter.world)
For Jaglan, the thought of raising his girl in such a gender hostile society was heartbreaking. He wanted to change it all. And wasted no time in doing so. "I didn't know what the word sex ratio meant up till that point," recalls Jaglan who began public interactions and campaigns to raise awareness about Haryana's abysmal sex ratio.
Nobel laureate Kailash Satyarthi with his daughter (Photo courtesy: http://selfiewithdaughter.world)
According to the 2011 census, Haryana has the worst sex ratio with 834 girls for every 1000 boys. In 2013 amongst the many public awareness programmes he launched a campaign: Bahu do vote lo (give your daughter in law and be assured a vote). Haryana was infamously struggling with unwed young men whose families had to get girls for them from outside the state simply because women were dwindling in number.
Photo courtesy: http://selfiewithdaughter.world
Jaglan wanted to send out a clear message to all political parties campaigning: Show us tackling sex ratio in your political manifestoes. Show us a plan to raise home grown daughters and daughter in laws. We'll get you the votes.
The campaign made the parties shuffle their feet in discomfort and earned Jaglan a lot of fans.
Beyond a photo op
The famous wrestling sisters of Haryana with their father/uncle (Photo courtesy: http://selfiewithdaughter.world)
Today, Jaglan is 34 and has come a long way, chipping away diligently at an age old problem using modern digital tools - the online selfie museum being his latest. In the process he has become media's darling. But are the WhatsApp-texting, selfie-clicking families really the ones who need to be convinced to not bump off their daughters?
Photo courtesy: http://selfiewithdaughter.world
Jaglan's responds with startling alacrity. "In a study we conducted in 2013 we found that it isn't the illiterate, poor and disempowered families who kill their girl children. It costs 10,00 rupees at the minimum to illegally identify the sex of the child and abort the baby if it is a girl child. These families can't afford it. So they end up having several children waiting for a boy child. The families who abort their girls are mostly the well to do who have the financial resources," he says.
By tapping into the "selfie craze" Jaglan is clear that his symbolism is reaching the educated and empowered. His online selfie museum is battling traditional notions hidden behind the garb of modernity - which is the schizophrenic identity India battles within itself.
Photo courtesy: http://selfiewithdaughter.world
Some of the public figures who have also uploaded their photos on the online museum are Kailash Satyarthi, Saina Nehwal, Smriti Irani, The Great Khali and other politicians and sportspersons. "The site has the capacity to hold up to one million selfies," says Jaglan with pride and plans to amplify these images using social media. One can only hope that that the love we see towards our daughters through these selfies will lead to a change far deeper than just a photo op.
Edited by Aditya Menon
More in Catch
Well done Haryana! Sex ratio in the state crosses 900 mark
Fatwa issued against female foeticide by Islamic seminary Darul Uloom Deoband
No dowry, jeans or DJs at weddings: Baghpat panchayat's new morality diktat