NDA reluctant to work for Muslims due to 'pressure groups' - Amitabh Kundu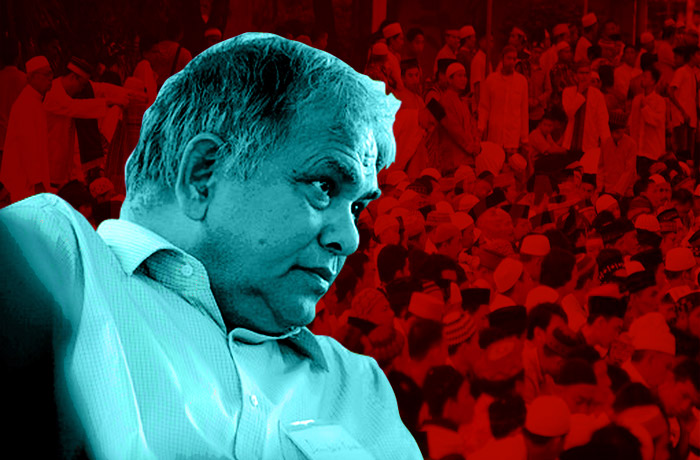 The data
Muslims have the lowest workforce participation rate (WPR) among all communities: 33%
This might not indicate backwardness, says Prof Amitabh Kundu
The reason
Workforce participation has to be seen separately for men and women and for rural and urban areas
High WPR may mean a lack of alternatives because of poverty. This is the case with urban Muslim men
More in the story
Are Muslims more backward than other communities?
In which indicators are Muslims performing better?
Are Muslims being discriminated against?
Data from the 2011 census has once again brought to light the backwardness among India's Muslims. The community's share in the workforce is abysmally low.
According to this data, Muslims have the lowest share of working people - about 33% - among all religious communities in India. This is lower than the national average of 40%.
Read- Decoding census data: Muslim growth rate has declined faster
However, Professor Amitabh Kundu who headed the crucial Post-Sachar Evaluation Committee, says that this might not necessarily be an indicator of backwardness.
The Kundu Committee that was set up in 2013, submitted it's report in September 2014.
In a conversation with Catch, Kundu expressed his disappointment with the government's failure in implementing the recommendations of both the reports. He also didn't spare the Opposition for failing to put pressure on the government on this front.
He feels that the NDA government is "hesitating" in implementing the recommendations of the Sachar committee and the Kundu committee because of "pressure groups" within and outside the government. Clearly, he was hinting at the RSS and the anti-Muslim elements within the BJP.
Some excerpts from the interview:
A recent report from the census data of 2011 reveals that Muslims have the lowest workforce share among all religious communities - 33 %. The national average is 40%. What is the reason behind this?
Such reporting can easily be misleading. We can't compare the Muslim workforce participation rate with other religious groups for any meaningful conclusion without bringing in gender disaggregation. How can one oversee the gender differences in the labour market across socio-religious groups that are cultural in nature and have evolved over a long period of time. The least one can do is to examine the workforce participation of men and women across communities separately.
The workforce participation of Muslim women is 15% compared to the 23% among Hindus.
Yes, if you combine women and men, then obviously the workforce participation rate will be much lower among Muslims. This could be erroneous for any strategic intervention. We must avoid combining the two rates and examine their variations in rural and urban areas separately.
Many Muslims are outside agriculture. Therefore their workforce participation rate is lower
One observes that workforce participation rate (WPR) among Muslim men in rural areas is less than the SC/ST population because a large number of Muslims are outside agriculture. Non-agricultural activities offer less possibilities of disguised employment.
In farm households, anyone working for 2-3 hours a day gets included in the workforce. Here the work meant for three people is done by five. This happens less frequently outside agriculture. Ideally, one should also consider differences in WPR across different age-groups to understand the dynamics of labour market vis-a-vis communities.
What is the best way to qualitatively assess workforce participation among religious communities?
Higher workforce rate for the SCs and STs or any other community in rural areas is not an indicator of their economic development or empowerment. For instance, big workforce participation for persons below 15 years of age is not something that a community can be proud of. Children should be in school, not in the labour market.
Also read- Muslims' dilemma: how to find voice in Modi's India
However, even if you consider adult WPR, taking persons above the age of 15 years, Muslims would have a higher workforce participation rate in rural areas than Hindus, since there are fewer college going persons among the Muslims. In urban areas, Muslim workforce participation rate in the 15-55 age group is higher than that of even the SC and ST population.
Urban Muslim adults have much higher WPR compared to upper caste Hindus and all other communities basically because of their desperation to take up any job that is available.
What are the factors that lead to this skewed relationship between higher workforce participation and lower economic well being?
A community having a high level of work participation does not mean it is economically better off. Empirically, work participation rate is high among the poorer communities. Unemployment is a luxury that only the rich can afford. The ST population reports the highest share in workforce because they are the poorest in rural areas. The WPR among ST women is also very high in rural areas. Socio-religious and cultural dogmas aren't hindrances in these communities.
Higher WPR may mean children not going to school, adults not attending colleges, elderly being forced to remain in the labour market as a part of the survival strategy for the family. The Post Sachar Evaluation Committee Report makes it clear that Muslims have a very high share of the working population due to the above mentioned factors.
Unemployment for them, as also for SC/STs, is a matter luxury. Richer and educated sections of the population always report higher levels of unemployment as per the data from National Sample Survey. The poor and the uneducated can't afford to remain unemployed.
Muslims fare better than Hindus in terms of infant mortality and life expectancy for women
I find absence of rational thinking on both sides. Hindu leaders often cry foul about the high fertility rates of among Muslims without noting that there is a slow process of convergence over time. Muslim leaders, on the other hand, allege discrimination, simply on the basis of low work participation. It is important to look at the quality of jobs. The participation of Muslims in high quality formal jobs is still dismal. This is an area of concern identified by both Sachar and Post Sachar Committee reports.
The task before the government is not to increase the Muslim employment rate but to ensure there is no discrimination in the job market, both in the public and private sector.
What does that mean on the ground?
High workforce participation rate is not a sign of economic empowerment; it is a measure of economic deprivation. Children are pushed into the labour market and every member of the family is pushed to take up odd jobs - just to make ends meet.
There are young Muslim boys and girls with high educational qualifications reporting unemployment. Since the family pressure to survive is so high, they cannot wait for a proper job. So they end up throwing themselves into whatever work they can find. And yet, Muslim workforce participation among women is very low owing to socio-cultural reasons. However this is changing with time.
Ground-level Muslim activists often say that the main reason behind low workforce participation among Muslims is conscious and sustained neglect by the state.
Muslims are a relatively deprived community and one that has a sense of insecurity. I don't think the ground level workers can make sense out of all the official data. For anyone to say that we are suffering because we have low workforce participation and there's discrimination in the labour market, isn't right.
I'm not saying that there is no discrimination. There is evidence of discrimination in the labour market and housing market. But to draw such a conclusion from the workforce participation data is naive.
What according to you are the real indicators of discrimination then?
Lower percentage of Muslims in government jobs and educational institutions are real indicators of selective deprivation and the key areas of policy concern. It is true that a large percentage of Muslims are self-employed but that is no reason why their absorption in regular jobs in the public and private sector should be restricted.
Why is the rate of children going to school lesser among Muslims?
Now that's a separate issue. If 95% children aged 6-9 years are going to school among the general population, the figure for Muslim children will be just 2% less. The real problem is that there is a high dropout rate among Muslims owing to economic compulsions and poverty. Girls drop out from schools for different reasons than the boys.
But one good thing I noticed lately is that the employment rate among educated urban Muslim women is rising. Increasingly, they are breaking familial and traditional barriers to get education and employment. But the job market has not expanded fast enough to absorb all of them. Hence their unemployment rate has gone up.
Also read- Why we fight: 5 Muslim women tell their story
While it is true that Muslims are not able to derive much benefit from government educational facilities due to traditional barriers and last leg social problems. But the case is that of medical facilities is the opposite. We find that the access to public health is much lower in Muslim areas but the community is capable of making better use of this and show much better outcomes than other communities.
Despite poverty, the percentage of Muslim women who are anaemic is much lower than women from other religious groups. Female infant mortality among Muslims is also much lower than Hindus. It is very high among upper caste Hindus. Maternal mortality rate for Muslim women is also less than the national average. Consequently, Muslim women live longer than Hindu women by 2-3 years.
With regard to implementation of the Sachar and Kundu committee recommendations, do you have fresh hopes from the present government?
I'm not a political person. I've spoken to both the ministers of the present government - Najma Heptulla and Mukhtar Abbas Naqvi and they said that they will seriously consider the report. In Parliament too, a statement was made that the Post Sachar Committee Report is under active consideration.
But the government has been saying that for years.
I too am disappointed with this. But the point is, should we only blame the government? Which Opposition party has taken up the Sachar and Post Sachar committee reports in a serious manner? Is the media raising the issue as earnestly as it should?
Lower percentage of Muslims in govt jobs and educational institutions shows selective deprivation
I don't think, there has been any massive mobilisation for their acceptance and implementation. We know that the present government has given some importance to it. But there is hesitation, because of the various pressure groups within and outside the government and the various social groups which are behind the NDA government. This certainly disappoints me.
But I'm equally unhappy that the Opposition or the media have not taken up the Report with the seriousness it deserves. The government has promised 'Sabka Saath Sabka Vikas'. Are we pushing the government enough to work out a clear roadmap for that? It is not our responsibility, as Franklin Roosevelt once said, to make the government implement its promised vision.
More in Catch:
Resistance breaks: after 139 days, chairman Gajendra Chauhan visits FTII
Was the H-bomb test for real? World bombs North Korea with doubts
Chill! No more envy: Netflix is now in India
Porn-coms are Ekta Kapoor's idea of feminism. That's a big, big problem