Naxals kill 4 cops in Bijapur: revenge for Salwa Judum or desperation?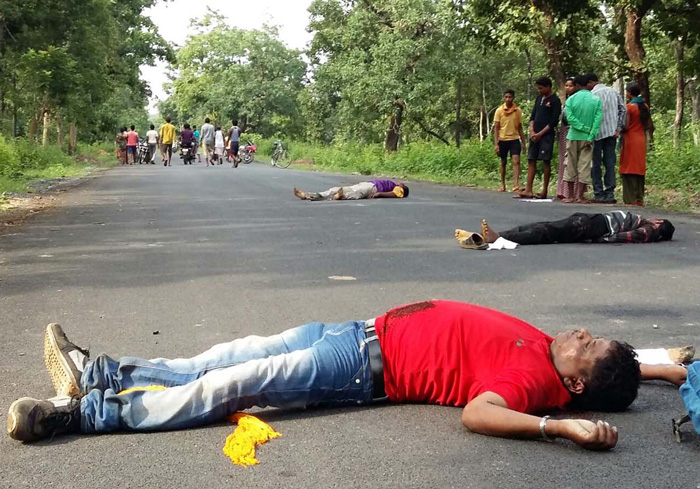 The background
The government is planning a second concerted offensive against the Naxals, like controversial Operation Greenhunt under the UPA government
Slain Congress leader Mahendra Karma\'s son is planning a second Salwa Judum - again a deadly initiative that had worsened the civil war in Chhattisgarh
There is an internecine battle going on between the Telangana and Chhattisgarh Naxal leadership
The incident
In this backdrop, four police jawans were kidnapped and killed by Maoists this week
They had gone to withdraw their salaries from Bijapur, Chhattisgarh
Each jawan was shot with an AK-47 in the temple and back
Police say the jawans didn\'t follow standard operating procedure in Naxal territory
The state has promised a strong response; announced Rs 30 lakh compensation to each family
The possible reasons
Police claim their forays are making the Naxals desperate
Each of the dead cops had belonged to the dreaded Salwa Judum counter-insurgency brigade
They could\'ve been attacked as retribution for Salwa Judum and Operation Green Hunt
Pamphlets near the bodies warned against Salwa Judum 2 and Operation Greenhunt - 2
Catch has recently reported on three major developments in Chhattisgarh's Naxal heartland.
One, the Modi government is planning a second concerted offensive against the Naxals like the controversial Operation Greenhunt under the UPA government.
Two, slain Congress leader Mahendra Karma's son is planning a second Salwa Judum, again an initiative that had proved to be a deadly additive in an already bloody conflict zone.
And three, that there is an internecine battle going on between the Telangana and Chhattisgarh Maoist leadership.
You can read all three reports here:
1) Govt plans massive offensive against Maoists. Green Hunt redux?
2) Salwa Judum II: The battle between the Maoists and Chattisgarh
3) Class divide: how Maoist factions are cancelling each other out
Riding on this comes an incident that might be a signal of what is to come.
It was a situation straight out of a nightmare. The family of Jaidev Yadav in the Kutru area of Chhattisgarh's Bijapur district was facing a predicament.
Half the members of the family were at Yadav's funeral pyre, while the others were tending to his daughter, who was admitted at the local health centre for childbirth.
Yadav was among the four assistant constables whose dead bodies were found on a road near Gudma village, just a kilometre away from the Chhattisgarh Armed Force camp.
Brutal killings
Yadav, along with Mangal Sodhi, Raju Telam and Rama Majji were abducted on the afternoon of 13 July from Becharam Chowk near Kutru.
Majji and Telam were travelling on a bike, while the other two were on a bus.
They reached Becharam Chowk at about the same time, where about 40 Naxals were conducting a check of vehicles en route to Kutru from Bijapur.
The Maoists took these police jawans with them and freed all the other passengers.
According to reports, the Naxals had prior information of the movement of these jawans and were waiting for their arrival.
Meanwhile, another bus coming from Bijapur, which had some other police personnel on board, was stopped at Faresgarh by police.
It is being speculated that the Maoists called a 'Jan Adalat' on the evening of 14 July, where their leaders ordered the killings.
All the dead bodies had torture marks on them. Each man was shot in the temple and back with an AK-47. Police found the used cartridges alongside the bodies.
Majji's belongings were found lying near his body. The money and the bike were taken away by the red ultras.
Police suspect that Budhram Dalam, a resident of Mankeli area, who was earlier the leader of the Gangalur Dalam, is responsible for the killings.
The policemen's bodies had torture marks on them. Each man was shot in the temple and back with an AK-47
Death has a hierarchy, even in a democracy. Unlike previous occasions when the Naxals have abducted a district collector or other officials, there was no media focus or State attempt to save these abducted jawans.
Jawans ignored standard operating procedure
However, as per the preliminary investigation, the jawans had gone to Bijapur to draw their salaries. There are clear guidelines for the movement of security personnel in the area, which these jawans seem to have ignored.
"The police jawans had travelled to Bijapur without informing their seniors. We don't allow jawans to travel freely without enough security cover and precaution in Naxal-affected zones," Bijapur SP KL Dhurva said.
According to police officials, an area domination exercise is prescribed before the movement of security jawans. But this standard operating procedure is often overlooked in the area.
Another jawan, Veera Basant, was abducted and killed in the same manner this April. But the local police force doesn't seem to have learnt its lessons from repeated incidents.
State DGP NN Upadhyay disagreed. "The jawans were trapped because there were no banks in this area. Our jawans are always alert and bear much risk. But there is a thin line of difference between alertness and risk. This leads to such incidents. We are trying to open more bank branches in Bijapur area. We have instructed jawans to always remain alert and in most cases, it is followed," he said.
State preparing strong response
The incident has yet again exposed the chinks in the state's armour in this red bastion. But the police claims it is a result of desperation among the Maoists.
"Naxals are on the back foot because of our intensified movement in the jungle. They have committed this crime just to prove their presence in the area," claims SRP Kalluri, IG, Bastar Range, who has a hard reputation among activists and tribals.
The government has also promised a swift response. "Such incidents cannot break the morale of our police force. We will intensify our campaign against the Maoists in this area," promised Chhattisgarh Home Minister, Ram Sewak Paikra.
Chief Minister Raman Singh has apprised New Delhi of this incident. "This is an inhuman and cowardly act by the Maoists. A civilised society has no place for such heinous crimes," he said.
The government has announced a compensation of Rs 30 lakh to each of the bereaved families and promised jobs to one member of each family.
Compensation no consolation
The compensation, however, is no replacement for the loss the families have suffered.
Telam's family in Telipata village was still reeling under the grief of his father's murder at the hands of the Maoists last year.
Now he has left behind two young daughters and a son, with an illiterate wife as the only bread-winner.
Yadav's family in Patta Kutru village has nine children to take care of.
The story is no different for the family of Majji in Bedre village, which has three boys and four girls to feed.
Likewise, there is an existential crisis for the family of Sodhi, who was a resident of Uska Patnam village, eight kilometres from Kutru.
The grief of the families is shared by the whole Kutru area. There was a massive surge of emotion among the villagers as soon as the dead bodies reached the police headquarters in Kutru.
Villagers, including women and school children, were out on the streets since 13 July, demanding the release of these policemen.
All the shops remained closed in Kutru, Bedre and Farsegarh on 15 July, in protest against the killings.
Retribution for Salwa Judum?
Salwa Judum might be a bitter memory for most residents of Bijapur, but its leaders and cadres are still on the Naxals' hit list.
Leaflets recovered near the dead bodies claimed these jawans had burnt houses, tortured people and committed atrocities against women during the Salwa Judum campaign.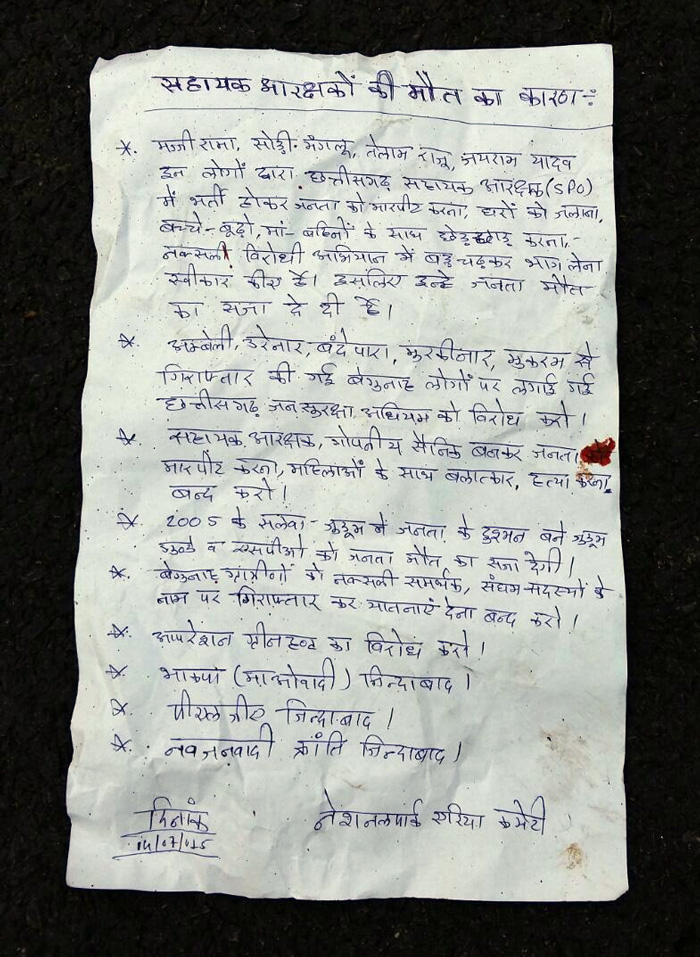 Similar leaflets denouncing 'Salwa Judum Part-2' and Operation Green Hunt were also found along Gangalur road and some other places on 15 July.
It is no coincidence that all the slain jawans were part of the Salwa Judum campaign since 2005.
They were among 500 youths from the Kutru region who had participated in this controversial drive, and were incorporated into the police force as SPOs last year.
About 50 of them quit their jobs within a year. However, some of them had been promoted to assistant constables and havaldars.
This is not the first time the Maoists have targeted youth associated with Salwa Judum.
More than 450 families affected by this campaign still live in two temporary camps in the Kutru area alone.
They have nowhere to go. And if this ghastly incident is anything to go by, their lives aren't safe either.