Najeeb Ahmed of JNU has been missing for a month. What now?
Praneta Jha
| First published: 15 November 2016, 20:30 IST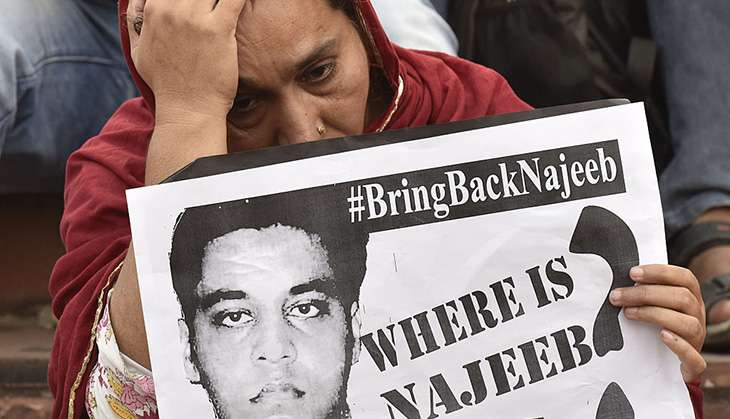 Photo by Sanjeev Verma/Hindustan Times via Getty Images
It's been a month that JNU student Najeeb Ahmed has been missing. No one either on campus or off has any information about his whereabouts yet.
The Crime Branch of Delhi Police has now taken over the case of the 27-year-old student, who went missing after allegedly being beaten up by ABVP members the night before he disappeared on 15 October.
JNUSU held a massive protest march on Tuesday under the 'Chalo JNU' call. On Monday night the university administration put out notices stating that the permission to hold the march, and also that outsiders would not be allowed to participate in the protest.
However, the march took place without much trouble and witnessed the participation of student representatives from DU, AMU, Punjab University etc. The students marched from Ganga Dhaba to the Ad-Block.
At the time of filing the report, the students were still protesting outside the Ad-Block at the 'Freedom Square'.
Meanwhile, the case was transferred from the South District branch to the Crime Branch of Delhi Police on Friday. The case files were sent to the crime branch on Saturday, said additional DCP (South) Manishi Chandra, who was heading the SIT formed to probe the case.
Police so far remain clueless in the case that has made headlines, thanks to the agitations carried out by JNU students who have alleged inaction by the university administration and police laxity in the initial days.
Nothing concrete yet
Last we heard from Delhi Police was when they told media on 8 November that Najeeb, a first-year MSc student of Biotechnology, was mentally and emotionally disturbed as police had found prescriptions for depression and obsessive compulsive disorder in his room.
The police have had discussions with a doctor at VIMHANS who Najeeb had apparently consulted in September.
Even though a case of kidnapping has been registered, police now suspect Najeeb may have gone off on his own, due to his "medical history". The cops were reportedly reconstructing Najeeb's personality with the help of medical professionals to gain clues as to where he might have gone.
DCP (South) Chandra told Catch that probing the medical angle has been helpful, and that "broad-based consultations with stakeholders of the medical history of the subject were done".
He did not elaborate on how exactly the medical angle and "reconstructing" Najeeb's personality had been "helpful", however.
Too little too late