Move over yoga, Baba Ramdev is the hottest FMCG trader in India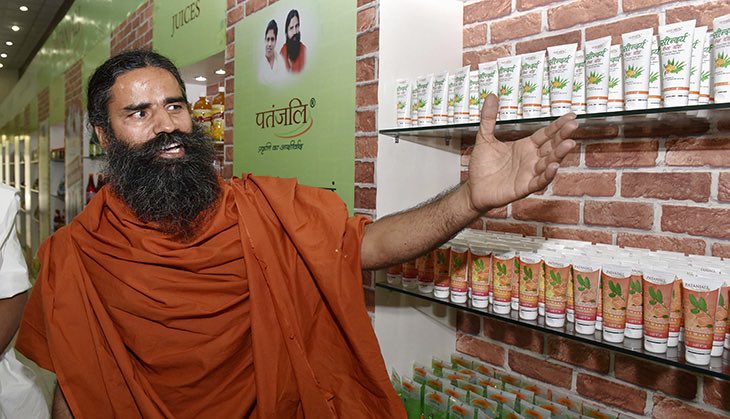 "I can ruin the Congress in a day if I choose to," Baba Ramdev boasted last month while responding to allegations that he was behind the political crisis in Uttarakhand. One cannot say with certainty how powerful he is politically, but in the FMCG market, the yoga guru is the king.
Read- Eat, Pray, Yoga: Patanjali Noodles and the importance of being Baba Ramdev 
His Patanjali Ayurveda is giving serious challenge to such multinational consumer goods giants as Colgate, Procter & Gamble, Unilever, Nestle.
The Baba's business empire has witnessed a meteoric rise in the past few years, driven by a phenomenal response by Indian consumers to Patanjali products.
Patanjali Ayurveda has grown by a scarcely believable 1,100% over the past four years. This while most FMCG companies were reeling from declining rural demand due to poor monsoons and drought.
Claiming Patanjali's revenue will exceed Rs 10,000 crore by March 2017, Ramdev mocked his competitors Tuesday by saying, "Ab tak Colgate ka to gate khul gaya, Nestle ka to panchhi urne wala hai, Pantene ka to pant gila hone wala hai, aur do saal me Unilever ka lever kharab ho jayega." In plain English, "Colgate's gate is already breached; Nestle's bird will fly away soon, Pantene will wet its pants, and in two years, Unilever's lever will fail."
Ramdev's confidence isn't misplaced. In 2015-16 alone, Patanjali Ayurveda has earned over Rs 5,000 crore. According to a report by India Infoline Ltd, Patanjali Ayurveda's total earnings will cross Rs 20,000 crore by 2020. The report adds that Ramdev's firm will grow chiefly at the expense of Colgate and Dabur, whereas ITC and Godrej Consumer Products Limited will suffer marginally.
Patanjali Ayurveda's flagship product is the Desi Cow Ghee. Of the total Rs 5,000 crore earned by the company last fiscal, Rs 1,308 came from the ghee. Dantkanti Manjan followed in second place, bringing in Rs 425 crore.
From Rs 446 crore in 2011-12, Patanjali's revenue jumped to Rs 2,006 crore in 2014-15. The total earnings of Colgate were Rs 3,981.94 crore during this period. Colgate has witnessed an annual growth rate of 14.85% over the past decade. In contrast, Patanjali Ayurveda's growth rate rose by 150% last year alone.
The India Infoline report pegs Patanjali Ayurveda's current FMCG market share at over 5%. It is expected to reach 13% by 2020.
Going all out
Apparently, the only challenge confronting Ramdev's venture now is meeting the ever increasing demand for its products.
Ramdev says his company plans to strengthen its retail distribution network to garner a bigger market share. For now, it is concentrating on four verticals -- home care; natural cosmetic and health care; natural food; beverages and health drinks. At least 21 products under these categories will be aggressively marketed by the company.
Also read- Orange is the New Black: 4 reasons Ramdev deserves the Nobel!
Patanjali Ayurveda already has a strong retail presence with 4,000 distributors and over 10,000 outlets. It also plans to tap the fast-growing online market by launching an e-commerce platform.
"We are planning a big entry into the online space," Patanjali Ayurveda spokesman SK Tijarawala told Catch. Will the company get its own e-store or rope in existing e-commerce firms? "We are working on both strategies," Tijarawala replied.
A key reason for Patanjali Ayurveda's growth, analysts say, is its focus on revenue instead of profits. It had a fixed revenue target of Rs 5,000-6,000 crore for last fiscal year, and easily achieved it.
Another is Ramdev's popularity, which means the company does not need to spend a lot of money on brand promotion unlike its rival MNCs. While some FMCG companies, even established ones, have to shell out over 10% of their revenue on advertisements, Patanjali has achieved better results by spending only 1-1.5%. Most of this money is used for buying commercial slots in print and electronic media.
As Ramdev proclaims, "I am the fee-less brand ambassador of Patanjali products. Acharya Balkrishna also works without a salary." Balkrishna, Ramdev's lieutenant, is the company's chairman and managing director.
Slamming the marketing campaigns of his competitors, Ramdev says, "We don't need our mothers and sisters to get half-naked to sell our products like MNCs do. We don't have the ideological crisis. We don't indulge in glamor, obscenity or paid endorsements."
In a different class
So impressive is Ramdev's commercial success that many other gurus are emulating him. Baba Gurmeet Ram Rahim Singh and Sri Sri Ravishankar have both launched FMCG brands. But Patanjali Ayurveda's managers are hardly bothered.
"Our products face no threat from these brands. They will, in fact, help our swadeshi campaign," says Tijarawala. "Patanjali is looking at ousting MNCs from the FMCG market. We also aim to enter markets outside the country."
As it has grown exponentially, Patanjali Ayurveda has faced questions about the quality of its products. When Nestle's Maggi was banned for excess lead, Ramdev's company launched its own brand of noodles, only to be panned for their suspect quality.
Tijarawala rejects such criticism as "conspiracies", and insists that Patanjali does not compromise with the "purity of products". "There have been many conspiracies to malign Patanjali products," he claims. "But it does not affect our business much. We are running our own campaign to save people from such misinformation."
Read more: Baba Ramdev, Baba Ram Rahim and some trishul-dhari saints may become non-frisked flyers soon
Apart from expanding its retail footprint, the company also wants to widen the manufacturing base. It plans to set up five new plants across the country, likely in Rajasthan, Maharashtra, Madhya Pradesh, Assam and Haryana.
Perhaps in Uttar Pradesh as well if senior Samajwadi Party leader Shivpal Singh Yadav's recent meeting with Ramdev at his ashram in Haridwar bears fruit. Although political analysts insisted that Shivpal had gone to ask for the yoga guru's support in the forthcoming assembly election, the politician said he wanted to invite Ramdev to set up a Patanjali plant in UP.
"It was not a political meeting. Shivpal Singh invited us to establish a plant in UP," Tijarawala confirms. "We have accepted the proposal."
Still, given that Ramdev dabbles in both politics and business, it's hard to say what Shivpal actually went to him for. 
Edited by Mehraj D. Lone
More in Catch:
Pulse of the people: UP to see Chane Pe Charcha with Rahul
This incredible new tech turns plants into powerplants
#DroughtDiary: Farm loans rise in Maharashtra; water supply schemes fail in Gujarat
Why the Stop Trump movement isn't working