Modi-Sharif meet: Lahore visit was neither a coup nor a surprise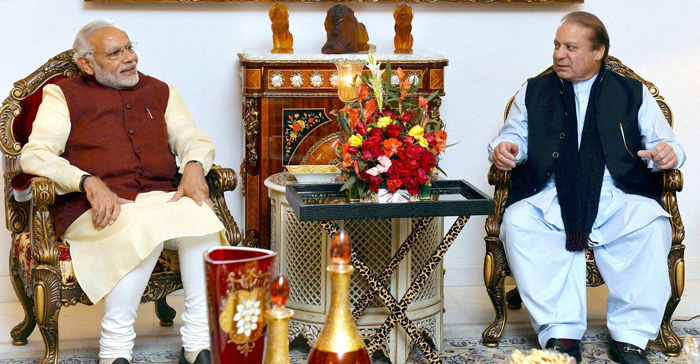 The meeting
Narendra Modi\'s \"surprise\" visit to Lahore has raised hopes of improvement in Indo-Pak ties
But was it really a surprise?
The motivations
If industrialist Sajjan Jindal brokered the peace, was it driven by private interests?
Both India and Pakistan had international compulsions
More in the story
What can be expected from this process?
A confession: I was uncertain when Prime Minister Narendra Modi invited the heads of government of the SAARC countries to his own and, almost incidentally, his Cabinet's, oath-taking ceremony.
On the one hand, there was reason for buoyancy as the invite represented a hard-right politician of India - already accused of consistently adopting a Big Brother attitude - showing some promise.
On the other hand, one could not help asking: was this an act to garner neighborhood solidarity or was it one that was intended to project the coronation of a new regional empire? Signs in support of the latter argument appeared early enough.
Also read: Twitter takes on TOI's epic-length headline. Hilarity ensues
The first indication was that he would continue the outreach with a visit to Nepal. But when a whispering campaign attached significance to this in the context of Nepal being a "Hindu nation", the initial neighborly drop-in visit ended up being to Bhutan.
This indicator was followed by strong evidence against the adoption of idealism: the rejection of a planned dialogue with Pakistan on flimsy grounds and a strong arm policy approach towards troubled Nepal. The latter was particularly questionable as the reason was that Nepal adopted a constitution that India did not like.
Was it really a surprise?
Another confession: my reaction to the latest so-called "diplomatic coup" by PM Modi has inched from doubt to skepticism. Why? As someone has said, "Those who practice the art of diplomacy know some surprises are not really that". But that is not a difficult point to grasp, for we know that states communicate through several channels within each others' establishments.
Also read: Dear PM Modi, here are 5 reasons why you should have talked cricket with Nawaz Sharif
More important is that the means used for this outreach divulge something of the motivation. That brings me to my second point. Reports say that this latest exploit was brokered by a businessman, steel magnate Sajjan Jindal, as was the so-called sideline encounter at the SAARC meeting in Kathmandu last year. (The fact that Nawaz Sharif is a businessman who's made good is not insignificant either.)
In other words, the Ministry of External Affairs is either unwilling or incompetent to handle India's diplomacy in one of its core issues in foreign relations. In other words, private wealth interests drive governments, not always political will.
But then here's the rub: political issues between states need political will, not private wealth motivation, to yield the resolution of disagreements, conflicts and disputes between them. And there are many disagreements between Delhi and Islamabad.
In the wake of the above trend, therefore, I'd receive the latest news about the "Lahore surprise" with a degree of pessimism.
Also read: Modi in Lahore, Sharif in Delhi: How India-Pakistan are juggling diplomatic relations
It is partisan power and social compulsions, not political motivations, which have spurred the latest move but it is business interests that will reap its benefits.
Compulsions on both sides
The compulsions are external and internal for both governments. In Modi's case, during his travels around the world he, in all probability, heard a familiar refrain from his counterparts in Europe and America: the need to talk to Pakistan rather than attempt a moral embargo of it. Given the US, British and French sanctions against him in the past, Modi probably understands the futility of that approach.
Also read: Modi's Lahore visit on Vajpayee's b'day is a tribute to the former PM's foreign policy
Domestically, the BJP's debacle in Bihar and decided erosion of political capital can hardly be disputed. The combination has hastened his need to make a course correction.
As for Prime Minister Nawaz Sharif, his domestic woes hardly need recounting. Muslim extremist violence occupy a disproportionate percentage of his mind and time. Meanwhile, his foreign policy hangs in precarious balance.
China, while supporting him militarily, does not believe in pulling Pakistan "out of the holes it insists on digging for itself". Andrew Small has also noted that while the Karakoram Highway has provided China with connectivity, no trucks ply along it. The United States, meanwhile, at best adopts a policy of little more than ensuring that Pakistan remains within the orbit of its international influence, while also unable to help unless it stabilises domestically.
Also read: I hate you... like I love you? What exactly is BJP's stand on Pakistan
A commentator, Rezaul H. Laskar, has gushed that "Modi realises Manmohan's dream" of "breakfast in Amritsar, lunch in Lahore and dinner in Kabul". That is an unfair assessment of the former Prime Minister's dream.
We do not rely on horses, or even steam engines, to take us from Kabul to Amritsar anymore so the physical part of it is easily accomplished, as Modi has demonstrated. Dr Manmohan Singh's "dream" perhaps had more to do with a sense of confident bonhomie among the states of South Asia. At least that is what it ought to have been. Surprise visits and deft commercial minds arranging political meetings cannot fulfill that dream. It takes much more.
Neither India nor Pakistan has shown any capacity for such vision. So forgive me if my skepticism is slowly turning into pessimism, albeit with cynicism still some distance away.