Menacing Modi: has India grown more intolerant under our PM? This report thinks so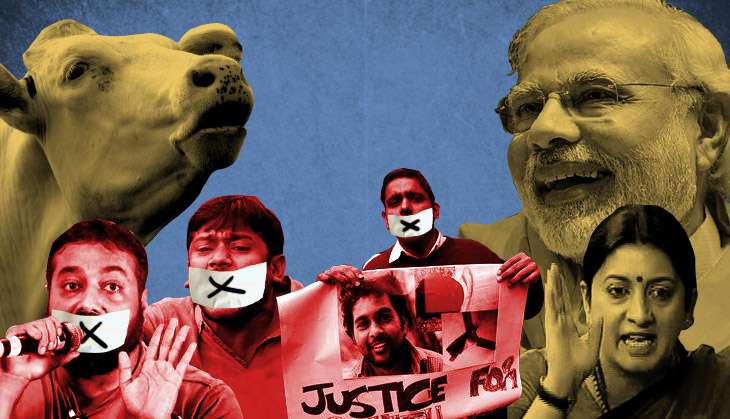 An international report has come down heavily on the 'culture of intolerance' in India, emphasising that it has deepened since Narendra Modi became the Prime Minister in 2014.
The report says dissent in the country, be it political, religious, cultural, or social, is feared more now because greater risks are associated with it.
Fearful Silence: The chill on India's public sphere has been published by the International Human Rights Program at the University of Toronto and a worldwide association of writers called PEN International and its Canada chapter.
The report is an update to another report that PEN had published in 2015, called, Imposing Silence: The Use of India's Laws to Suppress Free Speech.
The researchers behind the report have based their findings and conclusions on recent cases of "censorship of cinema, intimidation of writers, arbitrary use of the law, and online harassment". It is the outcome of fieldwork spanning two weeks that included meetings with 17 authors, activists, journalists, and lawyers in Jaipur, Hubli and Delhi.
It highlights at least six major cases of stifling of freedom of expression seen in the country recently and, through them, tries to convey that such assaults are intensifying. It also lists some steps that could be taken to improve the situation "so that public debate is possible".
These incidents include -
1. Udta Punjab and the censoring of cinema -
A chapter in the report talks about the Bollywood film Udta Punjab that was threatened with 89 cuts ordered by the Central Board of Film Certification. The author of the chapter, the film's co-producer Vikramaditya Motwane, writes for the report that by asking for the removal of all references to "Punjab, ministers, and police or government corruption", the board was essentially saying that they can't even make a political film.
The producers moved court and found support there as the Bombay High Court restored almost all the scenes.
2. JNU and the sedition law -
The second case mentioned is that the quashing of "dissent in the name of nationalism" at Delhi's Jawaharlal Nehru University (JNU). The report slams the arrest of JNU Students' Union President Kanhaiya Kumar on charges of 'sedition'.
It goes on to say that "the arrest and subsequent violence raises concern that sedition has become an all-encompassing offence in India, used to distort 'public discourse of what is patriotic and what is anti-national', and implicitly license violent reprisals."
3. Kashmir documentary and sedition -
Another reference to firm up the case against the sedition law is that of filmmaker Pankaj Butalia's documentary on Kashmir - Textures of Loss. The CBFC deemed parts of the documentary to be seditious and ordered deletion. Once again courts came to the rescue and the Delhi High Court ruled decisively in Butalia's favour.
4. A journalist and her book on riots -
Chilling details are revealed in the report of how the government is secretly keeping a tab on independent journalist Revati Laul, who is writing a book on the Gujarat riots of 2002. Laul writes, "an army of troll-rats stalk me on Twitter and Facebook", "Gujarat's state intelligence bureau has been monitoring me" and "I've had phone calls from unknown numbers, with strange voices asking me to identify myself."
She also claims that an international NGO withheld funding for her project "due to the fearful atmosphere created by the present administration".
Further, crowd-funding website Wishberry, which she was using for generating funds, complained that it was being "trolled by a pro-government acolyte" and they also got a call from "a top industrialist, one of the site's main supporters, asking why had they endorsed the campaign in the first place, and shouldn't it be taken down?"
5. Section 66A and online censorship -
The report notes that after the Supreme Court struck down the draconian Section 66A of the Information and Technology Act, there are indications "that the provision could be resurrected in a new form".
"A report of the Parliamentary Standing Committee on Home Affairs dated 7 December 2015 recommended that the deleted section be replaced by a hate speech provision," says the PEN report.
6. Online harassment and police's inability to keep up -
The report notes that "online harassment is a global phenomenon, but it is especially aggressive in India, where complaints about online threats are frequently ignored by law enforcement". The result is that "online mobs" force people into silence.
It adds that "there is also evidence that this harassment is condoned by those in government" and that in July 2015, Modi had "stirred up controversy after meeting privately with ultra-nationalist social media activists accused of online abuse".
7. Media freedom and state repression -
Journalist Malini Subramaniam, who was harassed by the police and a state-backed vigilante group Samajik Ekta Manch in Chhattisgarh, writes for the report that "people's voice is silenced and local reporters are either bought off or threatened into conforming to police accounts".
She adds, "reporters who dispute the official version are labelled as Maoist sympathisers" and then "a hate campaign is let loose against them. They are terrorised with threats to 'mend their ways' and if threats fail, "more direct attacks can be made".
Malini also says that the state machinery "will be willing to either look the other way and covertly, or overtly, join in".
8. Perumal Murugan and institutional censorship -
The reports recalls the case involving novelist Perumal Murugan who announced his own 'death' as a writer, following a concerted campaign to censor his because it did not conform to the notions of some radicals.
His tragedy was accentuated by the fact the protests were reinforced by the Rashtriya Swayamsevak Sangh, and aided by police and state administration.
The Madras High Court recently restored Murugan's dignity and dismissed all allegations against him.
The report has a few good words for the judiciary, calling it a silver lining because of its progressive interpretation in so many of these cases. In its five key recommendations, the report asks for revocation of certain specific laws, focused training of police and launching of public campaigns.
Edited by Jhinuk Sen
Also read: The takeover: how the Modi govt has filled key positions in 14 institutions
Also read: 2015: How Modi lost his sheen this year
Also read: Where are the Achche Din: 5 promises that have come back to haunt PM Modi
Also read: If Narendra Modi has managed to bring Achhe Din for someone, it's the RSS