Mehbooba wants to use US dollar for cross-LoC trade. Is it a good idea?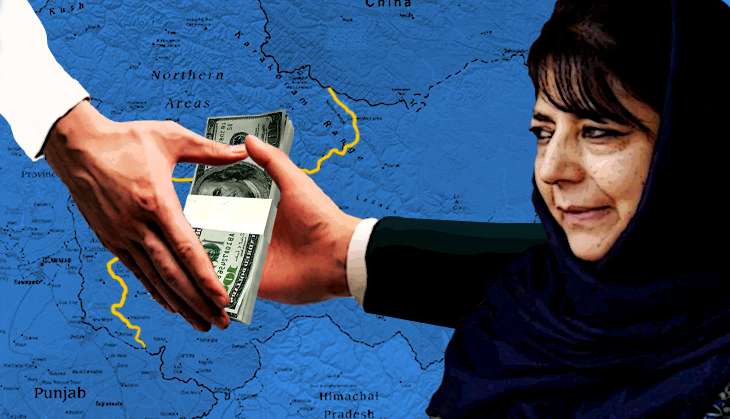 Chief Minister Mehbooba Mufti's latest pitch for using the US dollar as the transaction currency for the cross-LoC trade has drawn flak from Kashmir's influential trade bodies.
On 13 June, Mehbooba told the assembly that more "crossing points" were expected to be opened along the LoC for "greater movement of people and goods" between J&K and the Pakistan Occupied Kashmir. She also said that to "institutionalise" the existing cross-LoC trade, New Delhi has agreed to introduce a banking facility.
"The trade that is currently going on is based on the barter system. Now, a proposal has come from the central government that the RBI is proposing to introduce banking facility in which trade will be done in dollars and perhaps neither our currency nor theirs will be used," Mehbooba said. "We received the proposal and after discussing it in the cabinet, it has been sent back. So, I am hopeful that something will happen on that."
The valley's trade bodies, though, weren't impressed. The Kashmir Chamber of Commerce and Industries said it was not in favour of using the dollar as it would "automatically render the Line of Control as international border, which is unacceptable to us".
"We have all along been opposing this. We will not allow any proposal that is aimed at converting the LoC into IB. We are against introducing US dollar as transaction currency for trans-Kashmir trade since day one," the president of the KCCI Mushtaq Wani told Catch.
Wani argued that the cross-LoC trade was "intra-Kashmir commerce" and not "international trade". "Currently we have a barter system. Yes, we are in favour of having a banking facility, but why cannot we have trade in our respective currencies as it happens between India and Nepal or India and Bhutan?," he asked.
Also Read: Mehbooba openly bats for staying with India. Is it for real?
The Kashmir Economic Alliance too opposed the proposal. Its chairman Haji Yasin Khan told Catch: "We believe Kashmir is a disputed territory and both parts of erstwhile Jammu and Kashmir are a single political entity. We will not allow any move to convert the LoC into IB."
"For us, LoC is a ceasefire line, not international border. More importantly, we had proposed that cross-LoC trade be done in both Pakistani and Indian currencies on three-month rotation basis," Khan added.
Risky gamble?
Pointing out that "India's stated position is that the other part of Kashmir is also is her 'integral part'", Faiz Bakshi, KCCI's secretary general, asked, "But the dollar is introduced as a transaction facility between two sovereign nation states. Isn't there some confusion?"
Bakshi said there was no harm in making the dollar a "reference point for trade" but insisted that business transactions be done in Indian and Pakistani currencies. He also suggested that the "J&K Bank should be allowed to open a branch in Muzaffarabad to facilitate the cross-LoC trade".
Not everyone in Kashmir's business fraternity, however, is opposed to the proposal.
Gazalla Noor Amin, executive member of the KCCI and its former treasurer, argued that "any kind of transaction facility is good as long as all the bases are covered". "I don't think introducing the US dollar as transaction currency will convert the LoC into IB. Any transaction facility is a tool to achieve an end, not an end in itself. We will have to address the nuances, however," she told Catch.
Also Read: Beyond guns: what its economic survey tells us about Kashmir
In October last year, about 50 people, representing all five regions of the erstwhile Jammu and Kashmir, had gathered for a three-day conference in Srinagar, and urged all stakeholders to ease cross-LoC trade and travel, and restart the dialogue process to resolve the Kashmir dispute.
They had also demanded that "banking facility with Nostro-Vostro account, which is already recommended by the chambers, should be implemented to formalise the cross-LoC trade".
The new cross-Loc routes Mehbooba wants opened include Kargil-Skardu, Suchetgarh-Sialkote, Chhamb-Jourian, Gurez-Astoor-Gilgit and Nowshera-Mirpur.
"I am hopeful that if not all at once, one or two will be opened at a time so we can send Basmati from Jammu to the other side," she told the assembly. "Nothing is manufactured there. From a needle to an airplane, they import everything. But if the road is opened, it will benefit us. And if Kargil-Skardu route is opened, we can go to Central Asia via that road."
Mehbooba said she hoped confidence building measures such as opening of new routes would help consolidate peace efforts and boost the economy.
Also Read: 4-point formula may be 'ideal solution' for Kashmir. But is it feasible?