Man killed over 'mortgaged wife' in Haryana, women find few jobs in MP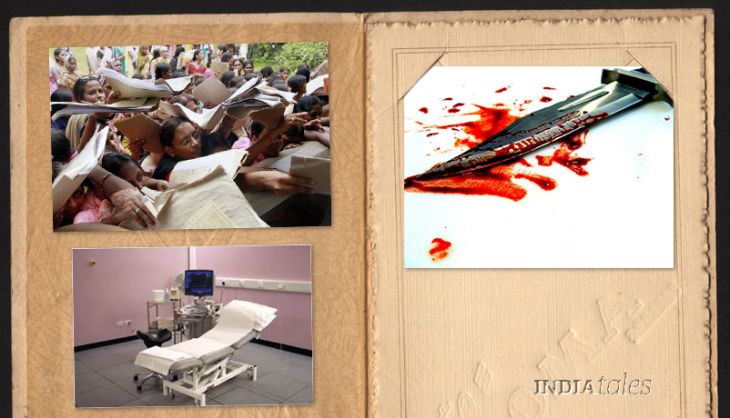 01
Bizarre: man mortgages wife, then kills lender for not returning her
Sabir Ali had mortgaged his wife to a friend, Mohammad Golam, for a Rs 30,000 loan. But when he went to free the woman, the lender refused to return her.
Enraged, Sabir killed Golam. The murder occurred on 31 October, but it took the police over two weeks to solve the "mystery".
Also read - Robber takes 900 cops to catch, Bhopal elders fix 'blessing fee' for priests
Golam had migrated to Yamunanagar, Haryana, from Bihar's Araria district over two years ago. In January this year, the police said, he was approached by Sabir for a Rs 30,000 loan.
Sabir, also originally from Bihar, ran a tiffin service in Yamunanagar. The food was prepared by his wife Salma, and Golam, a quilt-maker, reportedly relished it.
So, when Sabir came for the loan, Golam asked for Salma as mortgage. He took her and her three children, aged 4 to 7 years, to his house in Arjun Nagar in Jagadhari and then to his native village in Bihar. Golam and Salma even went to holiday in Himachal Pradesh.
They returned to Yamunanagar in September, according to the police, "when the season of making and refilling quilts begins". They stayed together until Golam's murder.
Sabir has since told the police he repaid the loan three months ago and asked for his wife's release. Golam, however, demanded an additional Rs 20,000 as interest. Sabir claimed he paid the interest as well, but Golam still refused to release Salma.
"This infuriated Sabir and he hatched the conspiracy to kill Golan along with his wife," the police said. "Golam was strangulated and then beaten to death by Sabir and his friends Akhtar and Gaurav." Akhtar and Gaurav have also been arrested.
02
Promise: 33% job quota for women. Reality: 29 women got jobs last year
Just last month, the Madhya Pradesh government announced 33% reservation in state jobs for women.
Here's a reality check: of the 71,000 women who registered with employment exchanges in 2014, only 29 have got jobs so far.
The state has nearly 48,000 such exchanges, and the Shivraj Singh Chouhan regime has generously funded them. But their performance has been abysmal, to say the least.
[twittable]In Madhya Pradesh, 16.62 lakh people have registered for jobs with the state, 470,000 of them women[/twittable]
According to government data, 16.62 lakh unemployed people are currently registered with the exchanges. Of them, nearly 470,000 are women. But the exchanges have scarcely provided any jobs, prompting some 400,000 people to cancel their registration in the past three years.
Still, the government claims to have drafted a new plan to turn the tide. "We are planning to convert the employment exchanges into placement centres in collaboration with the private sector. The proposal is ready," said VL Kantha Rao, Principal Secretary, Commerce, Industries & Employment. "The move will ensure greater employment opportunities for the youth."
Let's hope it isn't just another hollow promise.
03
To curb foeticide, Rajasthan to track sonography machines through GPS
From now on, Rajasthan's health department will keep a close watch on every sonography machine - by fitting them with GPS trackers.
Sonography machines have been abused for illegal sex determination and, thus, female foeticide.
According to the health department, doctor or medical retailers not complying with the directive will lose their licences.
To curb illegal abortions, the department has decreed that every sonography report must have the "original signatures of issuing authority"; digital signatures will no longer do. Besides, the sonography centres will be required to provide a copy of their licences with the report.
[twittable]In Rajasthan, clinics will have to provide a copy of their licence with every sonograph[/twittable]
Female foeticide is a major problem in Rajasthan. The state's sex ratio is among the lowest in India, having plummeted from 927 in 2001 to 918 in 2011.
To address the crisis, the Rajasthan High Court had sometime ago issued an order for effective implementation of the Pre-Conception and Pre-Natal Diagnostic Techniques Act, 1994. The health department's directive is in compliance with the order.
Also read - Bride won't stay in house without toilet, doctor tries to remove live foetus
Sham exam: system was abused to benefit Chhattisgarh minister's wife
Why e-commerce is a boon for Kashi's pundit, bane for Mumbai's Dabbawala