Major Gen GD Bakshi wants India to prep for another Mahabharata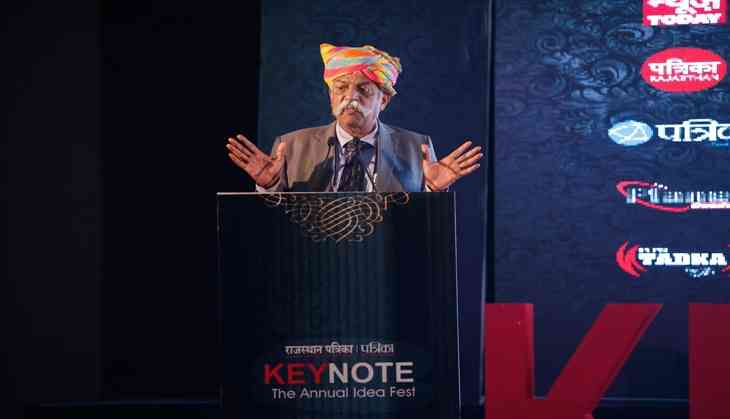 Major General GD Bakshi (Photo: Manas Gurung/Catch News)
"China can't harm us," said Major General GD Bakshi, a decorated and retired Indian Army officer, at Patrika's annual ideafest 'Keynote' in Jodhpur.

This, of course, directly contradicts Chinese President Xi Jinping's claim that China has "the confidence and capability to defeat all armies that dare to offend". Also, China has, as of 25 July, violated our border lines twice already.

Chinese military has reportedly transgressed into Barahoti in Uttarakhand and crossed about 800 metres to one kilometre of Indian territory. Earlier, on 16 June, they had violated the Sikkim border by constructing a road in Doklam.

However, Major Gen Bakshi, who fought in the India-Pakistan war of 1971 and Kargil in 1999, is convinced that India's tension with China is nothing to be afraid of, and his confidence comes from the Indian armed forces.

"We are in safe hands with our army. They're capable of taking care of this country, taking care of China, and if necessary, the combination of China and Pakistan," he says.

Much like Arun Jaitley, Bakshi proudly asserts that the India of today is ready to go to war, and that we no longer believe in playing on the defensive. "We're not a defensive country. Last to use the shield was [Arjuna's son] Abhimanyu, and you remember what happened."
'China isn't the same'
Insisting that China has very little experience in war, he says, "India has fought in 1965, in 1971, and in 1999 Kargil. Chinese military hasn't fought a single battle in 38 years."

Claiming to have visited Beijing, Shanghai and met Chinese military leaders, he adds that they're not combat-tested like their 1962 military was.

Not a fan of Gandhian views, Major Gen Bakshi explains why India lost to China in 1962.

"We were busy talking about ahimsa, while they were training. And that ahimsa cost us. And it was important to be beaten, how else could we learn? We should thank China [for that lesson]," he says.

Bakshi also touches upon the Kashmir issue, which he calls a "communal problem", and India's struggle with Pakistan. He does so by proclaiming that India proved it could "destroy Pakistan" in 1971, and we must rally our troops again.

Calling 1971 war our "historic high point", he says, "Within 13 days, our capable military broke Pakistan into two halves [Pakistan and Bangladesh]. We had 93,000 prisoners in our jails, and we created a new nation on our muscle power."
Prepare for war?
Impressed with Prime Minister Narendra Modi and his promises, Bakshi insists that his leadership will benefit the military greatly.

"We lost a decade to the UPA government. We were told that a strong person would be our defence minister, but we didn't get our tanks, our ships. We got nothing," he says.

It isn't usual for an ex-Army officer to speak of peace, but Major Gen Bakshi talks of war as the only logical conclusion. He calls out to the "young people, because we're old and greying", and asks them to support the military and the government in fighting the impending 'Mahabharata'.

"Mahabharata will happen," he says, taking forward his Abhimanyu analogy. "Drop everything and prepare for it."

"If India could break Pakistan into two parts in 1971, we should fight them and break them into 10 parts now!" he concludes, gesticulating frantically.