Maharashtra docs continue strike despite Bombay HC warning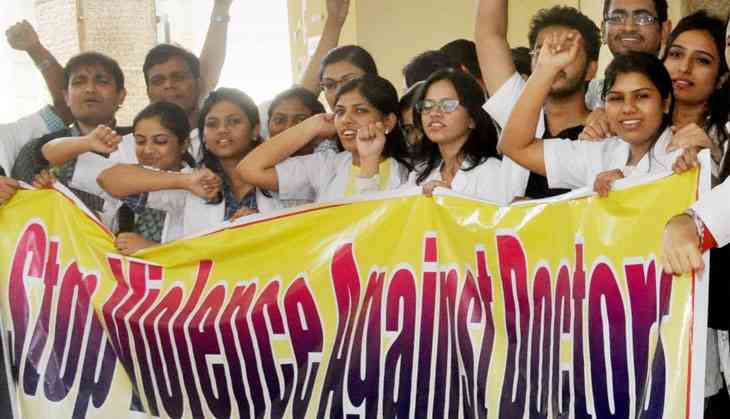 The fact that millions of patients across Maharashtra are suffering as the strike by junior doctors entered its fourth day on 23 March is the wretched eventuality that was bound to rise from the horrific assault on a doctor at Dhule Civil Hospital.
This assault came after a spate of other instances where relatives of patients attacked doctors. A new case of an assault on a female doctor was reported from LTMG Sion Hospital – the seventh such assault in two weeks.
Crippled healthcare
With healthcare services in government hospitals crippled due to the strike, more than 50 patients have reportedly died.
More so, the strike by Maharashtra Association of Resident Doctors (MARD) is continuing despite warnings of stern action from the Bombay High Court strictures and the government. In fact, 2,000 of them received expulsion notices a day ago.
"You are not fit to be doctors. You are fit to be an ordinary factory worker if you insist that you will not resume work until your demands are fulfilled," the division bench of Chief Justice Manjula Chellur and Justice Girish Kulkarni said.
With the intention of resolving the deadlock, medical education minister Girish Mahajan held a meeting with representatives of MARD late 22 March. He reportedly warned them that they would lose six months' pay if they did not resume their duties by 8 pm.
However, the doctors never resumed the duties. More so, the Maharashtra unit of Indian Medical Association (IMA) extended its support to the strike, as did the faculty members of the Medical Teachers' Association (MTA), and it was decided that's OPDs at all the private hospitals would remain closed on 23 March.
The Bombay HC also instructed the state government on 23 March to deploy 1,100 security guards at hospitals to provide security to the doctors and ordered the doctors to resume duties immediately.
The HC also ordered the government to make a rule, which will ensure that only two attendants can accompany a patient to a hospital. The state government has informed that HC that 500 security guards would be appointed by 5 April and remaining 600 guards would be appointed by the end of April.
Beyond Maharashtra's borders
To express support to the agitating doctors in Maharashtra Doctors at All India Institute of Medical Sciences (AIIMS), New Delhi, wore helmets while working yesterday.
The Federation of Resident Doctors Association (FORDA), Delhi has also said that resident doctors across the country will go strike if any action is taken against the resident doctors in Maharashtra.
"The Hon'ble Court has said, if we can't work, then we must resign. But if the administration can't provide us security, then government must resign," said Dr Pankaj Solanki, president and Dr Sumit Paria, general secretary of FORDA, in a press release.
Repeated assaults
The brutal assault on Dr Rohan Mamorkar, a resident doctor at Dhule Civil Hospital on 14 March, is what sparked this whole mess. Relatives of a patient attacked him with an iron rod, alleging negligence when the patient was referred to another hospital due to a lack of the required expertise.
Dr Mamorkar suffered serious skull, abdomen and chest injuries. His left eye has been so badly damaged that the doctors treating him fear that he might lose his vision. Dhule police has arrested nine persons in connection with the attack.
"The assaults on doctors have increased manifold in recent past. We cannot work under continuous pressure and threat of assault by unruly relatives of patients. The government must make adequate arrangements for doctors' protection at civil hospitals," says Dr Shivkumar Utture, the public relations officer for the IMA in Maharashtra.
He said that resident doctors at government hospitals have become sitting ducks for the relatives of patients who assault doctors without any reason.
"The incident at Dhule is very serious as the doctor is at threat of losing vision. There is no fear of law among the people and government wants us to work in such conditions," Dr Utture said.