Made in India: The eco-boom story no one is looking at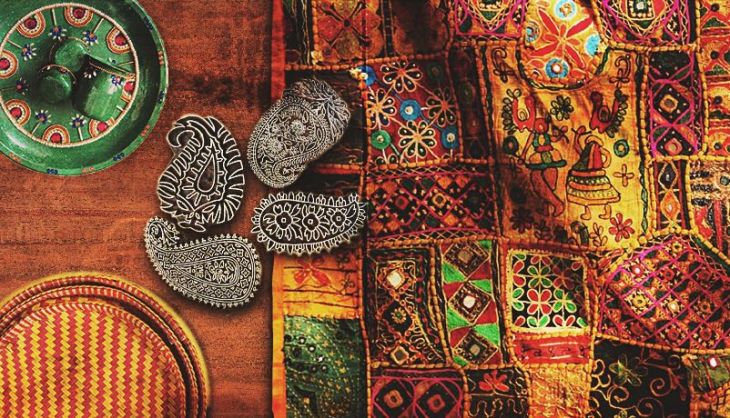 In the backdrop of Japanese Prime Minister Shinzo Abe's visit, Prime Minister Narendra Modi announced on Saturday that the Japanese nation has earmarked about $12 billion for 'Make in India'. Significantly, Japanese car manufacturers will now export to Japan from India.
Such flips are of course good as investment and technical expertise flows into the country, create jobs and improve bilateral ties.
All that is good for 'Make in India'. But what about our traditional artisans and weavers in India, who are already making in India for thousands of years. Are we paying enough attention to centuries-old handloom and handicraft trade of India?
Clearly not. Skills are slowly fading away and despite two-and-a-half decades into liberalisation, rural India's artisans are largely untouched by global business.
However, India's handicraft and handloom industry has massive growth potential. Take these facts for instance:
India is the biggest producer of jute in the world (1.67 million tonnes)
second in silk production (23679 MT)
second in cotton production (5.7 million tonnes)
fifth in synthetic fibre production during 2012-13.
India is a powerhouse of silk production; only China produces more silk annually than India.
India is the biggest exporter of yarn in the international market and has a share of 25% in the world yarn export market.
India has the highest capacity of loom with a share of 61% in the world loomage.
On one hand Modi talks of developing skill and entrepreneurship, and on the other these sectors lie in abyss, without modern technological, skill or finances.
dollars
The projected value of exports in textile and apparel by March 2017 from India, according to a report by the erstwhile Planning Commission.
This is 13 times more than the annual sales of Levi Strauss worldwide in 2014.
Significantly, this is roughly roughly around 13% of India's total export earnings.
Moreover, the textile industry accounts for 14% of India's industrial production, which is 4% of Gross Domestic Product.
Reasons for this phenomenal success are: leading the world in producing jute, huge output of cotton, having the second-largest textile manufacturing capacity in the world, abundance of raw material, organised retail and a shift in fashion preferences.
Read- The handloom sector has inherent strengths that we need to market: PM
Estimated number of handicraft and handloom workers in the country. Of this, more than three-fourth are women.
This is approximately four times the total population of Madrid city.
A significant chunk of them are artisans and weavers who primarily pass on their skill from one generation to the other.
Textile industry is the second-highest employer in the country after agriculture and most of these workers are unorganised, suffering at the margin; child labour is rampant.
The number of key reasons traditional craftsmen have to suffer
rise in competition from China (low-cost, machine-made goods)
lack of formal credit facilities
delay in disbursement of central funds
ignorance about government schemes and programmes
minimal technical support (as a result little skill upgrade)
perpetual poverty (due to a lack of standard wages) and bad health of workers.
is what an artisan's family earns per month on an average.
Many handicraft workers even earn less than Rs 1,000, according to Nidan, an organisation working for the welfare of informal workers.
Take the case of clay doll makers of Ghurni, in West Bengal's Nadia district, whose work was exhibited in 1856 at the Great Exhibition of London.
"The potters say they are losing business to the China-made idols of the gods and goddesses. The potters have now set up small shops selling mostly Chinese figurines and only a few of their own creations," Jayshree Sengupta, Senior Fellow, Observer Research Foundation, wrote in a research paper.
The situation is the same in Karnataka's Channapatna where traditional wooden toy makers are gradually stocking more and more cheap imports.
When Sengupta visited Ghurni she found the art was dying out decaying: a few families still made Rs 1,500 a month, selling their wares in Kolkata. The village wore has a 'decrepit' and 'forlorn' look.
The percent by which the number of handloom workers decreased since 2000 in India, due to migration, especially in search of livelihood opportunities.
This does not come as a surprise. As of 2009-10, handloom workers were only working for 183 days in a year, or earning Rs 9,150 per year.
But only about 1/3rd of them have Below Poverty Line ration card. About 90% of them reside in rural India suffering abject poverty.
In Andhra Pradesh, which is major producer of handloom textiles, second highest number of mills and workers, registered 613 weaver suicides and 1,500 attempted suicide due to loan traps between 1997-2010.
Also read: Why easing FDI norms could sound the death knell for #MakeInIndia
Exhibitions were held by the Ministry of Textiles to benefit handloom and handicraft workers between 2012 and 2015 across India.
These exhibitions cost the Union government about Rs 1,676 crore.
The good news: "The Eleventh Plan reveals that the level of income of weavers and artisans has increased through participation in fairs and exhibitions," Minister of Textiles Santosh Kumar Gangwar told Parliament in April 2015.
Apart from assistance in raw material access and marketing, there are at least twelve important schemes that the government runs to help artisan's:
National Handloom Development Programme

Baba Saheb Ambedkar Hastshilp Vikas Yojana

Design and Technology Upgradation Scheme

Marketing support and services Scheme

Research and development Scheme

Human Resource Development Scheme

Handicrafts Artisans Comprehensive Welfare Scheme

Infrastructure and Technology Development Scheme

Yarn Supply Scheme

Mahatma Gandhi Bunkar Bima Yojana

Handloom Weavers Comprehensive Welfare Scheme

Comprehensive Handloom Cluster Development Scheme
But expenditure and government funding has been improving. The schemes have an outlay of about Rs 4,500 crore under the 12th plan (2012-17). During the 11th plan period, more than 90% funds allocated for the schemes was utilised.
jump in work orders were reported after the implementation of Design and Technology Upgradation Scheme - a crucial scheme with the highest funds, according to a 2012 working group report on handicrafts by the Planning Commission.
The scheme helped half of all artisans covered to improve skills; a total of 1,380 workshops were organised during the 11th Plan period.
The scheme aims at organising design and technology workshops for new skills and technology and craft awareness.
They are largely successful, but there are challenges from minimal information dissemination, lack of monitoring to foreign importers saying that Indian handicraft is not design driven.
SWOT
Strengths: Cheap labour; unique hand-made products; exporters handling small orders.
Weakness: Lack of infrastructure; lack of awareness of market, technology; lack of coordination among government departments
Opportunities: Direct marketing via e-commerce; increasing appreciation in the West; Government support in upgrading products.
Threats: Better quality products from Europe, South Asia and Africa; increasing research and development and innovation abroad; better packaging by competitors.
More in Catch: