Latehar's deceased cattle trader Majloom Ansari was a cow protector of sorts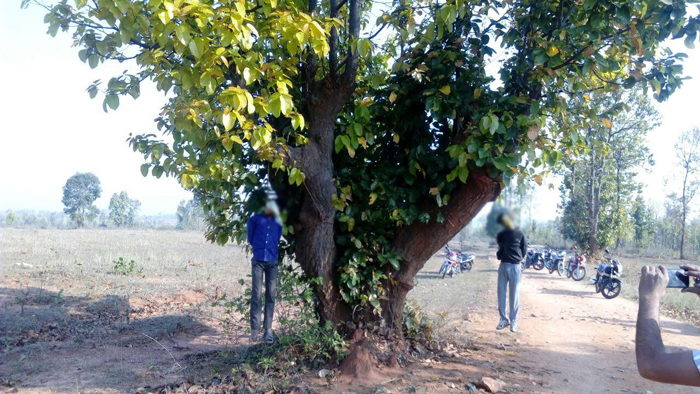 The murder
Police claim Latehar cattle traders Majloom & Imtiyaz were killed by robbers
Locals doubt this version. They accuse local Gau Raksha activists of being behind the murders
Majloom bought cows, fed & took care of them for 2-3 months and sold them at cattle fairs
More in the story
How Majloom was also a cow-protector
What are the loopholes in the police\'s claim?
The Bajrang Dal angle
On 18 March, Majloom Ansari (35) and Imtiyaz Khan (15) were found hanging from a tree in Jhabbar village of Balumath block in Jharkhand's Latehar district. Both the deceased were cattle traders. While Majloom was a resident of Nawada village of the same district, Khan lived in Arhara village.
According to local witnesses, Majloom and Imtiyaz were accompanied by a third person when the killings happened. He was reportedly riding a bike at some distance from the victims and managed to escape. If indeed a third person was present, he would be able to reveal the truth of what actually happened on the morning of 18 March.
The police claim that the murders were committed by some local gang with the intention of robbery. However, the local residents contacted by Catch, have contested this theory.
Also read: Dadri redux: Why Latehar killings are yet another result of Hindutva frenzy
Who was Majloom Ansari?
"Majloom had been trading cattle in local markets for a long time. He used to buy weak oxen, cows and buffaloes at cheap rates from people as well as in cattle fairs. He took care of the cattle, fed them for 2-3 months and sold them at higher rates at cattle fairs," said a youth from Jhabbar. The youth is afraid to reveal his identity as he feels it would put him in jeopardy.
"He ensured that cattle which were weak, injured or sick became healthy before he sold them. In that sense he was also a cow protector, even though he did it for profit," the youth added.
"On the day he was murdered, Majloom was taking 8 oxen to a local cattle fair. As they were on their way to be sold, Majloom would presumably have taken care of them for a few months," the youth said.
Majloom bought weak or sick cattle, fed and took care of them for 2-3 months and sold them at fairs
The crime scene
The murder is said to have taken place sometime after 4 am in the morning.
The youth had reached the scene of the crime at about 8 am on 18 March. His account is significantly different from the police version.
"I was called by the deputy chairman (Up-pramukh) of Herhanj block at about 7-7.30 am. He informed me about the crime and asked me to come to the spot. I reached the site at about 8 am. This place is known as Khaprail Barra. The bodies of Majloom and Imtiyaz were found hanging from 2 separate trees alongside a mud road that connected Jhabbar village. Their faces had been covered with cloth. Pieces of cloth were used to tie their hands and mouths as well...The brutality of the murders was there for everyone to see" he told Catch.
Also read: Jharkhand: 5 held, 3 at large in Muslim cattle traders' murder case
"About 8 oxen were standing nearby," he added.
This young man raises several questions over police claims. "The police is saying that they were killed by robbers. But cattle traders seldom carry large amounts of cash. And as they hadn't sold the oxen as yet, they wouldn't be having much money on them. If indeed they were killed by robbers, why didn't they take the cattle away?" he asks.
Apparently Majloom & Imtiyaz were accompanied by a third person, who managed to escape
Hindutva activists under the scanner
Another man from Jhabbar echoes the same doubts. "All the 5 men arrested by the police belong to good families. Why would they rob anybody for money?" he asks.
"All these accused were associated with the 'Gau Raksha Kranti Manch...so it is clear what the motive was," he adds.
Fingers are also being pointed towards local Bajrang Dal leader Arun Sahu. He has not been arrested as yet. Many locals told Catch that Arun has a criminal background. In 2013, he was allegedly involved in an assault on local brick kiln owner Mubarak Qureshi
Apparently, Arun and his accomplices accused Qureshi of coming to the village to buy cattle. But by most accounts, Qureshi had nothing to do with cattle trade. Arun was arrested for the attack but was released soon after. He has been absconding since the 18 March murders.
Fingers are being pointed towards a Bajrang Dal activist Arun Sahu, who has a history of violence
Anil Suman, a Ranchi-based activist of All India People's Forum, visited Jhabbar village on 21 March. He also finds it hard to believe the police's version.
"The police is trying to shield the real culprits. One religious guru from Uttarakhand Gopal Mani Maharaj has been vitiating the atmosphere of the area for many years. These murders were pre-planned. The activists of RSS and Gau Raksha Kranti Manch are involved in the crime," Suman alleges.
While these versions from the ground cannot be completely confirmed either, they have exposed the loopholes in the police's claims.
There seems to be much more to the Latehar murders than what the authorities are revealing.
Edited by Aditya Menon
More in Catch:
How rumours and a VHP bandh sparked violence in Jharkhand