Kejriwal in Punjab to set poll agenda; attacked, opposed at various places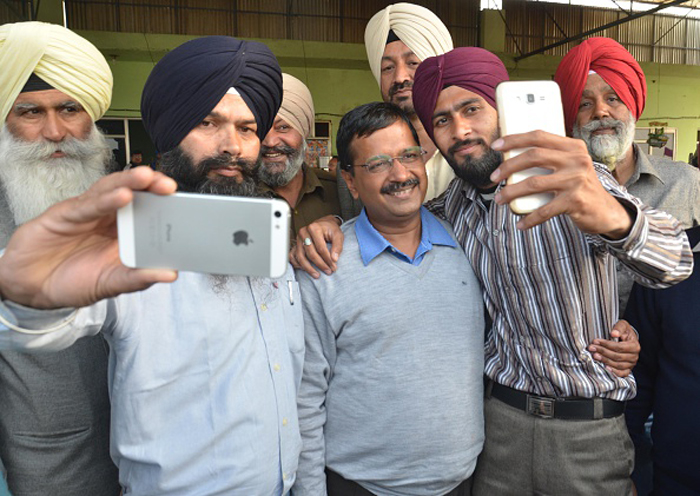 The visit
Arvind Kejriwal visited Punjab to set the Aam Aadmi Party\'s agenda for next year\'s Assembly polls
The party plans to get inputs from every village in Punjab for its manifesto
The attack
Kejriwal\'s car was attacked with sticks and stones near Ludhiana
More in the story
The main points Kejriwal raised in front of the people
Punjab Cong chief Captain Amarinder Singh\'s stunning verbal assault on the Delhi CM
While the media glare concentrated on the Union Budget and the developments in neighbouring Haryana, Delhi Chief Minister Arvind Kejriwal was in Punjab to set the Aam Aadmi Party's agenda for next years' Assembly polls.
Much to the discomfort of both the ruling Shiromani Akali Dal (SAD) and the Opposition Congress, the AAP convener has reached out to the people in the state's heartland over a range of issues that could decide the polling patterns.
Also read - What's making AAP click in Punjab? It's not just anger against Badals
First, the SAD and Congress leaders took verbal potshots at Kejriwal and AAP. But on Monday, 29 February, his car was attacked near Ludhiana with sticks and stones.
My car attacked with sticks and stones in Ludhiana. Front glass pane broken. Badals n congress nervous? They can't break my spirits

- Arvind Kejriwal (@ArvindKejriwal) February 29, 2016
Party leader Ashish Khetan also tweeted about the incident.
In a well orchestrated attack the goons sent by Badals attacked Kejriwal's car with stones & rods as police stood by pic.twitter.com/5fjyumO1JD

- Ashish Khetan (@AashishKhetan) February 29, 2016
Setting the agenda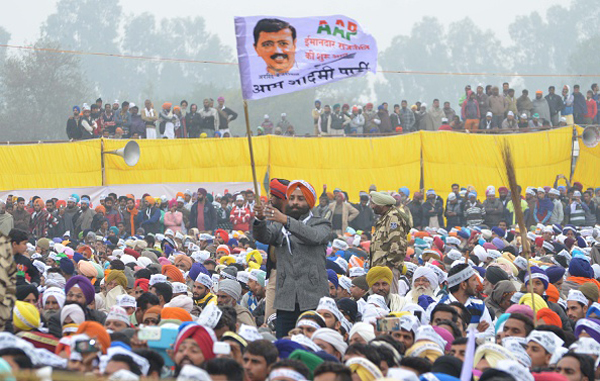 Kejriwal's visit is aimed at enthusing the party cadres working on the ground, and also at sending across signals to the common electorate that the party is well-versed with local issues, and is capable of providing solutions to the problems.
He began his tour by offering the Delhi model of governance to the people. He has been going around telling the masses: "People have already made up their mind to vote for AAP. This visit is to get a feedback for our election manifesto, so as to form a new Punjab in 2017."
His promises include:
- A corruption-free government
- Free mohalla clinics across the state, and an improvement in healthcare.
- Kejriwal has also touched a raw nerve - the farm crisis. During his visit to villages in Sangrur and Mansa, he interacted with the families of farmers who have committed suicide. While offering to resolve the issues of the farmers in distress, he pointed towards the faulty policies of the SAD government in the state.
- In a good political move, he has asked Chief Minister Parkash Singh Badal to put a moratorium on the forced recovery of loans from the farmers till the next government assumes office. He said it is the faulty policies and rampant corruption because of which the farmers are going through tough times in the state. "There are families under heavy debt and banks build pressure on them to forcibly recover money. In such a situation, the farmers are forced to commit suicide," he reportedly said in a letter addressed to Badal.
Kejriwal's car was attacked with sticks and stones near Ludhiana on Monday, 29 February
- He has also been pointing out that a one-time loan waiver might give some relief to the farmers, but it is not a lasting solution. He said that a solution to the crisis will have to be found by experts after brainstorming with a government that has the will to address the issue.
- Another major issue Kejriwal has taken up is the drug menace in the state, particularly in the border districts. Over the last several months, AAP has been playing up the issue regularly, holding the ruling party responsible for failing to check abuse by the youth, as well as trafficking of synthetic drugs in the state.
- He has also been trying to garner the support of Dalits on the issue of atrocities being meted out to them in the Punjabi society, which still retains feudal tendencies. He personally went to meet the family of Bhim Tank, the 27-year-old killed at the farmhouse of liquor baron and SAD leader Shiv Lal Doda in December. The youth's limbs had been chopped off, allegedly by 24 persons, a majority of whom were employees of Doda. Kejriwal offered a job to a Tank family member and offered free treatment in Delhi to another youth, Gurjant Singh Janta, who had survived the assault. Kejriwal also promised to probe the matter when AAP assumes power in the state.
- He has also been trying to rope in small businessmen, offering a solution to their tax-related problems and also get rid of corruption. He said in Sangrur that the AAP government would take just two months to sweep the state clean of corruption and the menace of drugs.
- Kejriwal has repeatedly torn into into the development claims made by the state government, particularly those made by deputy CM Sukhbir Singh Badal. He raised the question of safe drinking water in villages in Fazilka, where people are tackling water borne diseases.
Also read - Can Punjab Congress crawl back to victory after Amarinder's full overhaul?
Black flags
Kejriwal's visit has been marked by hostile reactions both from the SAD as well as the Congress. Sukhbir has termed his visit as 'nautanki', and has reportedly questioned why he did not visit his native state of Haryana instead of shedding crocodile tears at the houses of farmers who committed suicide years ago.
AAP says it will visit every village in Punjab before publishing its manifesto for next year's polls
The SAD leadership has been saying that Kejriwal should first remove corruption from Delhi and then talk about Punjab. SAD activists showed black flags to Kejriwal at many places in the Abohar-Fazilka area.
The protests against him were the most intense when he visited the Majha area, particularly the city of Amritsar. There were anti-AAP and 'Kejriwal go back' slogans as he went about hitting at the state government on the issues like the drug menace. He squarely held the politician-police-drug mafia nexus responsible for it.
Amarinder's personal attack
The Congress has also attacked Kejriwal saying he is a novice who cannot lead a state like Punjab. Party leaders have been saying that Punjab needs an experienced hand to set matters right.
Punjab Congress president Captain Amarinder Singh has taken issue with Kejriwal 'distorting' his statement on the issue of reservation in public. "Kejriwal has only vindicated his stand that he is a congenital liar, who lies shamelessly without any remorse," said Amarinder.
He has asked Kejriwal to come clean about the commitments he makes before the polls. "If your intentions are such that you really don't mean to fulfill all the promises, then why make such promises at the first instance and befool the people?" he said.
Taking a dig at AAP's 'Punjab Dialogue' to 'study' various issues in Punjab over the next six months, in order to prepare a manifesto, Amarinder remarked: "It is quite natural for a party which has no roots but just a few shoots in Punjab to struggle to identify the issues. If you really don't know what are the issues and problems ailing Punjab, you really don't have any right to claim to represent Punjabis. If you think by bringing in half-hatched eggs from outside, you will be badly disappointed."
"Kejriwal is a congenital liar," says Punjab Congress president Captain Amarinder Singh
Maintaining that the 'Punjab Dialogue' is a show of 'political theatrics', for which AAP is "exclusively and characteristically" known for, Amarinder pointed out that there are 12,581 villages in Punjab. AAP claims to be going to each and every village to seek the opinion of people, which is impractical and virtually impossible. "Do you really prepare manifestoes like that?" he asked.
"You really don't need to visit 12,581 villages to know about the problems of people, as everybody everywhere knows what is ailing Punjab. That is why I have been insisting that Punjab cannot afford any new experiment with the people who have no experience, no competence, no knowledge and not even any roots in Punjab," he said.
The Congress also brought in Delhi Congress leader Ajay Maken to take on Kejriwal. Maken said that Kejriwal was a dream merchant who had not fulfilled even a single promise made to the people of Delhi. He said the Congress did not want the people of Punjab to suffer the fate of the electorate in Delhi.
Even the BJP, which does not have a very strong presence in the state, protested against Kejriwal. Six of its workers were injured and around 200 were reportedly detained when the party workers were lathicharged by the police during a protest in Batala.
More in Catch - Battle Field Punjab: how the state's farmers are suddenly being wooed
Forget Green Revolution. Punjab's farmers are now killing themselves
Find out why Badal's sop story will make Punjab's finances weep