Keeping it within the family: Ram Rahim Singh's son Jasmeet Insan picked to head Dera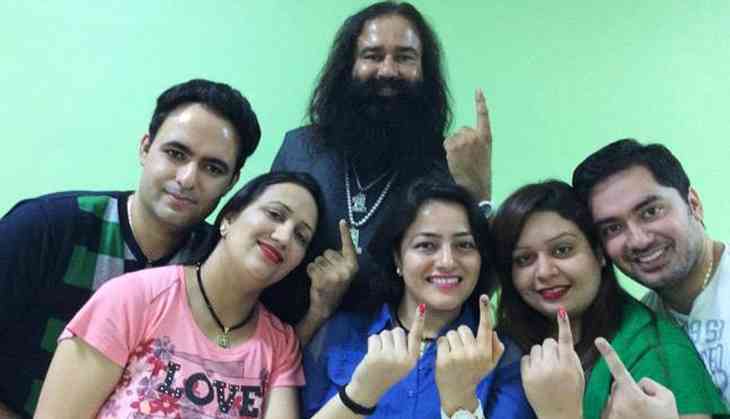 Reports are trickling in that self-styled godman Gurmeet Ram Rahim Singh's son Jasmeet Singh Insan may take over as the Dera Sacha Sauda chief in his absence.
Having been convicted for raping two sadhvis in his ashram, the Dera chief was sentenced to 20 years rigorous imprisonment by a special CBI court in Rohtak on 28 August.
The heir apparent
According to reports, the decision to choose Jasmeet as the next Dera head was taken in a meeting called by Ram Rahim Singh's 82-year-old mother Nasib Kaur. The emergency meeting was called after the CBI court sentenced the Dera chief to 20 years in jail.
Soon after the decision, a meeting of Dera's core committee was called and all 45 members of the committee agreed to the decision announced by Kaur.
Moreover, she went on to add that it is not necessary for the followers to accept Jasmeet as their guru. Instead, they should just accept him as the head of the Dera who would take care of its daily functioning, which has been paralysed since Ram Rahim Singh's conviction.
Jasmeet is married to the daughter of a former MLA and Congress leader Harminder Singh Jassi. The 35-year-old runs his own business and does not actively participate in Dera's work.
'Papa's angel'
Jasmeet's coronation must have come as a surprise to many who were betting on his adopted daughter and close aide Honeypreet Insan to take over the sect.
It remains to be seen whether this decision would create any feud in the family considering it is against the Dera's principles to appoint a family member as the Dera head.
Earlier, there were strong rumours that Honeypreet, who even accompanied Gurmeet to the Rohtak court, would be announced as his successor. Apart from Jasmeet, the Dera chief has three daughters – Charanpreet, Amanpreet and Honeypreet – who were seen as possible contenders to replace their father.
Interestingly, Honeypreet is Gurmeet's adopted daughter, which could nullify the clause of the successor not being a family member of a previous chief.
Reports suggest that 35-year-old Honeypreet is particularly close to the Dera chief, and has acted in films starring him. In her Twitter profile, Honeypreet describes herself as "PAPA's ANGEL, Philanthropist, Director, Editor, Actress!! Passionate to transform my Rockstar Papa's directions into actions!"
From what can be gleaned from the recent developments, it's clear grandmother Nasib Kaur want to keep the Dera business within the family and not hand it over to an outsider. Moreover, the decision must have been taken in consultation with Ram Rahim Singh who is currently lodged in Rohtak jail.
Ram Rahim Singh's conviction
Earlier on Monday, while sentencing 50-year-old Ram Rahim Singh to prison, the CBI court said that the Dera chief acted like a "wild beast" who did not even spare his own "pious" supporters. When the court proceedings began, Gurmeet broke down and with folded hands begged for mercy which failed to move Justice Jagdeep Singh.
Meanwhile, the Punjab and Haryana government had made appropriate security arrangements before the quantum of sentence was announced considering how law and order situation deteriorated after Gurmeet was convicted on Friday.
In all, 38 people were killed and hundreds injured in Panchkula and adjoining areas of Haryana and Punjab after Gurmeet was convicted in the two rape cases dating back to 2002. His supporters resorted to violence and burnt several vehicles after the conviction.
After the sentencing, CBI in its press release said, "CBI had registered a case on 12.12.2002 u/s 376, 506 & 509 of IPC on the orders dated 24.9.2002 of the Hon'ble High Court of Punjab & Haryana at Chandigarh passed in Crl. Misc. No. 26994-M of 2002 – Court on its Own Motion Vs. State directing CBI to investigate the alleged sexual exploitation of Sadhvis at Dera Sacha Sauda, Sirsa by Baba Gurmeet Ram Rahim Singh, the Head of Dera Sacha Sauda, Sirsa.
"After thorough investigation, CBI filed a charge sheet against accused Gurmeet Ram Rahim Singh u/s 376 & 506 of IPC on 30.07.2007. Charges were framed against the accused on 6.9.2008. During trial, the prosecution examined 15 witnesses. The accused was also examined. Thereafter, one witness was examined as a Court Witness on the orders of the Hon'ble Supreme Court of India. The Defence examined 37 witnesses. The final arguments were concluded on 17.08.2017. The Special Judge for CBI Cases, Panchkula(Haryana) found the accused guilty U/s 376 & 506 of IPC on 25.08.2017."