Kashmiris pelting stones are nationalists: Farooq Abdullah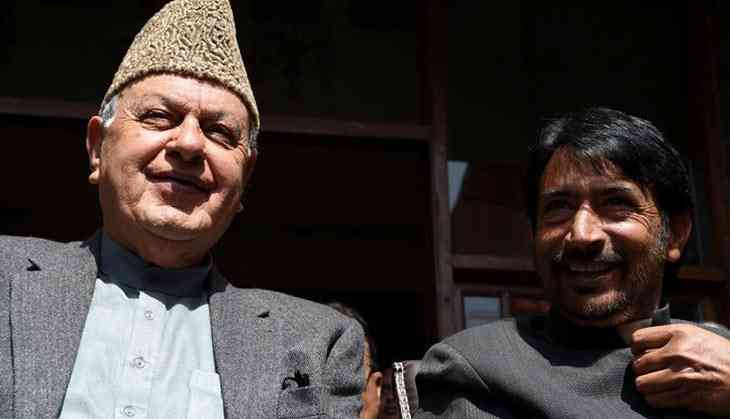 National Conference president Farooq Abdullah has given a combative response to Prime Minister Narendra Modi's comment on Kashmir's stone pelters.
"Modi sahab has asked Kashmiri youth to make a choice between tourism and terrorism. I want to tell Modi sahab and also to this nation that tourism is our lifeline, there is no doubt about that. But the youth who are throwing stones are doing so for their own Watan (nation), this needs to be understood," Abdullah said, addressing party workers at his Gupkar residence in Srinagar on Wednesday.
Abdullah is a candidate in the bypoll for the Srinagar parliamentary constituency, voting for which will be held on 9 April.
Seated in a chair and wearing a pheran, Abdullah was in a combative mood: "This needs to be understood that if these stone throwers are giving away their lives, they are not doing so for tourism. They are doing it to force a resolution of Kashmir that is acceptable to the people of the state".
Open to US mediation
What's more, Abdullah supported the US mediation offer on Kashmir. "You must have heard that America wants to become a mediator between India and Pakistan. But we know India has always argued that they don't need any third party intervention and that they would resolve issues bilaterally with Pakistan. NC once also supported this position. But not anymore," he said.
"Many years have passed and the two countries have failed to resolve anything. We now think that America's mediation offer is a good thing and they should take the initiative."
Abdullah's remarks have generated instant media attention, which seems to have been the NC's aim anyway
Kashmiri leaders have often tended to use separatist rhetoric to mobilise support during elections. This is especially the case with parties that are in the Opposition as the party in power needs to exercise restraint.
In the 2014 Lok Sabha elections, Abdullah suffered a shocking defeat from Srinagar at the hands of PDP's Tariq Hameed Karra. Karra later fell out with the PDP and recently joined the Congress. This necessitated the bypoll in which NC fielded Abdullah with the support of the Congress.
Abdullah's main rival this time is the ruling PDP's Nazir Khan, a lesser known candidate whose campaign has expectedly been muted and lacklustre.
Not just polls, this is Farooq 2.0
However Abdullah's new anti-New Delhi avatar can't be entirely attributed to the ongoing election campaign. He has been making secessionist sounding statements since his return to the state's political scene in October last following his extended medical treatment in London where he went through a kidney-replacement operation.
The Valley was still embroiled in the unrest that broke out following the killing of Hizbul Mujahideen commander Burhan Muzaffar Wani in July and didn't quite notice the change in Abdullah's political rhetoric. But his controversial statement telling New Delhi – that Pakistan Occupied Kashmir "wasn't it's father's property" – did generate a buzz in the media.
He followed it up with another statement: He urged Hurriyat to press ahead with struggle for Azadi and said that they had his party's support.
"I ask these Hurriyat leaders to unite. We are standing by your side at this hour. Don't think of us as your adversaries. We are not your adversaries," Abdullah said in his speech to his workers after offering prayers at his father Sheikh Muhammad Abdullah's tomb on his death anniversary on 5 November last year.
"We are with you until you keep treading the right path. And until you guide this nation on the right path".
Pointing towards New Delhi at the time, Abdullah told his workers that no power on earth could crush them.
"They can't crush you. This fire that has been lit up in Kashmir can't be extinguished. Until India and Pakistan will give us justice," Abdullah said theatrically. "They have to do justice to the people of Jammu, Kashmir and Ladakh. Until that happens, this fire can't be extinguished. No matter how much they try".
Abdullah also advised his workers to support the Azadi movement in Kashmir.
"I urge NC workers not to stay out of this (separatist) movement. I warn you. We are a part of this movement," he said. "We have always fought for Kashmir cause. We have gone to jail".
Speaking at Gupkar on Wednesday, Abdullah was at his theatrical best. He made no attempt to straddle the Valley's precarious mainstream-separatist divide, something that PDP was adept at doing while in opposition.
In contrast, Abdullah choose to unapologetically ride the crest of rising separatism in Kashmir by taking on New Delhi and invoking Kashmiri nationalism and using Islamic imagery.
"Our Razaq (sustainer) is Allah. No one else. Not even Modi. There is one God. And all of us – Hindus, Muslims, Sikhs – have different ways of worshiping Him. But now enough is enough," Abdullah said referring to the rise of communal politics across India,
"I tried hard to bridge the divide. Even sang their bhajans. Now let them safeguard their own Deen (religion). And let us protect our own Deen".