Karnataka scandal at Lokayukta's doorstep: how long will he last?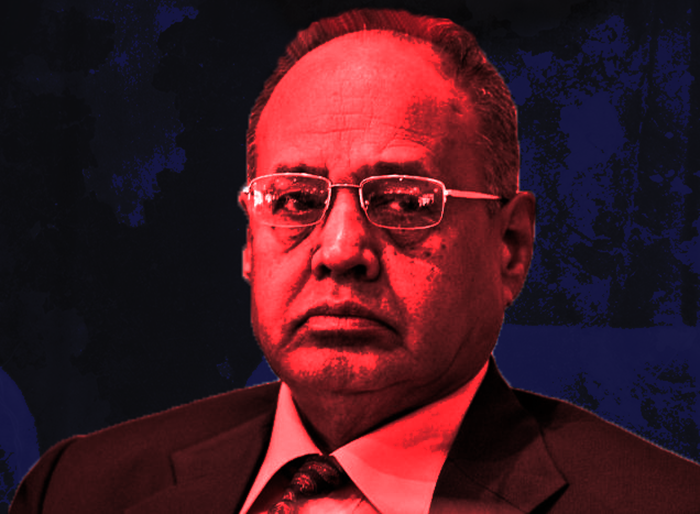 The wrongdoing
Lid is blown of extortion gang in Lokayukta\'s office.
The gang took bribes to stop raids, 20 babus paid.
Engineer reveals Lokayukta\'s son, Ashwin, is part of the gang.
The machinations
Defying the Lokayukta, his deputy orders probe.
SP Sonia Narang files FIR, naming Ashwin.
HC stays probe, wants outside agency to investigate.
Government says it will set up an SIT as requested by Rao.
The fallout
Status of FIR is unclear. Former Lokayukta Santosh Hegde says it\'s actionable.
Opposition rejects SIT, accuses CM of being soft on Rao.
Protesters want Rao gone, he is adamant on staying.
Lokayukta\'s credibility is in tatters.
Has the Karnataka government thrown a lifeline to embattled Lokayukta Y Bhaskar Rao to wriggle out of the corruption scandal his son is embroiled in?
The opposition leaders insist this is the case, pointing out that Chief Minister Siddaramaiah quickly accepted Rao's request for a probe by the SIT, instead of calling in the CBI.
Also read- From crusaders to scamsters: what corrupted the Karnataka Lokayukta
The net seemed to be closing in on Rao as SP, Lokayukta Police, Sonia Narang, on Wednesday, filed an FIR naming Rao's son Ashwin as one of the accused in an extortion racket run out of the Lokayukta's office.
Ashwin, the FIR alleged, had demanded Rs 1 crore from Krishnamurthy, an executive engineer of the state government, last May.
Narang, who was pursuing the probe at the behest of Upalokayukta Subhash Adi, and in defiance of Rao's order not to proceed further, obtained a written complaint from the engineer who had earlier complained verbally.
Krishnamurthy identified Ashwin from the photographs as the person who, posing as one Krishna Rao, called him to the Lokayukta's office and demanded money to halt an impending raid on him.
According to Krishnamurthy, Ashwin told him he was on a list of state officials under the Lokayukta's scanner. When he expressed his inability to pay Rs 1 crore, Ashwin scaled down his demand to Rs 50 lakh and further to Rs 25 lakh. Krishnamurthy reportedly made no commitment and walked out. He then made a verbal complaint to Narang, blowing the lid of the racket.
Former CM Kumaraswamy named IAS officers 'blackmailed' by Ashwin's gang. At least 20 paid up
Six weeks after the initial complaint, Narang filed an FIR in a special Lokayukta court around noon on Wednesday. It charged Ashwin aka Krishna Rao and others under Section 8 of the Prevention of Corruption Act (taking gratification by corrupt or illegal means to influence public servant) and IPC sections 384 (extortion), 419 (intention to cheat), 420 (cheating) read with 120-B (criminal conspiracy).
Unaware that the FIR had been filed, Ashwin approached the Karnataka High Court an hour later. He pleaded that Narang's inquiry be quashed as the state had decided to constitute an SIT under Additional DGP Kamal Pant following the Lokayukta's request for an 'outside agency' to conduct the investigation.
The court, in an interim order, said provisions of the Lokayukta Act did not empower both the Lokayukta and the Upalokayukta to investigate the same issue. And since this particular complaint was against officials of the Lokayukta itself, a division bench of justices N Kumar and B Srinivase Gowda said, "it is appropriate that the inquiry is conducted by an outside agency".
The bench then asked the Lokayukta's office to put the in-house probe on hold and await the SIT report.
So, what about the FIR filed by Narang? The legal fraternity is divided on whether the local police should act on it or wait for the SIT to conclude its investigation.
Former Lokayukta Santosh Hegde is of the view that the FIR 'stays' and is actionable. Distressed by the crumbling of an institution he had nurtured to high public esteem, Hegde minced no words: "Now that an FIR has been filed against his son, it is high time Bhaskar Rao resigned. He should have at least gone on leave. He is too involved in this and there is room for suspicion that he is an abettor."
A senior advocate argued that if Delhi minister Jitender Singh Tomar could be arrested in the fake certificate case, there was no reason why a judge's son could not be taken into custody based on an FIR, particularly when the allegations against him are far more serious.
"The SIT is yet to be constituted. Its report will take a long time to come. And Ashwin will surely use his position and power to destroy the evidence," the advocate told Catch. "Courts in India apparently have double standards."
'It's high time Bhaskar Rao resigned. There is room for suspicion that he's an abettor,' says Santosh Hegde
The opposition leaders, meanwhile, have targeted Siddaramaiah for going soft on Rao, a charge he denied while speaking in the Assembly, currently in session at Belguam: "We are not protecting anybody. We can wait till the Special Investigation Team report is submitted."
Critics, however, point out that the SIT won't have the power to register an FIR; it can only submit a fact finding report to the government.
Earlier, former chief minister H D Kumaraswamy had stunned the Assembly by narrating how the 'corrupt network' worked in the Lokayukta: Two touts named Bhaskar and Rajashekar had befriended Ashwin and together they targeted government officials put on a list by Revenue Minister V Srinivas Prasad's private secretary.
Kumaraswamy named several IAS officers who had been 'blackmailed' by the accused. At least 20 senior officials had paid up, he said.
Meanwhile, demonstrations outside the Lokayukta's office continued Thursday. The protesters are demanding Rao's resignation, but the Lokayukta is adamant on staying put, at least till the SIT report comes out.
The views expressed here are personal and do not necessarily reflect those of the organisation.