Kamal Haasan meets Rajinikanth two days before his party launch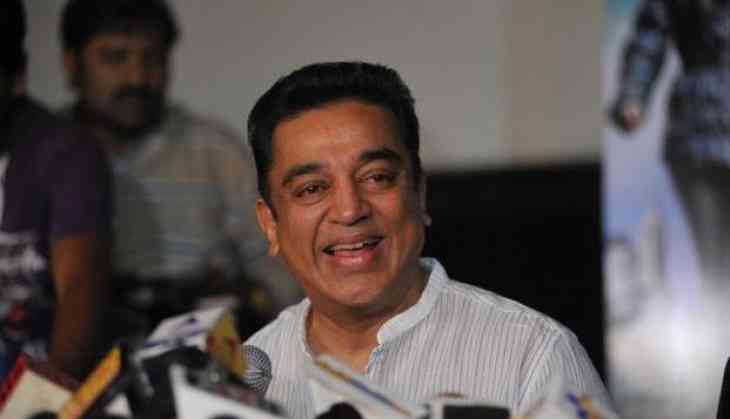 Renowned actor Kamal Haasan, who is ready to make his way into politics, on Sunday said "only time will tell" about his party's possible alliance with Tamil movie star Rajnikanth. Both of them met at Rajnikant's residence on Sunday, said the meeting was nothing but a "courtesy call".
After meeting, Haasan said, " It's a courtesy call, not a political meeting. I came to inform him about my political tour. He wished me good luck."
When asked if the duo was to enter into a partnership, Hassan, the national-award-winning actor said, "Only time will tell".
Haasan gave his remarks a week after about the political alliance with Rajinikanth won't be possible if the latter will hold on to the color "saffron", which clearly indicated at BJP government. He also said, " There is a hue of saffron in Rajni's politics. If that doesn't change, then I don't see an alliance with him," he said, during the launch of his website, naalainamadhe.maiam.com, at Harvard University on February 11. "My politics will definitely not be saffron."
Kamal Haasan meets Superstar Rajinikanth at his residence, invites him to attend the public meeting of his political journey, in Madurai on February 21st.

Superstar Rajinikanth: My style is different from him in politics too, but we share a common aim to serve people. pic.twitter.com/hxNe6sa8Xj

— Sathish Kumar M (@sathishmsk) February 18, 2018
Rajnikanth congratulated Haasan during the meeting on Sunday. He also said, " Kamal wants to serve the people of Tamil Nadu. I pray to God that he attains success. He has not entered politics for fame or money but only to serve the people of the state."
Hassan spoke about being in Opposition, "If there is no majority, its the people's verdict. Then I would not have to sit but stand and wait for the next time." He also ruled out all the possibilities of a post-poll alliance. During a statewide tour starting February 21, he will announce his party's political name and give a brief about its "guiding principles".
His first stop of the tour would be his hometown, Ramanathapuram, and he will subsequently visit Madurai, Dindigul and Sivagangai in the first phase.