Kalluri Mukt Bastar? Own comments and CBI probe may cause cop's downfall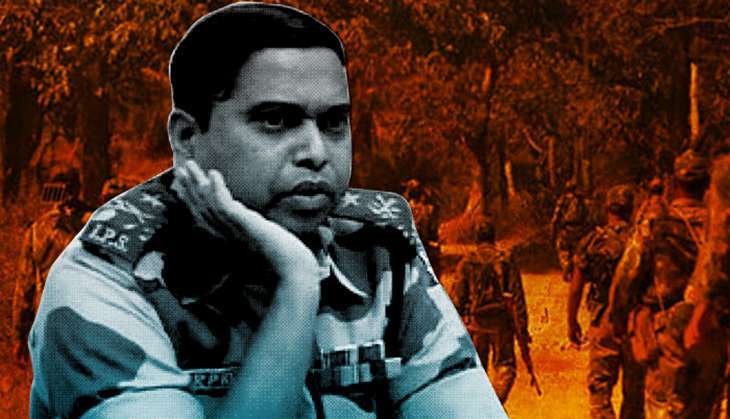 For the first time in years, there seems a possibility of bringing to book the man accused of innumerable human rights violations in Chhattisgarh and promoting violence through vigilante groups - Inspector General of Bastar police SRP Kalluri.
A number of recent events have made this possible.
On 21 October, a CBI team tasked with investigating incidents of large scale violence by state forces in three villages in Bastar in March 2011 just before Salwa Judum was banned by the Supreme Court, submitted a report. In the report submitted to the apex court, it found security forces to be behind the crime. Catch has a copy of the report.
Two days later, on Sunday, Kalluri himself held a press conference in Jagdalpur, claiming that "whatever happened [during the March 2011 violence], happened under my directions."
SRP Kalluri was the SSP of Dantewada, when 252 houses of local adivasis were burnt, three locals killed, and three women raped during an operation, supposedly to combat Naxals, conducted jointly by the local police and CRPF, between 11 and 16 March, 2011 in three villages in Bastar - Morpalli, Tadmetla and Timpuram.
A writ petition seeking action against Kalluri on basis of his own public statement is reportedly in the works. Catch has spoken to the petitioners as well as several activists and journalists who have closely tracked this case.
The CBI report which has charged police officials for torturing locals and setting their houses on fire and Kalluri's public admission, may set in motion legal proceedings against not just Kalluri but several other senior cops and CRPF officers.
CBI's chargesheet
The police had initially denied any act of violence in the three villages, when reports about large scale violence first started to do the rounds in Bastar. After some journalists managed to reach the spots and report, the police claimed that Naxals were behind the violence.
In their chargesheet, the CBI has held seven police constables responsible for torturing local adivasis and burning their houses. The chargesheet talks about the 'involvement of around 323 SPOs/policemen in the operation...Besides the above, around 95 CRPF/CoBRA personnel also participated in the operation.'
'Investigation disclosed that the villagers stated that they have seen... police constables...acting in furtherance of common intention to beat/torture villagers and set their houses on fire and thereby they committed offences under sections 34/436 of IPC.'
Nai Duniya's Anil Mishra was the first journalist, along with The Hindu's Aman Sethi, to reach the spot. As the police had blocked all roads leading to the three villages, the two reporters took a route through Andhra Pradesh to reach Morpalli, Tadmetla and Timpuram.
"Gaon ke gaon jale hue the," Mishra says, recounting what he saw in the villages. "Nothing was left standing in the area. They had nothing to subsist on. All of them told us that uniformed people had come, killed and raped people and set their houses on fire."
Kalluri brazens it out
Kalluri did not just take full responsibility of what happened at the three villages, he also gave an excuse of why over 250 houses were burnt down to ashes.
"When the forces go there, there will be war. There will be bullets. There will be bombing. When there is bombing in a season when it's hot, there are huts that will burn. We have never said that huts did not burn. This has happened during police action, but the police did not set them on fire."
A local reporter in Bastar, who did not wish to be identified, explained to Catch the topography of the three villages and gave reasons why Kalluri's theory was implausible.
"Please understand that in Bastar's jungles, villages and houses are spread far apart. Every village has a mohalla comprising nearly a dozen houses and any two mohallas are at least four kms apart. If you take all the three villages and their mohallas together, you're talking about an area of at least 25 km sq. In such a huge expanse, houses cannot catch fire because of heat or close proximity. This was a planned carnage spread over five days."
More reactions
Activist Nandini Sundar, who is closely involved in the case going on in Supreme Court, says that she will press the CBI to investigate this case and establish the culpability of the seniormost police officers.
"CBI has held only seven police constables guilty for these crimes, but do you think that just seven constables could have the means to burn down over 250 villages and commit all the other crimes by themselves? And even if this were somehow possible, do you think their seniors had no idea about this carnage. We will press CBI to investigate harder and name the people at whose behest these crimes were committed."
The other person who is closely connected to this case, and went to Dantewada soon after the incidents, is Swami Agnivesh.
Agnivesh said that thrice he tried to approach the villages with relief material and all three times he was stopped, attacked and humiliated by Kalluri.
"I had personally spoken to Chief Minister Raman Singh, who had promised me full cooperation and security. But Kalluri, who masterminded these incidents of violence, stopped me every time. So severe was his reign of terror in the area that two senior bureaucrats, including the district collector of the area, told me that Kalluri had threatened to kill them if they move towards those villages."
Senior journalist in Bastar, Kamal Shukla was with Swami Agnivesh when he was attacked, said that while CBI's investigation into the incidents had set a new milestone, there was still a lot that the probe agency had overlooked.
"CBI hasn't unearthed all the secrets. What many people don't know is that even today no journalist can go to these three villages because of fear of police reprisal. The fact is that at the time of incident, senior police officials were openly bragging about having carried out the carnage. CBI should know this and nab those people. We can't pin the whole incident on a few constables."
The fact that CBI's chargesheet has unnerved local police is evident in how Kalluri, who maintains an arm's distance from media, called a press conference on a Sunday to explain his position. On Monday there were reports of police burning effigies of individuals such as Nandini Sundar, who've been fighting the case on behalf of the villagers.
As pressure builds on Bastar's top cop, the next few days will be full of action. For all those who have been at the receiving end of Kalluri's reign of terror, there finally seems to be a glimmer of hope.
Edited by Aditya Menon
Also Read:
IG Kalluri's reign of terror: there's hardly a place left for truth in Bastar
Bastar encounters: Is IG Kalluri's war against Maoists or Adivasis?