Just when Marathwada thought it had recovered from droughts came demonetisation
Parth MN
| Updated on: 11 February 2017, 5:47 IST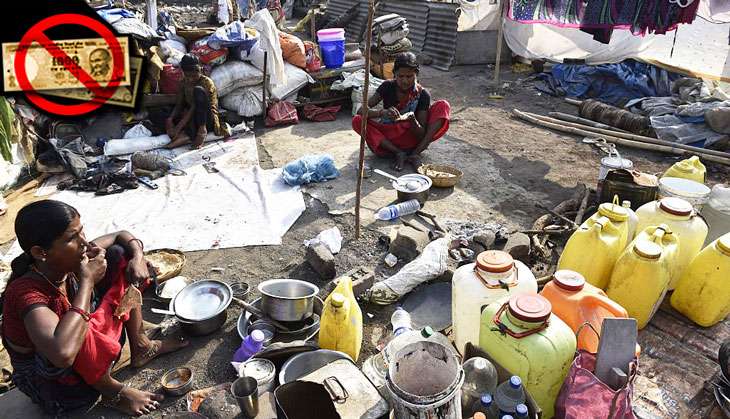 Over the last few years, Marathwada and drought have become synonymous with each other. The paucity of rainfall has only intensified the agrarian crisis over half a decade. In 2016, however, even though the rain gods blessed Marathwada, the farmers here are still enduring a drought, though of a unique kind. The drought of notes and currencies.
Prime Minister Narendra Modi's decision to demonetise 500 and 1000-rupee notes on 8 November has crippled the farmers of Marathwada, where every transaction is cash-based.
Farmer Padmakar Londhe described the scene at the Agriculture Produce Market located in Latur city, which is 50 kilometers from his hometown of Nilanga in Latur district.
"It was chaotic," he said, when he visited the market to sell his soybean on Thursday last week. "Farmers had come all the way from their remote villages to sell their produce and buyers did not have the money to pay them back."
Londhe had to dump his 20 quintals of soybean at the market and head back home without receiving his dues.
Can't prepare for next season
"I was told to come again next week," Londhe said, adding that the unnecessary expense of a trip merely to collect his dues would definitely pinch. "I did not have money to go back to the village, or to have a cup of tea. I borrowed some before heading back. The situation is still disastrous. I am waiting for the money, without which I cannot prepare for the Rabi season."
Due to the relatively adequate rainfall, farmers had been satisfied with their Kharif crops this season. The idea was to raise enough capital for the impending Rabi season by selling the Kharif produce.
This is a critical period for the farmers, for season-specific nature of their profession does not allow a flexible window for delay in preparations.
Senior journalist and agriculture expert Atul Deulgaonkar, who is based in Latur, said 25% of the farmers are yet to sow for the Rabi season.
"Others who have done so, need money for further cultivation," he said. "A delay or a break could wash out the whole season. The demonetizsation has created an economic impasse."
Farmers, after selling their crop in the city, generally shop for the fertilizers, seeds, a week's ration, medicines, etc and head back to their village. But the cash crunch appears to have paralysed the entire informal sector.
Shivaji Sonawane, who is a farmer and runs a fertilizer and seed shop in Latur, said there are around 80 such retail shops in the city, which had been making around a lakh rupees per day before 8 November.
"For the past few days, the business has dwindled to hardly 5,000 rupees," he said. "Farmers turn up with their old notes. But we have to send them away with a heavy heart."
In a rally in Goa, Modi made an emotional appeal to the citizenry to cooperate for 50 days. However, it might spell doom for the agrarian region by then, for the lack of preparations will nullify the entire Rabi crop.
Sonawane said his six-acre grape-field is lying idle because he cannot find laborers for work.
"The grape season may be March but the preparations begin around this time," he said. "We export grapes as well. It is a lucrative source of income, which now appears to have been jeopardised. The whole farmland has come to a standstill."
50 more days will just make it worse
The repercussions of demonetisation are glaring. The rate of soybean has dropped by Rs 150 this week, meaning a farmer would make Rs 150 less than what he would have made a week ago behind every quintal.
The entire exchange of commodities has been encumbered, with the informal sector coming under the weather. Their business has dwindled to a half with many customers buying goods on credit. Vendors dealing in green vegetables are selling them off at one fifth of the cost, for they get rotten quickly.
Head of the Latur Agriculture Produce Market, Lalit Shah, said the activity at the market has drastically decreased post 8 November. "From receiving 75,000 bags of soybean per day, we have come to less than 20,000," he said.
"Farmers are aware of the problems traders are facing. They are sitting on their crop. We implore the ones who come to cooperate. If it continues like this, my market will shut down."
Farmer Ganesh Madje, who has a 20-acre land on the outskirts of Latur city, said he has around 80 quintals of produce at home, which he cannot sell off and raise capital for the Rabi season.
Banks in Latur are far and few, and it is unaffordable for farmers to leave their work to spend a day standing in queue for Rs 4,000. Moreover, an overwhelming majority of farmers have their accounts with the district banks, which, locals have been told, are not authorised to replace the old notes.
The nationalised banks are authorised, but only a handful of farmers have their accounts with those banks. And even the nationalised banks are sparingly doling out exchanges, for they too have been caught off guard.
"The past few years, we did not have the money," said Madje. "Our situation this time around is more troublesome. We have the money, but we cannot use it."