Journalism in India is like going to war, say senior scribes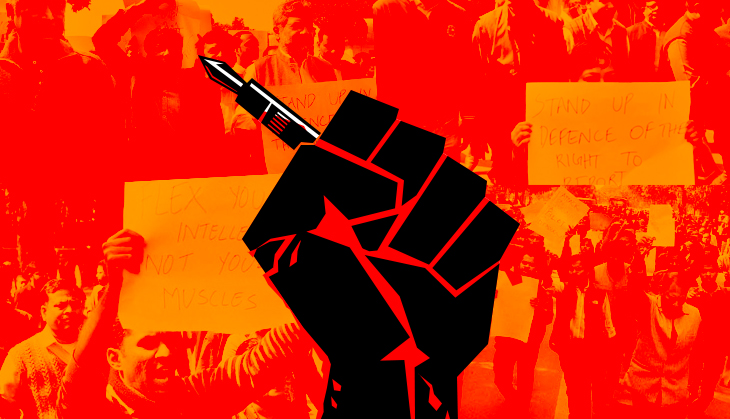 As the world commemorates World Press Freedom Day today, journalism in India remains fraught with many dangers and challenges. And the situation, already grim, is steadily getting worse.
Not only that, the increasing corporatisation of the media and the consolidation of media ownership is producing a situation of "cartelisation", which is no less a threat to journalistic freedom.
These observations were made in a panel discussion organised by UNESCO at the launch of the International Federation of Journalists' report titled "The Road to Resilience".
Also read - 110 journalists killed in 2015, India 'deadliest' Asian country for freedom of press: RSF
This report, released in Delhi, seeks to map the scene of press freedom in South Asia in 2015-2016. It contains scathing observations and comments about the situation prevailing in India.
Press freedom in India
In 2015, India ranked 136 out of 180 countries in the World Press Freedom Index (WPFI) prepared by Reporters Without Borders. It was only a notional, almost illusory, improvement from the 2014 rank of 140, the panelists noted.
The panel comprised veteran journalists and editors from both print as well as television media - Siddharth Vardarajan, former editor of The Hindu and founder of news website The Wire, veteran journalist Geeta Seshu, Consulting Editor of media watch website The Hoot, Alok Mehta, Editor of Outlook Hindi, Ankita Mukherji, Senior Editor, NDTV, NK. Singh, veteran broadcast journalist and Secretary, Broadcast Editors' Guild, and Dilrukhshi Handunetti, Regional Gender Coordinator,International Federation of Journalists.
Freedom of expression would be meaningless without the freedom before, during, and after expression, said Sajan Venniyoor, Chairperson of the UNESCO's Press Freedom Committee. And in India, the freedom during and after speech qre increasingly coming under more attack and threats, Venniyoor said.
More dangerously, these attacks are coming from non-state actors such as rabid political and religious organisations, as well as motley groups of people who suddenly gather together and turn violent in the name of "nationalism", he continued.
Venniyoor read out an extract from the report, which states :
"At some point of time in recent history, a notion has been imbedded in the Indian news media, that an exaggerated display to the cause of national security could be an easy way to expand viewership."
The panelists expressed concern at how certain news channels decided to cover the recent JNU protests, and still continue to whip up belligerent sentiments.
The threats
Geeta Seshu, who has been one of the people at the forefront of the struggle for freedom of expression in India and South Asia, expounded upon how the State and its police are using "oblique techniques" to harass and intimidate journalists. For instance, she pointed out how the journalists recently arrested in Chhattisgarh haven't been booked for defamation or criminal contempt (the traditional tools to push journalists into silence), but charged with offences like trespassing, forging Aadhaar cards, and the like.
NK Singh pointed out that given the high costs of distributing television news,"corporate media" would have to remain a reality, though of course, organisations and editors must abide by certain immutable standards of ethical conduct.
To which Siddharth Vardarajan, who resigned from The Hindu under controversial circumstances, replied that it is becoming difficult to draw a line between where "management ends and editorial functions begin."
Alok Mehta concurred, adding that senior journalists' and editors' quest for power, pelf and monetary benefits was also exacerbating the rot in the system.
Ankita Mukherji dwelt upon how journalists, especially women journalists, are facing a torrent of abuse and real-life threats on the Internet and social media, and bemoaned how it was leading many to be forced into self-censorship, even silence. Something urgent has to be done to combat this "chilling effect", she said.
Dilrukshi Handunetti summed up the situation best when she said that journalism in both India and South Asia is entrapped in a situation of a "security-anxious state, where many have horror stories to tell".
More in Catch - World Press Freedom Day: 26 attacks on journalists in 2016; Chhattisgarh continues to be unsafe for scribes
Victory for press freedom: Moneylife David trumps NSE Goliath