JNU: hunger strike enters 9th day, but VC refuses to show up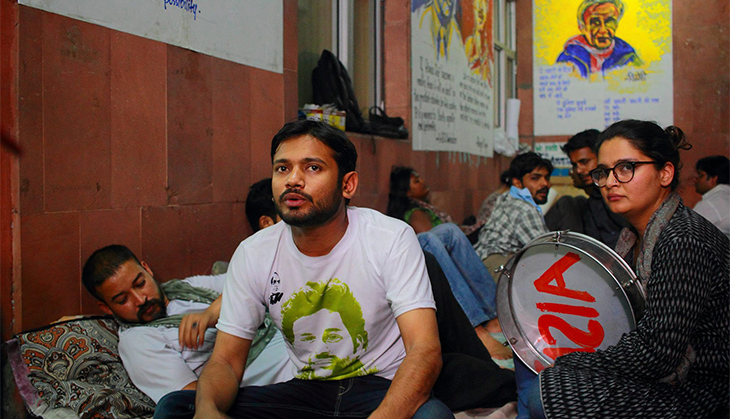 It is nine days since over a dozen JNU students went on a hunger strike to protest the punishment - rustication and imposition of fines ranging from Rs 10,000 to Rs 20,000 - meted out to 14 students for, among other charges, arousing "communal and caste feelings" and indulging in "sloganeering".
Still, the protest has elicited little response from the university administration. Indeed, when the vice chancellor Jagadesh Kumar finally agreed to meet with JNU Students Union general secretary Rama Naga on 3 May, it was only to inform him that the hunger strike on the campus was "unlawful".
"The meeting with the vice chancellor was highly disappointing. His appeal to call off our hunger strike was not an appeal but a threat issued in the form of an appeal," said Rama Naga.
"The vice chancellor is not interested in a conversation, with students or the teachers. He has no intention of being answerable for his actions."
On Friday, a delegation of Congress leaders from Rajasthan - including former central minister Subodh Kant Sahay and MLAs Prakash Chandra Oraon, Geeta Shree Oraon, Uday Shankar Ojha - sought to meet the vice chancellor, only to be told he was "not available".
The media has similarly been denied access. Over the last two days, Catch tried repeatedly to set up an appointment with the vice chancellor, but to no avail.
"This atrocity against the students is unjustified. The vice chancellor should at least be answerable for his actions. I joined politics during JP's movement, and in all my political career since, I have never seen this sort of clampdown on students' rights. It's unprecedented," Sahay said.
Meanwhile, JNU Students Union president Kanhaiya Kumar continues to be admitted in AIIMS, although his condition is reported to be stable. His blood pressure had dropped to 56 and his glucose levels are low enough for doctors to watch out for internal bleeding.
The other 13 hunger strikers, including Umar Khalid, Birendra Kumar, Rama Naga and Anand Prakash, have all lost weight and their blood sugar levels are dropping substantially. According to the campus doctors observing them, the students are now susceptible to jaundice.
Still, the students are determined to continue the strike. "The administration has clearly shown its authoritarian tendencies. Even though 170 teachers are supporting our hunger strike, the administration is least bothered about them or their students," said Khalid.