Is trouble brewing for Rohingya refugees in Jammu?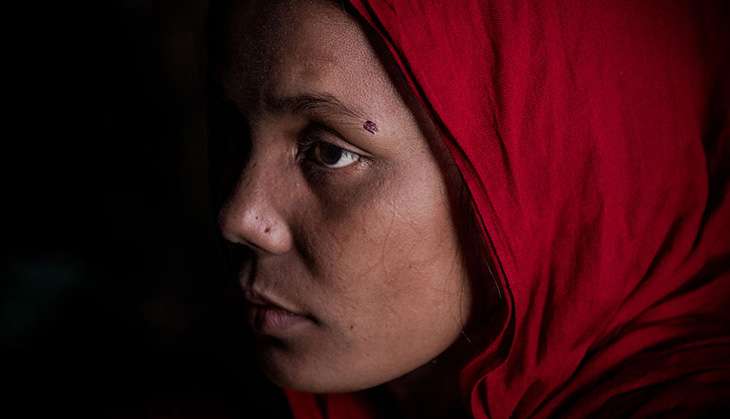 Trouble is brewing in Jammu over the settlements of persecuted Rohingya refugees in the state. As it is there is a growing anti-refugee feeling in Jammu and a section of the political class, including the separatists and the National Conference, is agitating against issuing identification cards to the refugees who came from West Pakistan in 1947, 1965 and 1971. In such an atmosphere there is unlikely to be any sympathy for the Rohingyas who are Muslims from Myanmar's Rakhine province.
Also read -48 children among 107 Rohingyas pushed back into Myanmar by Bangladesh border troops
India has no special law to protect and shelter refugees. While some of the refugee populations like the Tamils for Sri Lanka or the Tibetans are taken care of by the government of India directly, others like the Rohingyas depend on the United Nations High Commissioner for Refugees (UNHCR).
Conspiracy theories
In Jammu, some sections have termed the settlements a big conspiracy, like former MP Bhim Singh of the Jammu and Kashmir National Panther's party, who recently told a foreign news agency in an interview that "a big conspiracy and the state government is responsible for this. More than 23,000 Rohingya Muslims have taken shelter in Jammu. Everybody in Jammu, be it Hindu or Muslim, is worried. A state level delegation recently met Federal Home Minister Rajnath Singh and expressed their concerns about the Rohingyas but didn't get any concrete assurance."
Ram Madhav, the BJP's man for all things Jammu and Kashmir, too, cried foul recently. He said in a tweet: "Rohingyas securing UN Refugee passes n spreading into different cities also needs to be looked into. Taking it up wid d concerned."
The remark came as a follow-up to his tweet describing the office of the United Nations Military Observers Group in Srinagar as an "unnecessary provocation" and suggesting that it be shifted out of J&K.
Even the security establishment has been talking about the issue of the Rohingyas constituting a security threat, especially since Jammu shares a disturbed border with Pakistan. However, there have been no major cases which prove Rohingyas, who have been driven out of Myanmar by rampaging Buddhist mobs and the military in what is increasingly been seen as a genocide, are a security threat in any way.
A scary scenario
However, a recent report by the International Crisis Group (ICG) paints a scary scenario both for the security establishment and the Refugees.
The report, which goes into the genesis of the October attack on a border post in Myanmar by suspected Rohingya militants, talks of a new group - the Harakah al-Yaqin (Movement of Certainty), locally referred to in Myanmar as the Aqa Mul Mujahidin. The attack had led to a brutal crackdown on the Rohingyas in the Rakhine state.
The ICG report, based on interviews of some of the members of the group, says that the outfit, with 20 people at the top, is run from Saudi Arabia and that "All are Rohingya émigrés or have Rohingya heritage. They are well connected in Bangladesh, Pakistan, and possibly India."
And that to gain legitimacy for the attack, the groups used fatwas or religious decree, some of which may have come from India. "Fatwas (religious rulings) to this effect were apparently obtained shortly after 9 October in several countries with a significant Rohingya diaspora, including Saudi Arabia, Dubai, Pakistan, India and Bangladesh," the report reads.
This may lead to another headache for the Indian security establishment and could potentially make things difficult for these refugees.
Indian hospitality
Meanwhile, Madhav's own government, in fact, has "raised no security concern", according to the UNHCR.
Indian authorities have not raised any concern about possible "radicalisation" of Rohingya or their involvement in "subversive activities".
"There has not been any official communique from the government," Ipshita Sengupta, policy associate at UNHCR, told Catch even as she refused to comment on Madhav's tweet, saying, "UNHCR deals with the government and not politicians."
She, in fact, pointed out that the Indian government has been "generous and hospitable to them."
Rohingyas in India
Involvement of Rohingyas in any criminal activities is rare. One Sheikh Mohammad was alleged to have been involved in the 2014 Burdwan blast, but so far he's only suspected to be a Rohingya. Recently, the Bihar police claimed to have held Mustafa Kamaal and Mohd Saleem while they were on their way from Bengal to Jammu and they "confessed" to being "in touch with anti-India elements in Jammu and Kashmir". There have been suggestions that the duo are Rohingya though not much is known about them.
There are also reports that the security agencies suspect some illegal Bangladeshi migrants may be entering India under the guise of being Rohingyas.
All this, however, could lead to suspicions on an entire people, who have already suffered enormously precisely because of such stereotyping.
Some 400 Rohingya are indeed held in detention, but mostly under the Foreigners Act, 1946, for entering the country without valid documents. Sengupta said the government is giving the UNHCR access to them so that they can be issued refugee cards. The agency has already interviewed 10 detainees and is setting up to meet the others.
As the UNHCR also notes, the suggestion that refugees are generally criminals and terrorists is a dangerous myth. "Refugees are seen to be associated with terrorism even when they are the victims and not perpetrators," Sengupta said.
A vulnerable people
The Rohingya refugees, according to UNHCR, remain the most vulnerable even after finding shelter in this country. In one reported case, more than 20 refugees were rescued from bonded labour in Mathura, Uttar Pradesh.
According to a former top official of the security establishment, it is this backwardness and poverty which also makes this population vulnerable to falling in the trap of radicalisation or criminal and terror networks.
India is one of the preferred destination of the fleeing Rohingya even as most of them seek refuge in Bangladesh and the Southeast Asian nations. Although, according to Sengupta, this country hasn't seen any "abnormal increase" in the Rohingya population even after the persecution in Myanmar has intensified.
India currently hosts 19,727 refugees from Myanmar - not all of them Rohingya - according to the latest UNHCR fact sheet. The single largest group - of about 5,100 people - is in Jammu. Significant populations have also settled in Mewat, Haryana, Hyderabad, Telangana, Madanpur, Khadar, Kalindi Kunj and Shaheen Bagh, Delhi.
Edited by Aleesha Matharu
More in Catch - World Refugee Day: For Myanmar's refugees, India a bleak house, not home
India's oldest refugees in J&K get Rs 2,000 cr package from Centre