Is Google Maps at fault for sending you to JNU if you type anti-national?
"Nationalism is only 28 minutes away," is what Google will tell you if you were to stand in front of the Rashtrapati Bhavan and search for directions to 'nationalism.'
The glitch was noticed on Friday morning when students and faculty members of Jawaharlal Nehru University typed various key words - anti-national, sedition and patriotism - into Google Maps only to find that the map engine was directing them to JNU.
Also read -
Bizarre: Google Maps shows JNU as anti-national
Google immediately took notice of the issue and issued an official statement: "Some inappropriate results are surfacing in Google Maps that should not be, and we apologise for any offence this may have caused."
A Google spokesperson told Catch that they're already working on "a fix".
According to one engineer who has an understanding of how Google Maps works, this glitch is the result of Google Maps taking signals from across the internet - including important news outlets within the country.
Basically, terms and names such as 'anti-national' and 'Kanhaiya Kumar' and 'JNU' have been used in congruity so often recently that they have become associated with the Google Maps search engine - which in turn triggers the present results.
This is, of course, Google's attempt at being as accurate and helpful as possible. But it is only till a user points out such gaffes that Google becomes aware of such results.
Also read - Google adds navigation detours, cheapest fuel nearby feature for Maps
In the hands of the users
But it isn't simply the logic of Google crawling through the Web to find the most relevant terms that makes up this curious case. That's because destinations and places can be altered on Google Maps via a tool called MapMaker that anyone can access.
The map evolves through contributions from thousands of users across the world, and it also accepts reviews and feedback on those changes.
With more inputs, changes and feedback from users, the location/area name can be altered. Google however, from time to time, moderates whenever there is a spike in the number of changes or feedback or even complaints from users.
If you look at the edit history on MapMaker, many users seem to have edited the name of the University recently, leading us to the obvious conclusion that internet trolls discovered MapMaker and decided to take it upon themselves to change JNU's name.
Most of those edits have already been removed, suggesting that Google is already working on the issue.
In fact, some users also tried to change the name of the University to 'Rashtriya Swayamsevak Sangh Headquaters,' without even checking how to spell 'Headquarters.'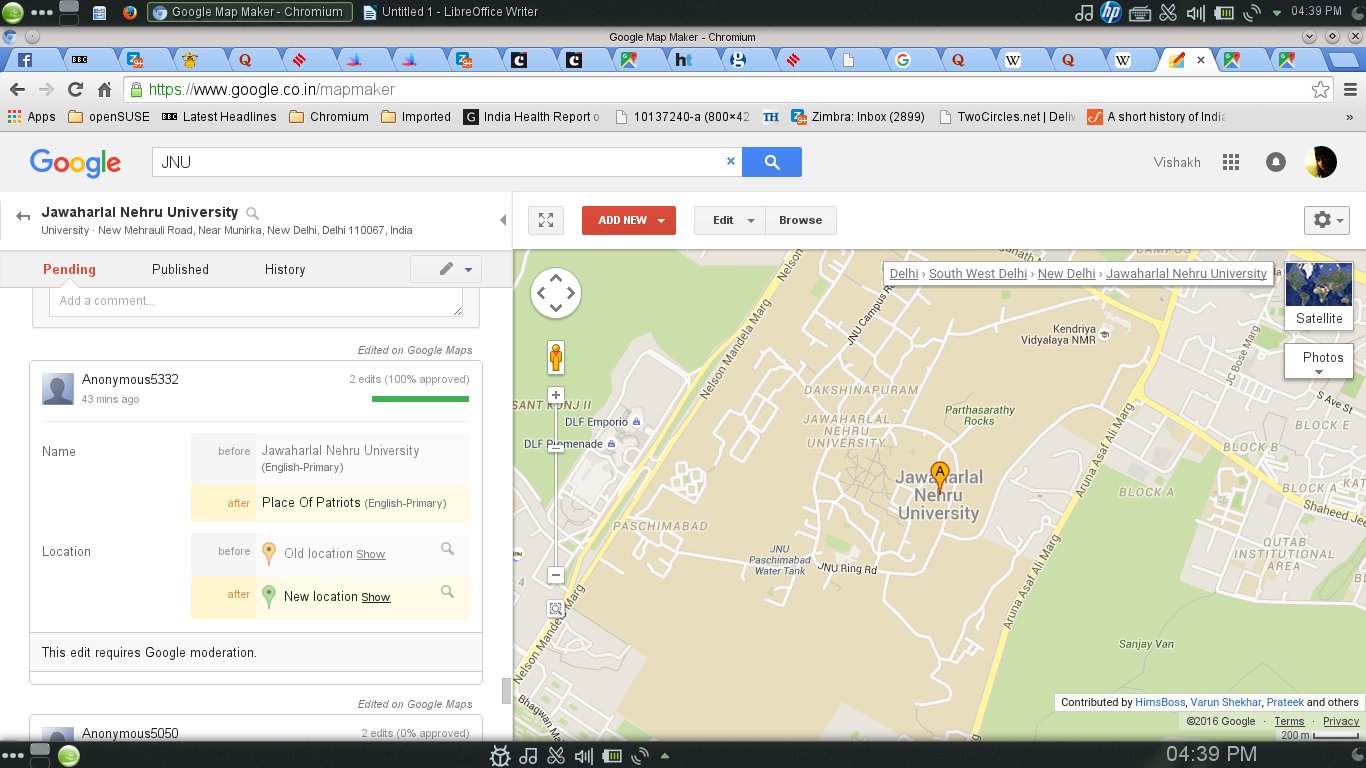 Pointing fingers
According to JNUSU Vice-President Shehla Rashid Shora, workers from right-wing groups have put a purported effort to review JNU on Google Maps and brand it as 'anti-national' or seditious.
"This a contorted effort to manipulate the Google algorithm by right-wing trolls. This is something ABVP should answer to, since they seem to be unwavered by the issue and are sharing the news gleefully," Shehla told Catch.
"It could be a conspiracy to defame institution, or an issue with the algorithm that can be readily fixed. If it is the former, it is a cause for worry," says Tara Shankar, a PhD scholar at JNU.
A repeat problem
This isn't the first time Google has been stuck in a situation like this. Last year Google had to apologise after racist slurs such as "nigger", "nigger house" or "nigger king" directed people to the White House on Google Maps.
Google had to apologise again last year after its image search engine featured Prime Minister Narendra Modi among "the top 10 criminals of the world". At that time, the internet giant issued a statement apologising for any confusion or misunderstanding, saying "these results trouble us and are not reflective of the opinions of Google."
Since the internet is always in constant state of churn, one does not expect this to be tthe last Google gaffe. But is it really their fault? Nope.
Edited by Aleesha Matharu
More in Catch - Wondering why some JNU students protested for Afzal Guru? Here's your answer
Getting around in India just got a little easier with Google Maps Offline