Irony: As Bhagwat defends cow vigilantes, 200 Gujarat Dalits quit Hinduism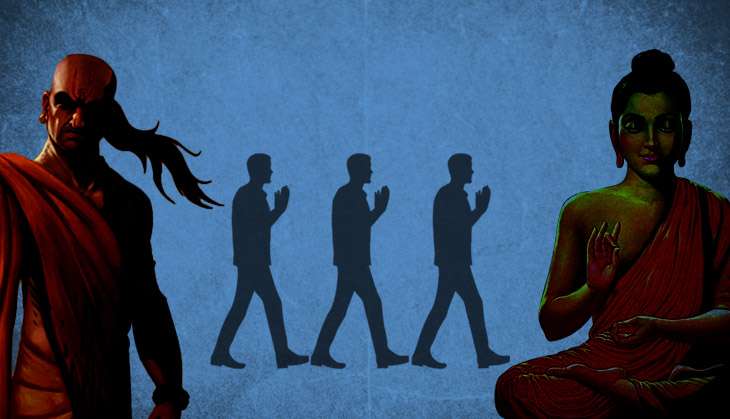 It's a measure of the outrage sparked by the public flogging of Dalits in Una last July that the incident continues to have repercussions within Gujarat and outside. On Dussehra, at least 200 Dalits reportedly abandoned Hinduism and converted to Buddhism at three places in the state. They had reportedly been thinking about the conversion for a while but the atrocity in Una removed all their doubts.
The conversions took place in Kalol, Gandhinagar; Danilimda, Ahmedabad; and Wadhwan, Surendranagar. According to the converts, they had long been troubled by Hinduism's hierarchical structure, superstitions, inequality and discrimination. The teachings of BR Ambedkar were a motivating factor as well, but it was the horror of Una that ultimately persuaded them to take the plunge.
Also Read: Vijayadashami: RSS chief Mohan Bhagwat lauds gau rakshaks, quotes Iqbal
In July, suspected cow protection vigilantes had flogged, in full view of the public and police, seven Dalit men in Una for skinning a dead cow.
Interestingly, reports of the conversions came as RSS chief Mohan Bhagwat was defending gau rakshaks in his Dussehra speech at RSS's headquarters in Nagpur. The Vijayadashami speech, as it is called, was televised live on the national broadcaster Doordarshan.
Aren't gau rakshaks forcing conversions?
How would the RSS chief respond if asked about such conversions and whether gau rakshaks are driving people away from Hinduism? Would he still defend them as "gau sevaks" on a "sacred mission"? Perhaps he would for no number of conversions would be enough to convince him that atrocities committed by gau rakshaks should be condemned outright.
But can Bhagwat also deny that the ills of the Hindu society, many of which his Sangh Parivar is complicit in sustaining, are more responsible for driving Dalits towards other religions than forced conversions?
Gujarat is among that states that regulate religious conversions but the entire premise of its law is that conversions happen only by "force or allurement or by fraudulent means". Of course, the fraud being perpetrated on Dalits by the regressive practices of Hinduism , and their practitioners, is not accounted for in the law.
Also Read: Bad signal: why DD must not telecast RSS chief's speech
Now, Dalits are rebelling against this oppressive system, and in one of the major laboratories of Hindutva no less. The RSS should sit up and take note of the message - and it's hardly a new message - coming out of Gujarat: the Hindu society needs urgent reform.
How will RSS change its anti-Dalit image?
Although the recent launch of its "one well, one temple, one crematorium" campaign indicates the Sangh is paying heed to calls for reform, it needs to come up with much more than rhetoric.
Indeed, the "one well, one temple" campaign is failing because the situation on the ground isn't changing one bit. Bhagwat himself admitted to this uphill task in his Dussehra speech. He said the Sangh had conducted a survey on the issue in 9,000 villages across what it calls 'Madhya Bharat'. It revealed that lower castes aren't allowed in temples in 40% of the villages, they're barred from sharing common water resources in 30% villages and crematoriums in 35% villages.
Bhagwat's concern over the RSS's inability to reach Dalits is evident, but there's little he can do about it. It's nearly impossible for the Sangh to undo decades of its work protecting and upholding the upper-caste Hindu male hegemony.
More conversions are expected in Gujarat in the coming days. At least 1,000 Dalits had expressed their desire to adopt Buddhism after the Una incident in one district alone.
Today, the despicable acts of gau rakshaks are not condemned across the board, without any riders, even as a threat to law and order, much less as a threat to social order. How will Bhagwat be able to reach out to Dalits until he condemns gau rakshaks unequivocally? How indeed will any Hindu who sincerely wants to help Dalits be able to do so without condemning the evils of Hinduism's conservative order?
At least 1000 incidents of atrocities against the Scheduled Castes were reported in Gujarat alone in 2015. How can Dalits there, and elsewhere, aspire to a better life within Hinduism until the atrocities are stopped?
Also Read: Why Modi celebrates Savarkar's guru Shyam Krishna Verma every year