Invisible migration: 35,000 Muslims have left Varanasi since Babri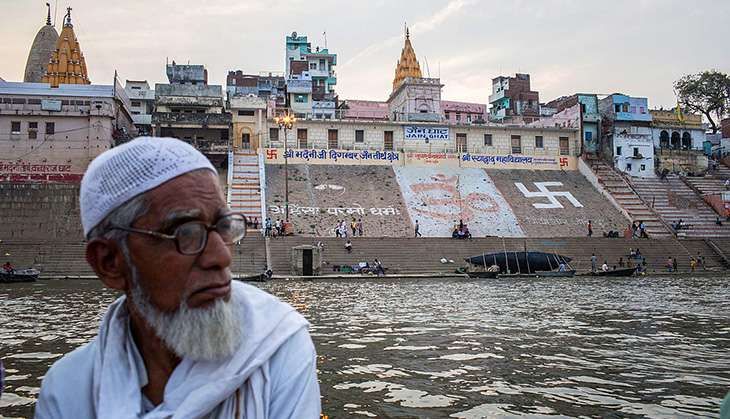 The migrations
About 35,000 Muslims have left Varanasi since the Babri Masjid demolition
Most have left because of a lack of jobs, as mills continued to close
Others left out of fear, thanks to the memories of several bloody riots
The effect
Most of those who migrate are young
That means the remaining Muslim populations consist largely of the old
Since 1992, Muslim and Hindu communities have gotten more segregated
"You talk about Kairana. Just look at these eyes, they've watched Banaras swallow the childhood of our children."
Sixty-five-year-old Noorul utters these words with a trembling body. All around him, Varanasi's Madanpura locality bustles with activity. It's the month of Ramzan and Muslims observing their Ramzan fasts teem about the markets. The area is no stranger to people wearing skullcaps, but it's a different sight altogether during the month of Ramzan.
Also read -Varanasi can never be just one colour: Ghulam Ali's concert a success
The scene is no different in Jaitpura, which lies six kilometres away. But what are missing are the palatial houses and broad roads of Madanpura - a colony of affluent Muslims. Jaitpura is the very opposite and is home to those who belong to a lower income bracket.
The widening rift
Life has undergone a paradigm shift after the Ram Janmabhoomi agitation in both these areas. They're home to a combined population of around four lakh people.
In fact, according to government data, Varanasi is home to about five lakh silk weavers. Of these, a majority of Muslim weavers live in Madanpura and Jaitpura.
But that number is and has been dwindling. Since the Babri Masjid demolition in 1992, over 35,000 Muslims from these two neighbourhoods have migrated to different parts of the country. Most are labourers who couldn't secure jobs after the closing down of handloom mills, which started in 1990.
But the impact of that sordid day hasn't ended with Muslims fleeing. Slowly, the segregation between the Hindu and Muslim communities has only increased. What's truly ironic about that situation is that rich Muslims families are willing to pay hefty sums of money to find a home in Muslim-dominated areas of the city, while Hindus living in such areas are selling their houses for a trifle to shift to Hindu-majority neighbourhoods.
Also read - Ayodhya Babri Mosque Demolition; here is a timeline of the events for you
For instance, Tej Narayan, a teacher at Vivekananda School, spent his whole life in Jaitpura. But last month, he sold his house and is now demolishing an old house in Fav Ka Mohalla to build a new one.
Catch asked Raees, a local, about Hindus still remaining in Madanpura.
"No Hindu stays here now. They all left after 1990," he says.
Gujarat and the spirit of Varanasi
Of those who left, most weaver families chose cities like Surat, Bengaluru and Mumbai for bread-and-butter over the past few decades.
The extent of this exodus can be gauged from the census data, which shows that around 1.24 lakh weavers were working in the 75,324 handloom mills of Varanasi and Chandauli in 1991. An additional 7,000 weavers were employed in the powerloom industry.
In 2009-10, the number of handloom weavers in Varanasi reduced to 95,372. At that time, only 52,000 handloom mills were still functioning.
"Every family here has at least one member working outside the city," says Rafiq Ansari, a resident of Madanpura. "Most of the migrants are young people. Therefore, our neighbourhoods have turned into colonies of old people."
It's clear to see that the dilapidated state of the handloom industry has spurred such as exodus, and more often than not, that is the reason cited. There's no doubt that the flooding of the Indian market with Chinese handloom products has also hit the local industry hard.
The Surat sari industry, which thrives on manufacturing designs based on the famed Varanasi saris, has added to its ruination.
However, that isn't to say that there isn't another reason for this slow and steady mass migration. Yet, no political party talks about it.
Shattering the social fabric
That reason is Varanasi's blood-stained history of deadly riots - of which there were seven between 1989 and 1992.
Reminiscing about that dark period, writer Ramagya Shashidhar says: "Varanasi was turned into a theatre of mythical, symbolic and psychological activities in the run up to the Babri Masjid demolition. The riots triggered during Durga Puja and Muharram turned the streets known for spirituality, silk fabric and the melody of Shehnai into mini Ayodhyas and small Pakistans. The whole city was gripped by processions, slogans, flag-hoistings and parade of bovine animals in the name of collecting bricks for the Ram Temple."
Right-wing activists used to roam around the city for donations back then. The evenings were marked by the deafening sound of bells ringing from roofs. All these activities led to a heightened sense of insecurity among the minority communities.
To top it all, many lives were lost during the riots in Lohta and Madanpura areas. As a result, the rift continued to widen between the Muslim and Hindu communities.
The exodus of the minorities was the first fallout of this polarisation. The BJP capitalised on the situation and swept the local body, Vidhan Sabha constituencies, as well as Lok Sabha seats. The party's hold over local politics continues till date.
Are the Muslims of Varanasi afraid?
Catch asked several people in Muslim-dominated areas of the city if the Muslims of Varanasi were living in fear. The question was met by either a straightforward 'no' or complete silence.
Ghulam Rasool, a resident of the Nai Sadak area, says that he used to live in Ramapura, which was surrounded by Hindus on all sides. He was forced to leave Ramapura during the 1992 riots, after he and his family were arrested. They were only let off after a few Hindu families intervened.
"However, not all the Muslims living there were as lucky. Many of my acquaintances fell prey to the violence. Those who survived chose to shift to safer locations," Rasool says.
Rasool claims that atmosphere of fear has long since subsided. Those who had to leave have already left the city. Others have simply accepted Varanasi as their fate, despite the horrors of the past and the threat of any future violence.
More in Catch -'Qutub Minar and Taj Mahal are fully Islamic structures, but Babri Masjid was built on the ruins of temple'
Varanasi: Here's why BJP workers thrashed a BHU student after PM Modi's speech