India Tales: MP gives away 10 lakh acres of forest land, ignores 28 lakh poor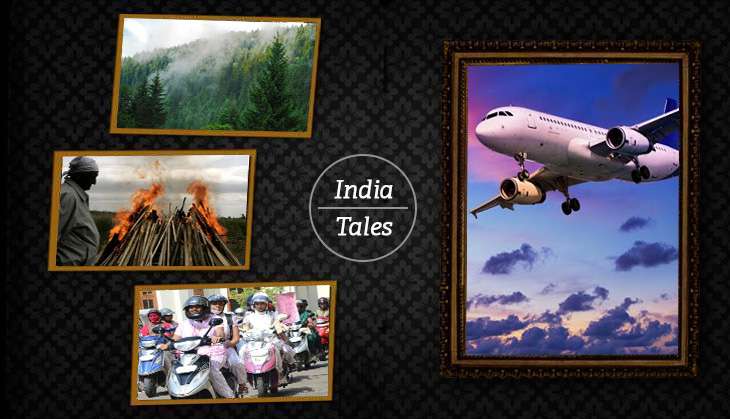 01
MP gives over 10 lakh acres of forest land for non-forest use, ignores 28 lakh poor
In utter violation of forest laws, the Madhya Pradesh government has given about 10 lakh acres of forest land for projects related to non-forest activities. The government has ignored claims of over 28 lakh poor people under the Forest Land Right Act.
This fact was disclosed by the Union Ministry of Environment and Forests in response to a question in the Rajya Sabha during the last session of Parliament, the Budget Session.
As per statistics available, around 12 lakh hectares of forest land has been converted for non-forest use in the whole country during the last 34 years, of which around 3.95 lakh hectare (or about 30%) of land has been converted in MP alone
The projects that have benefitted from the MP government's largesse include irrigation, mining, rail, defence and road projects. But in the process of allocation, the Forest Conservation Act was torn to pieces, and the land was distributed in defiance of the forest right laws, according to which the first right on the forest land lies with the populace living there.
As per a report submitted by Indian Forest Service officer Prakash Unhail, between 2006 and 2012, the state of MP received around 31 lakh claims, of which 25 lakh claims were rejected at the first step itself. Only 4.8 lakh claims were presented before the Gram Sabha; of these, 4.63 lakh were personal cases and only 16,000 claims were under community forest rights.
02
Pak girl travels to India to meet Instagram friend
If only everyone in India and Pakistan could follow the example set by Karachi's Fiza Khan and Faridabad's Mansi Chaudhary, the subcontinent would finally find the peace the region has been lacking since the chasm opened up in 1947.
Fiza and Mansi became friends through the social network Instagram, and over the next nine months, developed a deep bond. Fiza, a student of Class XI, and Mansi, who studies in Class X, obviously needed their parents' consent to meet, but neither the Mirza family nor the Chaudhary family objected to it.
The two girls decided to meet at Jaora in the Ratlam district of Madhya Pradesh - which is where Fiza's mother's family migrated to Pakistan from.
Finally, after visa issues and many other impediments, Fiza reached Jaora with her mother and brother, while Mansi and her parents travelled down from Faridabad.
Fiza's mother Gazala said: "It was a happy experience to come to India and meet Mansi and her family. Meeting Mansi was like meeting another daughter of mine. The people are nice here, as are the people back home. The relations between the two countries can improve if people can meet each other easily."
03
All for love: Muslim man bids fond adieu to Hindu wife with full rituals
It was an unusual love story. Thirty-six years ago, Mathura's Liakat Ali fell in love with Kripa Yadav while they were both fetching ration. Their fondness for each other grew, but their families resisted against this Muslim-Hindu union, till Kripa finally rebelled and married Liakat.
The union lasted all this time, till Kripa recently died. Liakat then took the bold step of according her a ritualistic Hindu funeral, lighting the funeral pyre himself.
A pandit was called to perform the last rites. Her body was adorned in her wedding dress, and also bore bangles, sindoor and toe-rings for her final journey.
Kripa was actually Liyakat's second wife, after his first wife, a Muslim, had given birth to six children. But both wives lived amicably under the same roof. Liyakat's son Arif said: "All of us siblings grew up in the lap of our second mother. We have never seen our parents fighting with each other."
04
No helmet, no petrol in Mumbai
Two months ago, Mumbai Police made helmets compulsory for riders and pillions on two-wheelers. Now, in order to enforce the rule strictly, the cops have instructed all petrol pump owners to deny petrol to two-wheelers if either of the riders are not wearing helmets. The deadline for the rule to take full effect is 1 August.
According to the police, most two-wheeler accident deaths are caused due to riders not wearing helmets. A lot of these victims happen to be school and college students. The cops' idea to deny them petrol is a way to change the youngsters' mindset.
It remains to be seen how people will respond to these instructions. Till now, there has been no further communication on the penalties violators will have to pay.
Edited by Shreyas Sharma
More in Catch
India Tales: Kanpur cop lets off rapist with just 20 chappal blows
India Tales: Youth commits suicide after watching Salman Khan's Sultan
India Tales: RSS now blaming Ashoka for fall of Akhand Bharat?