India Tales: how PMO is helping a Bilaspur man facing social boycott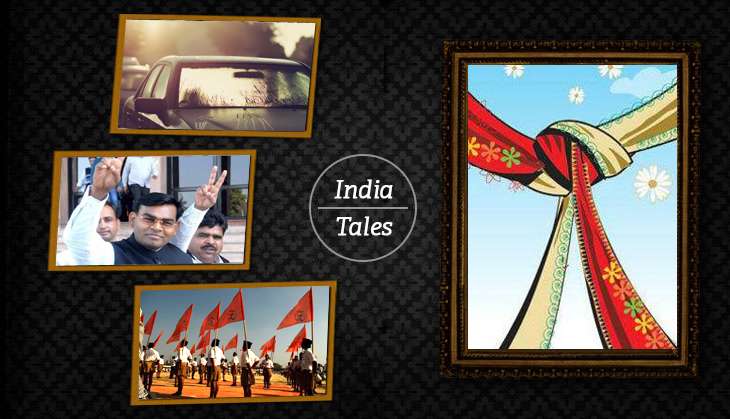 01
Rajasthan: how a
BJP
MLA allegedly duped investors of Rs 75 lakh
A case has been filed against Banwari Lal Kushwaha, a BJP MLA from Dholpur in Rajasthan, his wife, brother and five other people for cheating several people to the tune of Rs 75-80 lakh. They allegedly solicited fixed deposits on "attractive" rates of interest, never to return their money.
According to SHO of Khanda Palsa, one Gaurav Choudhary of Bhagat Ki Kothi has complained that the MLA, who is the managing director of Sathi Multi State Cooperative Society, his wife Sobha Rani, brother Makhan Lal Kushwaha, the society's CEO Dheeraj Patil and deputy chairman Kanhaiya Lal have "cheated innocent people of Rs 75-80 lakh". Also, the accused have allegedly not paid the salaries of the manager and two other employees of the society's Jodhpur branch.
Gaurav, the complainant, was the branch manager and one Devendra Singh the assistant manager. Gaurav told the police they had collected money from people "for fixed deposits for terms of one, three, six years under the scheme of the society". The society issued bonds to the depositors which mentioned the interest payable and date of maturity.
"It was all working properly until last year, when the officers of the society started making excuses for non-payment," a police officer familiar with the case said. "Gaurav and Devendra contacted the office-bearers, and even went to Dholpur for this purpose. As the MLA was in jail, they met his wife and others. They were promised payment upon materialisation of sale of landed property. When they did not receive the money even after a long wait, they contacted the office-bearers over phone. The office-bearers plainly refused payment. That's when they approached the police."
The case has been handed over to CID, Crime Branch, for investigation.
02
'No
RSS
links': why Goa's Customs Commissioner landed in trouble
Asking candidates for government jobs to submit affidavits stating they aren't affiliated with the RSS has landed the Goa bureaucracy in trouble. The state's Customs Commissioner had sent Maheswar Sharma of Rajasthan, who had been chosen for a central government job, "pro forma of an affidavit" along with his letter of appointment. The affidavit was required to state that he had no association with the Hindutva outfit.
After the issue was raised with it, the central government intervened. The commissioner tendered a written apology to the candidate, saying the whole thing was "a misunderstanding caused due to an order issued by the central home ministry in 1966".
Sharma has since been sent a new "pro forma affidavit" that asks him to only undertake that he is not affiliated with any "banned organisation". It does not mention the RSS.
03
Tragic loss: kids go to play inside unattended car, die of suffocation
An "innocent playful act" cost two children their lives last week. Kiran, 4, daughter of Palaram Bawri, and Vinod, 9, son of Sahibram Bawri, both of Jaitsar village in Suratgarh of Rajasthan went and sat in an unattended and unlocked car that had broken down. Somehow, the car door got locked.
"Their parents searched for the children all around but they were nowhere to be found," said a villager. "In the afternoon, the wife of Bahadur Bawri, near whose house the car was parked, returned from MGNREGA work. She had to charge her phone but there was no electricity. So, she went to see if she could charge it in the car. As soon as she opened the door, she was shocked to find two children lying unconscious under the seat. Their parents rushed them to the hospital, but they were declared dead."
04
PMO comes to the rescue of man facing social boycott over marriage
In 2013, Ashish Kumar Maurya of Bilaspur married a woman from the Patel community. This infuriated Hardiya Marar Patel, the head of Tamar village's Khap panchayat, and Chaitanya Patel, the bride's father and "president" of the Patel community in the area, orchestrated a boycott of Ashish's family. When Ashish opposed them, they started harassing him. He then approach the Sakti police station, and Chaitanya was arrested. Still, the harassment didn't stop.
It was then the Ashish wrote to Prime Minister's Office. "Taking his letter into consideration, PMO section officer Alok Suman sent a letter to chief secretary of Chhattisgarh, asking him to take action on the young man's complaint," said an official who did not want to be named.
The chief secretary has also been asked to frame "rules to deal with those who socially boycott other people".
Last year, Home Minister Ramsevak Pakra had written to the chief minister that cases of social boycott were rising in Chhattisgarh and that there "are no rules to stop this evil, as a result of which no action is taken against them".
"Ostracised socially, the affected family feels mentally tortured and deprived of the right to live," Pakra had said. "Consequently, there is a need for a law on the lines of Tonahi Torture Act, 2005 to put a stop to social boycotts."