India Tales: how a tailor's son overcame poverty to win 7 gold medals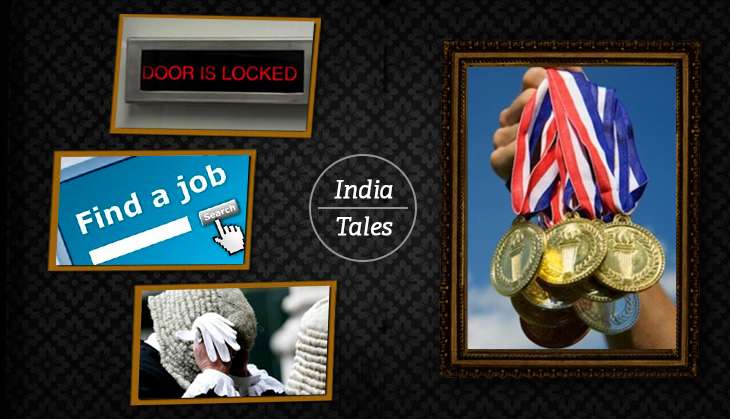 01
No money to even buy books, but tailor's son wins 7 gold medals
There is no goal, the saying goes, that determination and hard work cannot achieve. Krishnamurthy S, who is studying for a post graduate in physics at Bengaluru University, is a testament to this.
The son of a poor tailor and a homemaker, Krishnamurthy has won not one but seven gold medals so far. This is quite remarkable considering he often did not have money to even buy books and other study material. He did all his studying in the university's library. According to his friends, he would spend hours in the library. Indeed, the staff there often had to struggle to make him leave after the library closed.
Krishnamurthy himself says this would not have been possible without his classmate Rajshree, "who would sit with me for hours so that I could study uninterrupted".
"My father did whatever he could do help. Now, with the blessings of my parents, I can dream big," adds Krishnamurthy, who received his medals at the 51st convocation of the university held recently.
02
Security guard goes walkabout, Rajasthan minister gets locked in
When Rajasthan's Minister for Panchayati Raj Surendra Goyal went to Ghantaghar in Jodhpur to oversee preparations for the impending visit of Union Minister Ravi Shankar Prasad, little did he know what was lying in store for him.
As the minister arrived with a group of BJP workers to inspect the venue of Prasad's programme, a security guard unlocked the gate and let them in. But after they went in, the guard went away, locking the gate. The minister and his entourage came out of the building, only to find the gate locked. They had to wait for nearly 10 minutes in scorching heat before the guard returned and let them out.
03
Summer respite: HC lets lawyers attend court without black gowns
The Rajasthan High Court has agreed to allow lawyers to come to the court without wearing gowns during the summer vacation until 2 July.
The rules mandate that lawyers appearing in the high court must wear a black gown. However, considering the heat this summer, the court has relaxed this rule. The lawyers, though, will have to continue to wear pants, white shirt and the white band.
According to the order issued by the registrar, the "reader and stenographer in the high court will have to observe their dress codes while the jamadaar in the district and sessions court will salute in chunri safa and white achkan".
04
Corruption, lack of vision: why Karnataka faces an acute staff shortage
Of the 2.38 lakh posts of government staff in Karnataka, nearly 25% of those filled under All India Service Rules and 50% filled under State Service Rules are lying vacant. As a result, efficiency in the government has suffered. Now, the state has approved 90 IAS, 70 IPS and 15 Indian Forest Service posts to be filled. In addition, 300 Karnataka Administrative Service posts need to be filled.
But why are there so many vacancies? "Superannuation reduces the number of officers every year. But fresh appointments hardly make up for the number of people retiring," said a senior official. "This year alone, the vacancies in IAS posts has risen from 78 to 90. The demand of the state to the Centre for allotment of more IAS posts has fallen on deaf ears. That's how it is. If the state asks for 20 IAS posts, the Centre revises this requirement according to its own estimates and parameters, and sends, say, eight IAS, six IPS and four IFS officers. This goes on year after year and couped with superannuation, only leads to more and more vacancies."
If this wasn't enough, irregularities in KPSC and other exams in the past 5-6 years has "brought the fresh selection process to a standstill," the officer said. "Pending legal matters only further delay any recruitment. Had KPSC exam of 2011 not been cancelled, 58 new tehsildars would have been appointed. Then, the process of the promotion of KAS officers to IAS rank too has not taken place for 2-3 years."
The consequences of this shortage are nearly debilitating, the officer added. "Projects and plans lie buried in documents as our officers are saddled with responsibilities of two-three departments."