India Tales: How a 'dead and cremated' Rajasthan girl came back alive
Catch Team
| Updated on: 11 August 2016, 20:36 IST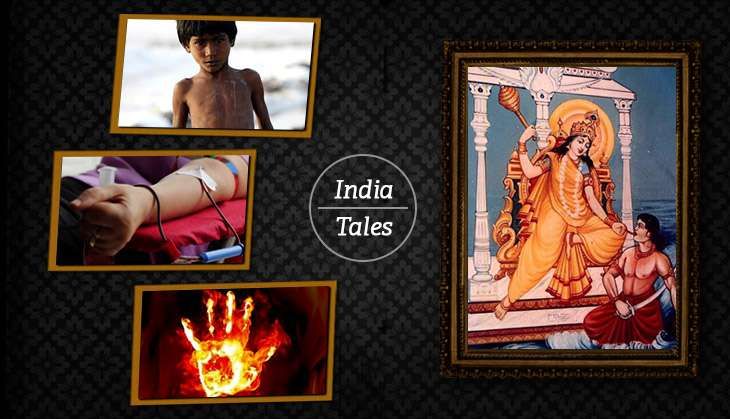 01
'Cremated and mourned', Deeg girl returns home alive, and married
On 27 July, Naresh Sharma, a resident of Khera Brahmin village in Deeg, Rajasthan, filed a missing persons report with the police: his 19-year-old daughter Gita had "disappeared" from the house the previous night. On 2 August, Naresh learned that an unidentified body of a teenage girl had been found in Mathura district, just across the border in Uttar Pradesh.
Accompanied by Sub Inspector Ramprasad of the Deeg police, Naresh and his family rushed to the Mathura Hospital and identified the body as that of Gita. The UP police told the family the body had been found lying in a drain near Aatus and Kikaki villages. Naresh bought the body home and cremated it.
Investigating the girl's death, the police were led, through her call record details, to one Deepak Sharma of Bhainta village in Hathras district, said SHO Kanhaiya Lal. He was brought in for questioning. What he revealed stunned the police: Gita was alive and well. She had left home to marry him. Deepak then called Gita, who reached the Deeg police station. Her family was equally stunned but relieved to see her.
02
Khandwa man's friend's mother died for want of blood. What did he do?
The mother of Rohit Desai's friend damaged her kidneys and was put on dialysis. She also needed regular blood transfusions. One day, his friend called Deepak and told him his mother needed blood urgently.
"Blood could not be arranged despite all my efforts. And I saw my friend's suffering mother die in pain," Rohit said. Shaken, he started the JPB Blood Donation Group. The aim was to ensure that nobody died for want of blood in his city, Khandwa of Madhya Pradesh. That was in December 2013.
In the two and a half years since, Rohit has helped build an impressive network of donors that collects 150-170 units of blood every months in Khandwa alone.
According to Saubhash Saini of JPB, they now have 2,415 active members, including 43 women, who are ready to donate blood anytime. The members keep in touch through 111 WhatsApp groups. "Whenever we get a message that blood is needed somewhere, we immediately get into action to arrange for it. And within 30 minutes after the message is received, blood is supplied to those in need, free of cost," Saini said.
Recently, they have started a "national donors group", with 25 coordinators in various states overseeing the collection and supply of blood. "Recently a five-year-old girl was admitted for heart surgery in a Bangalore hospital. Her blood group was rare, so a message was left on the national group, and they managed to find a donor for her," Saini said.
03
To offer thanks for son's govt job, MP man crawls five days to temple
Last week, Kalu Khan, a resident of Mohana village in Shajapur district of Madhya Pradesh, started crawling from his home to Bagulmukhi temple in Nalkheda.
He crawled for four days to reach Bhaindsada, about 6 km from Nalkheda. After staying the night, he crawled onward and reached the temple around noon the next day. He was accompanied on this "pilgrimage" by his friend Vishnu Prasad, a resident of Chaunsala.
But why Kalu Khan put himself through such hardship? "I had prayed to the mother goddess Bagulmukhi a year ago that if my son got a government job, I would crawl to her temple as an expression of gratitude. My son got the job so I had to keep my promise," Kalu said. "I came here to pray to the goddess and thank her for granting my wish."
04
Not ideal: a snapshot of how Modi's Ideal Village Scheme is stuttering
The Ideal Village Scheme is one of Prime Minister Narendra Modi's pet projects. But two years after it was rolled out, the project is stuttering. A cursory survey of villages adopted by ministers and MPs reveals that the promised development hasn't come. In fact, villagers are still deprived of even basic amenities.
Take the case of Lohara in Azamgarh, adopted by BJP MP Neelam Sonkar. In this "Ideal Village", a team comprising central and state government officials, as well as the MP herself, found that at least 270 children were malnourished; the works done by panchayat and electricity departments was inadequate; few people eligible for various pensions received them.
In a village of 1,018 households, the team found, over half were still without electricity and no more than 328 had toilets. Of the 163 BPL families, just 70 or so have benefited from various housing schemes.
When an officer from the Social Welfare department who was with the team told the villagers that all widows and old people were eligible for pension, the people became angry. They said that only a handful among such people were getting any pension while most were destitute.
When Sonkar was asked about this sorry state of development in the village, the MP said "sufficient funds" had not been made available for the purpose.