India Tales: How a Barmer farm labourer's son made it to AIIMS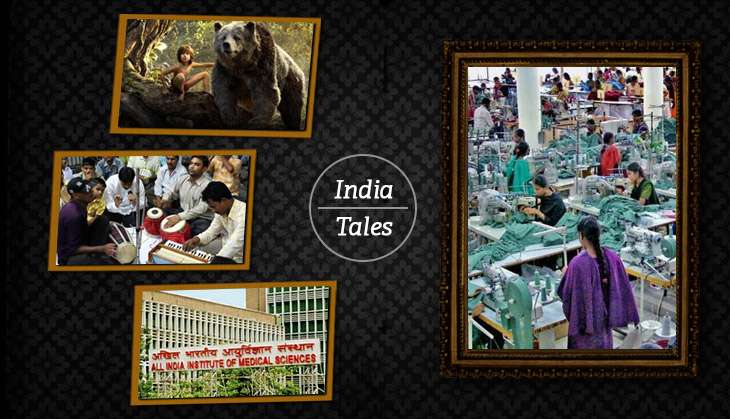 01
Worth the toil: How a Barmer farm labourer's son made it to AIIMS
It has been quite a journey for Paburam Jangid, from a small village in Barmer, Rajasthan, to AIIMS in Delhi. The son of farm labourer, he has qualified to study at India's most prestigious medical institute, achieving 608th rank in the AIIMS "merit list" and 116th in the OBC category.
Motaram, a school dropout, sweated on his small field and worked part-time as a carpenter to ensure he had enough to educate his son. Paburam didn't let his father down, clearing the entrance test in his first attempt last year. But he wasn't satisfied with his 13,950th All India Rank, and reappeared this year. He made it to AIIMS, which takes only 672 students from the across the country every year.
Paburam did his schooling from Bal Mandir Secondary School in Barmer. After passing class XII, his father sent Paburam for private coaching in Kota to prepare for the entrance test. To pay for the coaching, Motaram had to sell a piece of his land. "It was all worth it," a visibly content Motaram says.
02
At Jungle Book-themed eatery, relish Mast Elephant, Jumping Jackal
Here is some great news for fans of The Jungle Book. A restaurant has come up in Jodhpur, Rajasthan, that's marketing itself as "straight out of" Rudyard Kipling's classic. It's called Jungle Bhookh.
Appropriately for a "jungle-themed" restaurant, its ceiling and walls are painted with trees, bushes and wild animals. As you enter, you see Share Khan on the wall roaring at Mowgli. Inside, on glass-topped dining tables you see scenes of foxes, elephants, wild boars, monkeys and deer roaming around and howling into a moonlit night. Taking the jungle theme further, Jungle Bhookh's menu lists such delicacies as "Mast Elephant", "Jumping Jackal".
Mast Elephant is a plateful of extra large paranthas, raita, chaas; Jumping Jackal is a combo of Chinese bhel, sevpuri, virgin mojito; Share Khan is a combo of a large sandwich, french fries and blue lagoon; Mint Mowgli is a meal of Italian pasta, garlic bread and a cold drink of your choice.
03
Singer tries to help save a cancer patient by singing bhajans for 51 hours
Bhajan singer Vijay Khushwaha of Anjad in Barwani district, Madhya Pradesh, is on a mission: to "save" a man suffering from blood cancer.
Khushwah is gathering his choir to sing over 50 bhajans non-stop for 51 hours. The performance is meant to collect enough money to pay for the treatment of Natwar Jadhav of Balwadi, who is suffering from advanced blood cancer.
Natwar's family has already spent over Rs 8 lakh on his treatment, and need Rs 8 lakh more to keep it going. When Dr Chitwalkar of Aurobindo Hospital shared this information with Khushwah, the singer decided to do his bit.
This isn't the first time Khushwaha is doing this. A few months ago, his Sai Baba choir sang for 51 hours to collect money for the treatment of 4-year-old Vaishnavi Chouhan of Burhanpur, who had brain tumour. It wasn't much of a success, though: the choir collected only about Rs 1,600.
04
Bangalore: one in 7 women garment factory workers sexually assaulted
Hidden behind the glitzy IT facade of Bangalore is a frighteningly dark reality: every 7th woman working in the garment factories of the city fall prey to sexual exploitation.
According to a survey conducted recently by the women Rights groups Sisters For Change and Munnday, one in seven women is either raped or sexual harassed at the workplace. The harassment includes "touching, beating, dirty talk, dirty gestures, being made to watch obscene films".
"The scale of sexual violence that is going on is appalling," said Ellison Garden of Sisters for Change. "It seems as if there is an environment in which there is unbridled freedom for sexual violence. The supervisor is chiefly at fault. There is no fear of the rule of law."
Bangalore has over 1,200 garment factories, many of which supply to global brands. Country-wide, there $40-billion garment industry employs 4.5 crore people, a majority of them informally. Of these workers, three quarters are women who are easy targets of violence and sexual harassment. Most have no legal protection and there's no system for redressal of complaints. Indeed, almost 82% of the women surveyed in Bangalore said they do not complain about harassment because they neither "trust the police nor the management to take any action".
"The survey of Bangalore's workers holds true for the entire country," said K Swamy, an activist who has long worked with garment factory workers. "The condition of women workers in spinning mills and factories is just the same everywhere."