India Tales: His neck slit, Rajasthan youth crawled for 6 hours to survive
Catch Team
| Updated on: 10 February 2017, 1:48 IST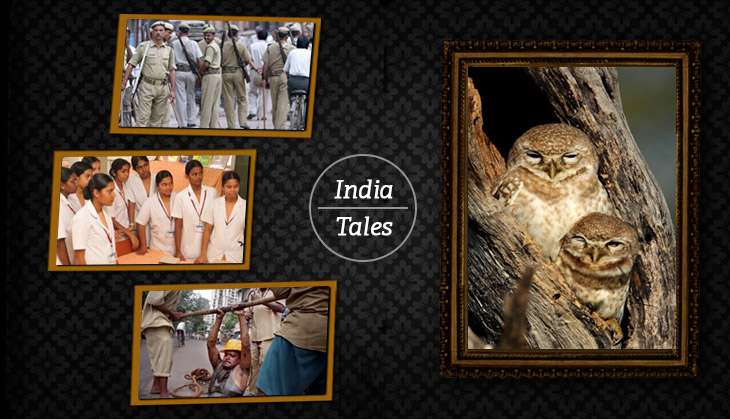 01
How a Rajasthan youth survived over 18 hours with a slit neck
That Aarif Mohammad, 18, of Udaipur in Rajasthan is still alive can only be described as a miracle. Aarif had gone to "illegally cut a sandalwood tree" in Chandanpura graveyard with his "minor associates". According to the police, he infuriated the minors by not paying them after the "theft", and they went to his house.
On the pretext of having a drink together, they took Aarif to Rani Road, the police said. At an isolated place behind the Rani Road graveyard, one of the minors "slipped a plastic pipe around Aarif's neck, tightened it and dropped him down". He then struck him on the neck with a knife. Believing him to be dead, the attackers threw him in a ditch. Just to be sure, the "minors threw big stones down on him but luckily those fell on some bushes and did not hurt Aarif".
He lay unconscious in the ditch for nearly 12 hours, the police said, until "drops of rain woke him up". Aarif had lost a lot of blood and was too weak to even get up. "Supporting his neck with his hand, he crawled for over six hours to reach the road, which is about 700 metres from the graveyard. Some passersby saw him and informed us. We took him to MB Hospital, where the doctors managed to save his life," the police said, adding. "After finding out the details of the incident, we detained the two minors who had tried to kill him. One of them is a class X student while the other is illiterate."
According to the doctors who treated him, the cut on Aarif's neck was so deep that "it could swivel fully".
02
52% Brahmins, 24% Sikhs, 18% Muslims practise untouchability: Study
The ongoing protests in Gujarat against the thrashing of a group of Dalit youth by cow protection vigilantes has put the spotlight on the disease of untouchability, again. What is especially alarming is that this abomination is rather widely accepted and practised.
A study conducted recently by Amit Thorat of Jawaharlal Nehru University and Omkar Joshi of Maryland University, US, revealed that "untouchability is being practised regularly in India". The researchers put two questions to as many as 42,152 Indians to asses attitudes towards untouchability - "Does any member in your household believe in untouchability?"; "Will you share your kitchen and bathroom with a member of a lower caste?"
According to the researchers, the responses of the people raised many questions - "Is Manuwad still the reason behind untouchability?"; "If Manuwad is the reason then why do some OBC castes treat SCs/STs in a manner similar to that adopted by upper castes towards most lower of the castes?"
The data yielded by the study is deeply worrying: 52% of Brahmins, 24% of Kshatriyas and Vaishyas, 33% of OBCs, 15% of SCs, 22% of STs, and 13% of others believe in and practise untouchability.
As far as religious communities are concerned, 35% of Jains, 30% Hindus, 24% Sikhs, 18% Muslims, 5% Christians, and 1% Buddhists were found to practise untouchability.
This explains, partly at least, why atrocities against Dalits registered a 40% jump between 2011 and 2014. In 2015, Gujarat saw a 163% rise in offences against Dalits as compared to 2014; in Chhattisgarh and Rajasthan, the rise was 92% and 58%, respectively. In all, Gujarat registered as many as 6,655 cases of atrocities against SCs last year, Bihar recorded 7,121, Chhattisgarh 3,008, Rajasthan 7,144 and Uttar Pradesh 8,946.
03
Bird watching: House Bunting finds a new home in south Rajasthan
Mandalgarh in Rajasthan has a proud tradition of preserving its rich cultural and architectural heritage. Now, it's helping preserve biodiversity: the city is the new nesting place of House Bunting. The bird was recently spotted in the area, marking the first time it has been seen in southern Rajasthan.
"The good news is that the bird is also making its nest here," said Ashwini Kumar Joshi, lecturer of Zoology at Manikya Lal Verma College, Bhilwara, who reported the sighting in a paper published recently in the journal Zoo's Print.
Joshi believes the bird has come to reside in Mandalgarh as its "atmosphere is very compatible".
In India, House Bunting is native to Kuchh in Gujarat, eastern Madhya Pradesh and western Rajasthan. It's the size of the sparrow and has black stripes on his head. In Gujarat it's known as Lehariyo Gundam. The bird commonly nests near old buildings, forts and nallahs.
04
Anybody care? Bangalore hospitals running on skeletal nursing staff
Bangalore's five major hospitals have been paralysed. Reason? A severe shortage of nurses.
Victoria Hospital, Minto Hospital, Bowering and Lady Curzon Hospital, Vani Vilas Hospital and KC General Hospital are reportedly functioning with only 23% of the sanctioned nursing staff. The hospitals have a combined patient footfall of over 5,000 a day. In all, over 30% posts for nurses in Karnataka's government hospitals are vacant.
According to the Medical Council of India, one nurse should look after no more than three patients in the surgical ward, four in the medical ward and one patient in the ICU. In these hospitals, however, there are an average of two nurses for 40 patients in the surgical ward, three nurses for 60 patients in the medical ward and one nurse for four patients in the ICU.
The Bengaluru Medical College and Research Institute, which governs these hospitals, claims the "policy related to appointment of nurses is coming in the way of fresh recruitment". There are 1,100 posts of nurses sanctioned for the five hospitals but only 250 are on duty. "Appointment policies and new rules are a hindrance. The nurses are hired for a few years on contract. This makes them turn towards private hospitals. Appointments against retired nurses are not taking place. The effort to fill vacant posts continues," said BMCRI's director Dr P K Devdas.
It's not that enough nurses aren't available. Karnataka has 509 nursing diploma institutes and 344 degree colleges from where 44,000 nurses graduate every year. But the state has been slow to fill the vacancies.
According to the National Medical Council, Bangalore, "there is going to be a continued shortage of nurses until the government gives appropriate wages and permanent jobs to nurses".