Urban dream: India has many miles to go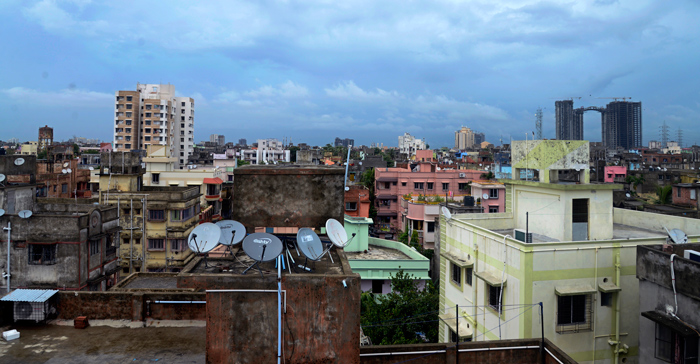 Prime Minister Narendra Modi met world leaders and silicon valley business magnets during his US visit and won their praises on the go. Grand plans were drawn for India's future and its contribution at a global stage.
But amid the cheer and support, let's not forget that the World Bank has termed India's urbanisation as 'messy and hidden', not to forget slow.
A report by the World Bank titled 'Leveraging Urbanisation in South Asia', categorically states that India had difficulty dealing with the pressure that an expanding population put on amenities like infrastructure, land, housing and environment.
But why did that happen? Here, we try to explain the urbanisation paradigm in India with the help of numbers:
The total number of people who live in urban India, according to Census 2011.
This is double the population of the Russian Federation.
The urban share of population in India increased by nine crore in just 10 years - in 2001 it was 28.6 crore.
Since Independence, the absolute increase in urban population is more than the rural population.
rupees
The amount of money budgeted for the Ministry of Urban Development in the last five years, translating into an average Rs 11,468 crore every year.
The average cost per year for urban development can easily build an estimated 115 km four-lane highway in India.
The funding for urban development doubled from Rs 8,296 crore in 2013-14 to Rs 17,628 crore in 2014-15.
crore
The amount of investment required over the next 15 years for urban development, according to a High Powered Expert Committee recommendation of 2011.
44% of this investment is required for urban roads, 20% for water, sewerage, solid waste management, storm water drains and streetlights, 14% for transport and traffic infrastructure and only 10.5% of investment is needed for redevelopment of slums.
Presently, there are 53 cities which are considered urban conglomerations - a rise of 18 new cities from 2001- which are the targets of this huge investment.
The number of sanctioned projects that were completed across nine sectors under the Jawaharlal Nehru National Urban Renewal Mission (JNNURM) - which was a scheme launched in 2005 for urban modernisation.
These sectors are : Water supply, sewerage, storm water drains, solid waste management, roads, development of heritage areas, urban renewal, mass rapid transport system and other transport system (foot over bridge, subway etc)
The total approved cost of the projects: Rs 14, 281 crore.
The number of Urban Infrastructure and Governance (UIG) projects completed by Gujarat under JNNURM.
Gujarat is followed by Maharashtra (44 projects completed), Andhra Pradesh and Karnataka. Andhra and Karnataka have completed 26 projects each.
The worst performing state is West Bengal, having completed a fourth of its designated projects.
The share of projects under Urban Infrastructure Development Scheme for Small and Medium Towns (UIDSSMT) that have been completed against sanctioned projects.
These projects are currently operational in 904 cities across India. A total of Rs 26,816 crore was approved.
80% of the approved cost is central financial assistance; of this only around 60% was released.
Or about Rs 1,122 at today's rate, is what India spent per capita per year on urban infrastructure, according to the 12th Plan.
China spends around $116 and New York spends $ 292. Moreover, according to the consulting firm McKinsey, urban India needs to spend $ 288 till 2030 on Tier 1 cities (more than 40 lakh population) to meet the requirements of the burgeoning urban populace.
Meanwhile, reports show that by 2030, India's largest cities will be bigger than many other countries of today.
The number of urban poor in India and whose monthly per capita expenditure stands at around Rs 2,477 according to the Census 2011.
These people depend on the State's help but as per recent data, water supply in India is available for only 2.9 hours a day in cities and towns. 30%-50% do not even have sewerage connections.
In another 10 years from now, nearly half a billion Indians ( or bigger than the population of China, USA and Western Europe put together ) will need new urban homes.
The number of 'smart cities' that the government has envisaged at Rs 100 crore per city per year.
The central government plans to spend Rs 48,000 crore over the next five years; the rest will be met by contributions from states and urban local bodies.
The idea is extremely challenging given that delay in projects and inadequate financing in urban infrastructure is the norm.