India's jugaad: Modi's demonetisation brings back the ancient barter system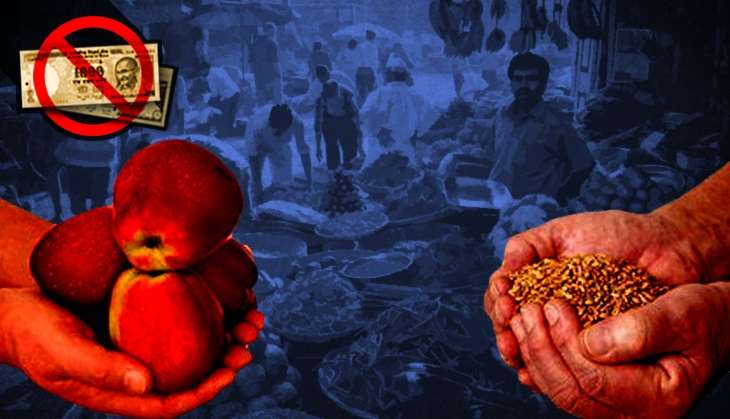 Modi's demonetisation brings back the ancient barter system (Arya Sharma/Catch News)
The demonetisation seems to have developed another side effect to it. It's brought back the
barter system. Yes, that old system, sans currency, where one exchanges one good for another, or trading goods as a means of payment.
The barter system, introduced by Mesopotamian tribes, at least as far as history can tell, dates back to 6000 BC. Bartering was very popular in the 1930s during the Great Depression, when there was an acute lack of cash, much like in India today.
On the evening of Tuesday, 8 November, Prime Minister Narendra Modi announced that the 500 rupee and 1,000 rupee notes were becoming illegal tender. This was an effort to clean up black money.
Overnight, 86% of cash become useless and suddenly, everyone was scraping for change. In the midst of all of this, citizens of India came up with other methods of paying for the goods they so desperately needed. Here's an example:
Exchanging one item of food with a neighbour for another because there is no cash to go to market and buy it. As a colleague put it, we must truly have returned to Ram Rajya.
But the bartering, in current times, is evidently not limited to goods of low monetary value.
The possibilities are endless. One of my colleague's aunt used a vegetable seller as an ATM in Janakpuri. The aunt paid the sabzi wala's BSES electricity bill of Rs 1,100 and got cash in exchange. The sabzi wala must have accumulated some cash because people were buying vegetables in small amounts and paying with 100 rupee bills.
Another woman recharged her sabzi wala's mobile phone for some veggies. And to pay for his auto ride, Gaurav Munjal bought his driver 5kg of rice via a mobile transaction.