India at the UNHRC: deafening silence on women's issues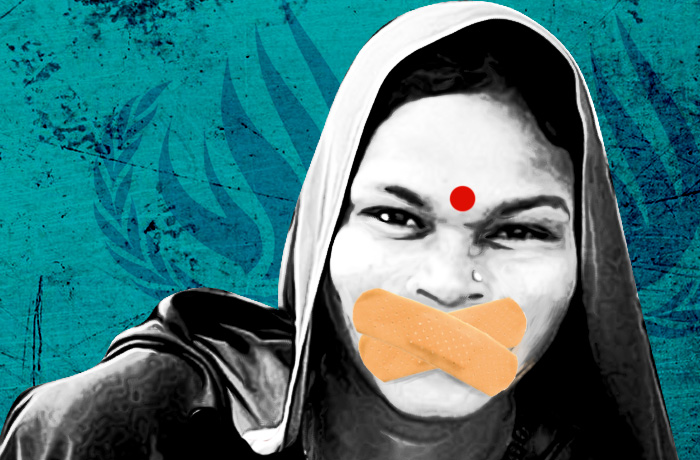 As the 29th session of the UN Human Rights Council (UNHRC) in Geneva drew to a close on 3 July, one thing became evident: India continued its policy of not engaging in a discussion about women's rights and civil society at large.
Essentially, India refuses to talk about some of the major issues that plague our society.
This is despite India winning an election last year to become a member of the 15-seat council for the second time running, giving it a place in the global body till 2017.
In fact, as Asoke Mukerji, India's permanent representative in the UN, put it: "It is a significant victory for India because the Human Rights Council is second-most in importance after the Security Council."
But instead of making an impact at the event, which lasted from 15 June till 3 June, India remained mostly inactive. It spends more of its time at such sessions fending off criticism.
This is at odds with the fact that India wants to be the big guy in South East Asia, as proven by various foreign trips taken by Prime Minister Narendra Modi.
"India's silence at such a global stage is particularly shameful because the Modi government is usually so loud when it comes to boasting in the international sphere. But where's its voice here?" says Kavita Krishnan, the secretary of All India Progressive Women's Association.
The session in question
For the 29th session, the two big thematic issues were 'violence against women', on which the UN has presented a final, comprehensive report, and 'discrimination against women', on which a Working Group presented a report.
Nearly 100 states responded to the issues at stake in these reports - some positively, others negatively.
India, on the other hand, chose not to respond. It simply did not engage.
India had nothing to contribute when it came to an interactive dialogue with the Working Group on discrimination against women either.
But if you look at this summary, it's listed as one of the speakers. That's primarily because the same event also witnessed a presentation by an expert on extra-judicial killings, which India had responded to.
There were other events related to gender rights as well - if you look at the list here, you will find India conspicuously absent.
At these conferences, reports have claimed that our "diplomats are often edgy and intolerant of any criticism of India's record".
India was mum when discussing gender discrimination, but took part in a session on extra-judicial killings
The one area where India's voice can be heard loudest is when Pakistan rakes up the issue of Kashmir. India then makes sure that any resolutions introduced are quashed loudly and immediately.
The truth behind the silence
Let's not forget the fact that India is ranked the fourth most dangerous country in the world for women, just after Pakistan, Democratic Republic of Congo (where an estimated four lakh women are raped each year) and Afghanistan.
Just consider this: according to the 2011 Census, the overall sex ratio is 940 females per 1,000 males, which translates into an appalling deficit of about 3.7 crore females in India. The sex ratio in the country is lower than the world average of 990 females per 1,000 males, and it ranks third in lowest secondary sex ratios in the world.
That means an estimated 1,300 female foetuses go 'missing' every day. Over the last century, calculations have found, nearly 50 million girls have gone 'missing' as a result.
These appalling facts make it even harder to understand India's silence at the most relevant table in the world to discuss human rights.
According to this 2014 report from the National Crime Records Bureau (NCRB), one woman dies every hour in dowry-related crimes in India.
The data also shows how, on an average, 93 women are raped every day in India. Also, nearly 100 million people, mostly women and girls, have fallen victim to trafficking in one way or another - domestic servitude or prostitution.
In all, 44.5% of girls are married before the age of 18.
The 2012 all-India figures for kidnapping and abduction show that females were the targets of 81.2% of all kidnappings.
Even so, India's political history is littered with programmes to protect girls: Dhanalakshmi, Manseerat, Bhagyalakshmi, Rajalakshmi, Ladli, Balri Rakshak Yojana, Indira Gandhi Balika Suraksha Yogana, Balika Samridhi Yojana, Beti Hai Anmol, Mukhya Mantri Kanya Suraksha Yojana and Mukhya Mantri Kanyadan Scheme.
Most have been staggered by an array of circumstances and ambiguities, which is why they have not worked.
And now, of course, there's the PM's 'Beti Bachao, Beti Padhao'.
A report in Mint points out that Modi's administration last year spent only a third of the Rs 90-crore budget allotted for India's child-sex ratio programme and, this year, slashed the ministry of women and child development's budget by 45%.
Even when the PM appropriated the 'selfie with daughter' campaign from a sarpanch of a village in Haryana - a campaign which caught the imagination of thousands of Indians across the world - it wasn't something which has the ability to solve the problem.
And let's not even begin to talk of the lack of rights for transgenders. In 2013, Section 377 of the Indian Penal Code - criminalising sexual activities 'against the order of nature' - was reinstated.
These stories tell a tale: it's not hard to see that the dispensation of proper justice is impeded by the pervasive prejudice against women in the police force, legal system, medical establishment and the political class.
The right noises
On average, most countries respond to reports on human rights violations in two ways.
Where the issue is fairly controversial, and has been highlighted by the media and NGOs, states tend to list all the measures they have undertaken to ensure they have at least made the right noises.
Alternatively, when the cause is one which should be supported at least in principle - disability rights, for one - the response is that they simply do not have the resources to comply.
Almost all western democratic countries hold Q&A and briefing sessions at the UNHRC with NGOs of their own countries however hostile the NGO may be.
But India has mastered the tactic of not taking NGOs along which criticise it. By doing so, it puts itself in the league of non-democratic countries that go to great lengths to keep such NGOs out.
Alternative reports and paths
It is a difficult process for an NGO to 'escort status' to go present a 'three-minute report' at such sessions. Most of the time, India carefully handpicks 'yes men' organisations so that it is not questioned extensively.
Hasina Kharbhih, founder of Impulse NGO Network in Shillong, who works with various organisations to combat human trafficking, says: "To have NGOs which present 'alternate reports' to that of the government can affect the country's image and in turn harms investments from other nations."
India has mastered the tactic of not taking NGOs which criticise it to such sessions
"The NGO picked is usually government funded and won't say anything contradictory to the government stand as they may lose that funding," Kharbhih adds.
In fact, her organisation presents its human trafficking reports at the Asian Human Rights Council, Singapore, and the Human Rights Watch in Japan, which then present them at sessions in Geneva and New York.
The recent Greenpeace and Ford Foundation controversies make the situation look even more dismal. So does the cancellation of the licenses of nearly 9,000 NGOs.
Handpicked
Rita Manchanda, the Research Director of South Asia Forum for Human Rights spoke of how even the Ministry of External Affairs' Development Partnership Administration (started in 2012), only works with certain NGOs - some such as SEWA and PRIA.
"India's official position is to not buy human rights conditionality and interfere with other countries," she says.
On the issue of gender, she says that India does have a history of speaking up about gender equality and pointed to how the country has contributed a total of $5 million to the core voluntary budget of UN Women (Entity for Gender Equality and the Empowerment of Women) over the past five years in installments.
All this makes the silence at UNHRC more baffling.
Business as usual
The job of the UNHRC is to give voice to the voiceless, protect the defenseless, shine the spotlight on perpetrators and call them to account.
Most people will be eager to point out that the UN is a toothless body ruled by biases and politics and that it does not have powerful mechanisms to enforce resolutions.
But if the UNHRC were such a joke, why would anyone even bother to make such statements? It is true that some countries do make big statements, but don't follow it through in action. But India does not even bother to pretend.
If Burundi, Sudan and Gabon can list out programmes they have put in place to eliminate violence against women (even if they are not working), the fact that India doesn't have anything to say looks a lot worse.
Even Saudi Arabia (where women are still not allowed to drive) said during the session that it is taking measures to protect its women from the various forms of violence they face.
"India failing to make empty promises is indicative of its utter lack of interest in the plight of its women," says a source at the UN who does not wish to be named.
"But when western media pick up on rape attacks in India, the Indian political and economic elite rise up in outrage and says the western media is painting a terrible picture to ruin our reputation."
India's outrage at how it is perceived internationally should be a reminder of the fact that we put up a terrible show internationally.