How Sushma Swaraj and John Kerry put Pakistan in its place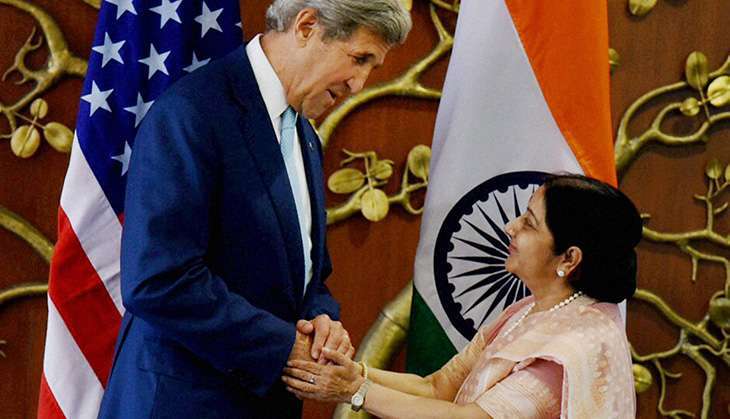 US Secretary of State John Kerry, who is on a three day visit to New Delhi, announced that India, US and Afghanistan will meet for a trilateral dialogue on the sidelines of the UN General Assembly next month in New York. This is yet another signal of realignment of the US diplomacy in the region where it was not so keen on India's involvement in Afghanistan.
India and the US, have been working very closely on a plethora of issues including violent extremism, defence and commerce and clean energy among others. "We are witnessing a moment that defines for certain a very different and renewed relationship between the United States and India," Kerry said.
Kerry also warned Pakistan on providing sanctuary to extremists, which continues to be a serious concern not just for India but also for Afghanistan. While India continues to prod the belligerent neighbour to act and end support to terror groups, Afghan President Ashraf Ghani, while chairing a security review meeting after the ghastly attack on the American University of Afghanistan's campus in Kabul, had directly dialled Pakistani Army Chief General Raheel Shareef instead of Prime Minister Nawaz Sharif, informing him that the attack was planned on Pakistani soil and urged it to take action.
The move to hold the trilateral meet may further isolate Pakistan, which is already seething after Prime Minister Narendra Modi raised the issue of atrocities and human rights violations in Balochistan. While applauding India's developmental efforts in Afghanistan, Kerry, pointed out that a stable Afghanistan is in the interests of not just the US and India but also Pakistan. And that Pakistan should feel encouraged and not isolated by this even as he underscored the need for Pakistan to join the fight against terror.
The remarks come on a day when India and the US signed The Logistics Exchange Memorandum Of Agreement in Washington, a major defense agreement, which would allow for reciprocal exchange of logistic support, supplies, and services between the two armed forces. While the Chinese Foreign Ministry Spokesman gave a measured response saying that China hopes that it will bring stability to the region, other experts were not so generous with some commenting that it could invite strategic trouble for India.
Meanwhile, the Pakistan led Quadrilateral Coordination group which has China, the US and Afghanistan as other members has so far failed to have any considerable impact on the situation in the war-torn country. Pakistan has failed to bring the Taliban leadership to the negotiating table to end the violence in Afghanistan.
Earlier, External Affairs Minister Sushma Swaraj announced that India and the US have decided to work together to strengthen the National Unity Government in Afghanistan. The coalition government, is facing a serious crisis after Chief Executive Officer Abdullah Abdullah had openly come out against President Ashraf Ghani. "We also had detailed discussions on the developments in our region, particularly Afghanistan. We have agreed to work together to strengthen the National Unity Government in Afghanistan," Swaraj told the media at the joint press conference at the Jawaharlal Nehru Bhawan after the conclusion of the second Indo-US Strategic and Commercial Dialogue. India enjoys considerable influence in the war-torn country largely due to its huge development outreach which involves projects worth around $2 billion including the newly inaugrated Salma Dam in Herat and the newly constructed Afghan Parliament building.
In a departure from its earlier policy, Indian government is also providing military support to the Afghan government. Last year, it had supplied four Mi25 attack helicopters to Kabul. Afghan Army Chief General Quadam Shah Shahim, is in New Delhi on a four day visit to seek more military co-operation including the attack helicopters, small choppers and other equipment. Earlier, General John Nicholson, who commands the NATO mission in Afghanistan, too, had backed Afghanistan's demand of helicopters from India.
Pak-sponsored terrorism
Meanwhile, the Indian External Affairs Minister in the beginning of her statement to the press pointed out how she has raised the issue of Pakistani sponsored terrorism in India. "I briefed Secretary Kerry on the continuing problem of cross-border terrorism that India and the larger region faces from Pakistan. He and I agreed that Pakistan needs to take fast track actions to catch perpetrators of 2008 Mumbai attack and 2016 Pathankot attack," Sushma Swaraj said. "We agreed that nations must not maintain double standards, such as the categorisation of good and bad terrorists," Swaraj pointed out while adding how the two leaders "reaffirmed the urgent necessity for Pakistan to dismantle safe havens for terrorists and criminal networks including Lashkar-e-Tayyeba, Jaish-e-Mohammad and D-Company."

While Kerry did not mention Kashmir - something which may come up

tomorrow

in his discussions with Prime Minister Narendra Modi

tomorrow

, where he may also discuss the rising hostilities with Pakistan - and at one point seemed to suggest that Pakistan had lately been acting against terror groups like the Haqqani network, he mostly endorsed India's concerns. "We will not make a distinction between a good or a bad terrorist. Terror is terror," Kerry said as he backed India's position that perpetrators of the Mumbai and Pathankot attacks be brought to justice. Kerry, interestingly, is not going to Islamabad during this trip.

Swaraj, meanwhile, ruled out the possibility of talks with Pakistan unless the neighbouring country took action on terror. "We are not the ones creating tensions," Swaraj said while pointing out that Pakistan did things which forced India to suspend the dialogue.

Kerry and Swaraj also spoke on the need to strengthen the international legal regime to counter terrorism. "We agreed on additional measures to strengthen our counter-terrorism cooperation, specifically, to work for early operationalisation of the Agreement on exchange of information on known or suspected terrorists. We will also intensify intelligence sharing and continue to work closely to get terrorist entities listed by the UN system, by coordinating our approach to the UN 1267 Committee," Swaraj said.

Earlier, Kerry also met National Security Advisor Ajit Doval

today

where regional security challenges and counter terrorism efforts came up for discussion according to US State department Spokesman Mark Toner.