How Somnath Bharti ended up on the wrong side of the law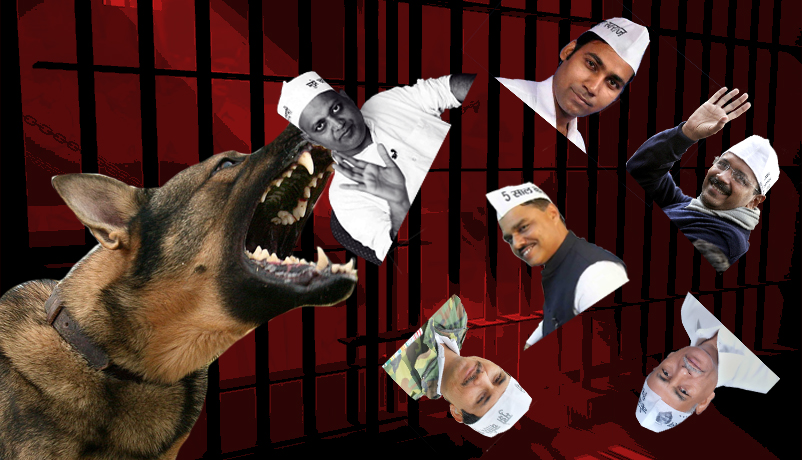 On the run
AAP\'s former Delhi law minister Somnath Bharti is in hiding
His wife has accused him of domestic abuse, attempt to murder
AAP claims the allegations are politically-motivated
Past catches up
Bharti doesn\'t have a good reputation when it comes to women
He humiliated 4 African women in public for allegedly peddling drugs
He\'s the latest AAP wanted by the law; 3 MLAs have already been arrested
"This too shall pass," Somnath Bharti, maybe in a moment of hope, tweeted four days ago.
By then, the police had served him a notice to join the probe into his wife's allegation that he had tried to kill her, and was readying to send another.
Bharti didn't respond to the notices, thus squandering his only chance to get anticipatory bail and stay out of jail. Indeed, a Delhi trial court duly rejected his bail plea on 14 September. The police are now searching for him with a non-bailable warrant in hand.
It's quite a fall from grace for Bharti, from Delhi's law minister to fugitive from the law.
And it may only complicate the matters for the founding member of AAP. Indeed, speaking to Catch, Bharti's wife Lipika Mitra said her husband has already proven his guilt by going into hiding.
"It was on 12 September, I think, when he disappeared. There is no trace of him since. I appeal to him to come back and, like a responsible citizen, argue his case and prove me wrong if he thinks so," she said. "He founded our relationship on the basis of lies and that's what he's got trapped into now."
Lipika said Bharti had lied to her early on in their relationship by claiming to own an international law firm. He had also blackmailed her to pay for their wedding, she added, by threatening to call it off if she didn't foot the bills.
"I don't care what he does for a living. He could be a businessman or be a rickshaw-puller; it doesn't matter because he hasn't supported my kids or me with a penny," Lipika said.
"I don't have a father or a brother to fight on my side, I'm all alone. But I'm hopeful of getting him punished for all the trauma he's caused me."
He blackmailed me to pay for our wedding by threatening to call it off, says Lipika Mitra
Barkha Singh, the former chairperson for the Delhi Commission for Women, said by fleeing the law, Bharti has vindicated her.
"Till recently, AAP was attributing ulterior motives to my support for Lipika. They said because I am from Congress, I'm egging Lipika on to build a case against one of their members," Barkha said. "But time and circumstances are proving that I was supporting a wronged wife for her own sake, not due to ulterior motives."
She added that Kejriwal, "who talks much about security for women", would do well "to advise his friend to come out of hiding and face the law".
Poor track record
Bharti has been booked for several penal offences, including domestic violence and attempt to murder. The FIR was registered on the basis of Lipika's complaint to the Delhi Commission for Women.
In the complaint filed on 10 June, Lipika alleged that Bharti had been abusing her since their marriage in 2010. She claimed her husband beat and tortured her and even tried to kill her once.
While AAP continues to support Bharti, claiming the charges against him are politically-motivated, the former minister doesn't really have a boast-worthy record of dealing with women.
In January last year, Bharti kicked up a storm when he forced four African women out of their houses in Khirki Extention in the middle of the night, accusing them of peddling drugs and flesh trade. Activists and the media called him a racist and a misogynist.
Kejriwal talks about women's security, he should ask his friend to face the law, says DCW ex-chief
The women, who later lodged a complaint against him, were allegedly forced to urinate in public to give Bharti's supporters samples for testing. Bharti never apologised for publicly humiliating the women.
On 4 August this year, he again sparked outrage with his comments, made in the assembly, about women's security. This is what he said: "I am fully confident that if the Delhi government is given full control (over security), beautiful women will be able to go out even after midnight without any fear."
Not in good company
Bharti isn't the only liability for the ruling AAP right now. The party has seen many of its members fall from grace after coming to power with a historic majority.
Its MLA from Delhi Cantonment, Surinder Singh, was arrested last month for beating up a government official. He was the third party MLA to be arrested in as many months.
Tri Nagar's Jitender Singh Tomar had to resign as law minister after being accused of procuring fake degrees, and arrested in June.
Kondli legislator Manoj Kumar was arrested the following month on charges of cheating and criminal conspiracy.
An FIR was also registered against a member of the party, Naresh Balyan, for storing liquor illegally during elections in Delhi. Another leader and Delhi assembly Speaker Ram Niwas Goel has been charged with beating up people.
According to police records, no fewer than 23 AAP legislators have cases registered against them, some of which date back to the late 1990s.