Home runners: Meet 5 million people who help grow the GDP but are never counted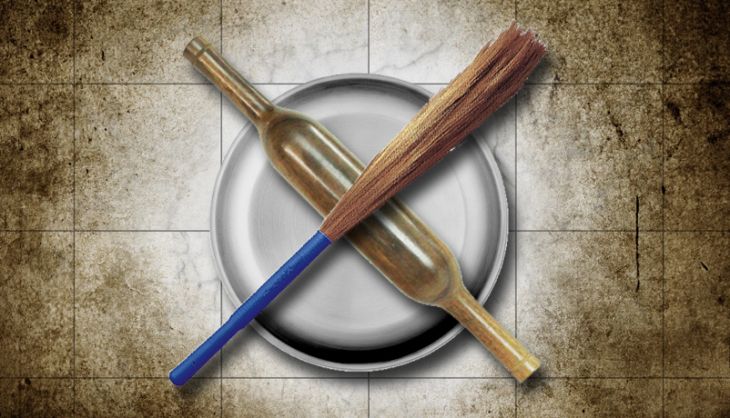 India's economy runs on many invisible shoulders. One set of those shoulders is the domestic worker.
The formal sector would grind to a halt if millions of Indian homes weren't kept afloat by house staff - maids, cleaners, cooks and drivers. Their presence enables the middle-class and rich to go to work. They provide an indispensable web of child care.
Yet, they rarely make it to national conversation. Their economic value is never computed.
Instead they work gruelling hours, often suffer indignity and abuse, and have no fixed pay or rights.
Now, there is a small glimmer. The Narendra Modi-led government has finally drafted a long overdue National Policy for Domestic Workers. This is pending approval of the Union Cabinet.
The policy mandates 15 days of paid leave in a year and suggests provisions against sexual harassment and bonded labour.
Most importantly, it mandates a minimum salary a month for full-time and skilled domestic workers.
Whether this policy will be approved or not is still uncertain. But these numbers might help make the issue more visible:
That's the minimum monthly wage domestic workers will earn if the policy is approved.
A domestic worker is being defined as someone employed for remuneration in cash or kind in a household. They may be on a temporary or permanent basis, work full-time or part-time and could come directly or through an agency.
Family members of any employer would not be considered as a domestic help.
That's what the Supreme Court had set down as a guideline minimum wage per month.
Currently, wages depend on tasks performed, hours of work, the social status of workers and their skills (or the lack of it), according to a report by Women in Informal Employment: Globalising and Organizing (WIEGO).
Is the number of registered domestic help in India. That's three times the number of people in Goa.
The real numbers would be much higher as not all domestic help are listed.
More than 60% of them - about 3 million - are women in urban areas. They have no medical benefits or allowance.
This number is based on the National Sample Survey Organisation (NSSO) 2004-05. It can be assumed the current figures are higher.
Across the globe, about 53 million work as domestic help. 83% of these are women.
The number of cases registered for violence and torture of maids between 2010 and 2012.
That's an average of 9 incidents per day. Again, this is heavily under-reported.
Most such cases were registered in Andhra Pradesh (1,744), Tamil Nadu (1,528) and West Bengal (1,457).
Physical and mental harassment of maids is not confined to any particular class in India.
Two years ago, a BSP MP was accused of conniving with his wife to kill a maid servant. The party is known for representing the oppressed and marginalised.
Last year, Devyani Khobragade, an Indian consular official in the United States, was charged with visa fraud and underpaying her domestic help.
The number of states that have got domestic workers covered by the Minimum Wages Act: Kerala, Karnataka, Andhra Pradesh, Bihar, Jharkhand, Odisha and Rajasthan.
Yet, Kerala which pays the most at Rs 3,380 per month is way below the desired mean. Rajasthan pays the least: Rs 2,106 per month.
On an average, the number can be pegged at Rs 2,500 per month.
That means an average domestic worker gets to spend around Rs 83 per day - hardly enough to buy anything more than a kilo each of onion and potato.
The share of employers who didn't pay anything extra to domestic workers while hosting parties or having guests over, according to a survey on part-time domestic workers in Delhi done by women's organisation Jagori.
There were no fixed norms for paying wages on time, making it tough for the workers to pay rent, school fees or buy groceries, the study
Court case that shows the plight of domestic workers in India: Mrs Florence Joel vs Mater Dei School and Ors
Florence Joel's service was terminated after she worked in the school for 13 years without any benefits. There was no appointment letter and the school said Florence was appointed as a benevolent measure. The court said as there was no formal employment letter and no records thus she was a part-time employee. Her petition was dismissed.
Most common problems faced by domestic workers: sexual discrimination, accusation of theft and caste discrimination.
"Domestic workers are forbidden from using toilets at the homes in which they work. There is no place for them to rest or to eat their food. They do they have access to proper toilets or safe drinking water. They have to rely on the mercy of their employers for all these facilities," says Anita Juneja of NGO Delhi Shramik Sangathan.
So will this draft policy bring respite? No, says Ananya Bhattacharya, president of Gharelu Kamgar Sanghathan, Gurgaon.
"There is no national Minimum Wage. State governments fix minimum wages across sectors," she says.
"Apart from a national minimum wage, it is important to bring domestic workers under the union schedule of employment and covered by labour laws so that they can avail benefits such as pension and healthcare."