Hindu mobilisation, Muslim fear: is Dadri the Hindutva road map for UP polls?
A palpable change has come over Bishara, Dadri, in the last 10 days. Since the forensic test of the meat, over which Mohammad Akhlaq was murdered, was released and debated by the media, the situation here has worsened.
The meat, according to Mathura's forensic laboratory, belonged to "cow or its progeny'.
One of the Bishara has witnessed since is the manner in which at least three Muslim families have fled, fearing communal violence. Muslims in the area spoke to Catch about the constant fear they are living in. About how they have stopped sleeping in their houses, and instead begun sleeping on their verandahs and terraces.
Also read - No remorse: villagers in Bishara say 'beef-eating' Akhlaq deserved to die
"There is definitely a lot of tension in the air. These people keep holding panchayats in the village; we don't know what's happening. But it is not happening for the better. We have stopped sleeping in our bedrooms for fear of violence. We sleep on our verandah so we can spot people coming and can shout for help, just in case," said Sakeena Begum.
Mohammed Idris said he was "waiting and watching" the events. What is worrying him is not just that business at his saloon has gone down, but that anti-Muslim emotion seem to be growing by the day.
Several other Muslims Catch spoke to shared similar feelings of fear, which has only grown since Monday, when a "panchayat" assembled in the village, and demanded action against Akhlaq's family for "cow slaughter".
Not just in this village, such "panchayat" meetings are being held in several villages in and around Dadri, and several senior BJP leaders have reportedly offered full support to them. One of the leaders reportedly addressed such a meeting in Sapnawat village Tuesday, while another has promised to meet Akhlaq's alleged murderers in jail on 12 June.
The agenda of all these congregations of mostly Hindu hardliners is the same: press the UP government to book Akhlaq's family for "cow slaughter" and drop charges against his alleged murderers within 20 days or prepare for a showdown.
Why 20 days? Apparently, to allow hardline Hindu groups to prepare the ground for the "showdown" by mobilising villagers for a Mahapanchyat if one is required to be called. That's one reason. The second could be that they are planning to provoke communal violence around Eid, when Muslims usually cook a feast to celebrate the end of Ramzan, the month of fasting.
The Muslim villagers could be accused of consuming beef, as happened in Akhlaq's case, and a communally-charged campaign could be run based on rumours alone.
Meanwhile, what's noteworthy about the "panchayats" being held across Dadri is that they aren't really panchayats, where all sections of the society are represented by democratically-chosen people. The "panchayats" that are being held now are organised by hard-line Hindu groups and exclude all Muslims.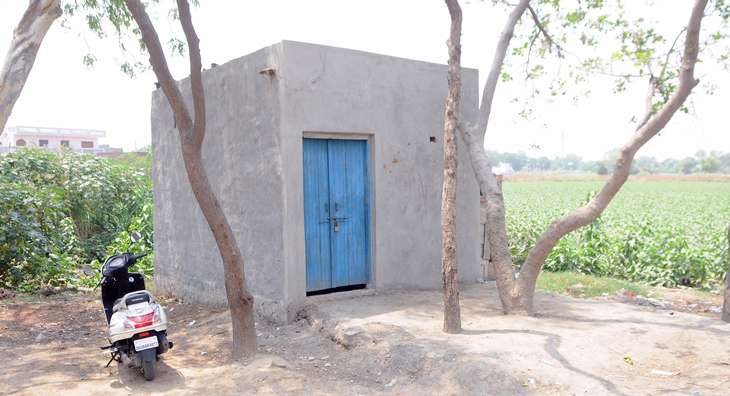 All this is happening while Muslims are withdrawing from the social life, and in some cases fleeing. According to villagers, at least three families have fled Bishara since Monday's panchayat. Not without reason. In villages around Bishara - Sapnawat, Samana, Takrana, Uncha Amirpur, for instance - such "panchayats" are being regularly held, with an aim that is barely masked: to stir up emotions over the issue of cow slaughter. Frighteningly, the meetings are being attended in large numbers.
As Sanjay Rana, Pradhan of Bishara, put it, "We are all sitting on a powder keg right now. Someone just needs to ignite it."
Rana and his associates feel vindicated now that the forensic exam has "confirmed the suspicion" that Akhlaq had consumed beef. And they're laying bare their "feelings" for everyone to know. Rana's panchayat has already given the state an ultimatum to free Akhlaq's alleged murderers within 20 days and book his family for "cow slaughter" or else they would call a Mahapanchayat - a clear threat of violence.
"We kept shouting that Akhlaq had slaughtered the calf but no one heard us. Now people know we were speaking the truth. But we know that the police won't do anything. But to be fair, we have given them 20 days to meet our demands," Rana said.
He added that if the police didn't do anything, he and other villagers would approach the courts. "If they too let us down, we will have no option but to convene a Mahapanchayat. And let me tell you that people are really angry right now and more than willing to answer the call. Only yesterday, more than 1,000 of our friends in Bulandshahr answered our call for protest."
More hard-line outfits such as Gau Raksha Hindu Dal, which operates along with several similar groups in the area, dismisses the 20-day ultimatum as a show of weakness.
"We have been calling for a Mahapanchayat since Akhlaq slaughtered the calf. Now since the report came out we have been protesting in Dadri and adjoining areas almost every day. Yesterday I, along with 600 of my boys, took out a rally in Dadri. We want Akhlaq's family hung for cow slaughter. We can go to any extent," said Ved Nagar, the leader of the group.
He claimed several senior BJP leaders had lent support to his group. One of them has been booked several times for making hate speeches.
Things are moving fast in Bishara. Some Hindu villagers claimed to have found an eyewitness to the alleged slaughter of a calf by Akhlaq, and said they would now approach the police to get an FIR registered.
A BJP leader whose son is the prime accused in Akhlaq's murder, also named Sanjay Rana, claimed Akhlaq's neighbour Prem Singh had seen him slaughter the calf. "He saw it happen on 25 September. He was in his house and he saw Akhlaq slaughtering the calf secretly in his yard."
Why didn't the eyewitness go to the police? "Because when Akhlaq was handled by the angry crowd, police scared away all men from the village," Sanjay Rana replied.
Catch News
But wasn't Akhlaq lynched on 28 September, three days after the alleged slaughter? "These are technical details that you have to ask Prem Singh," Rana responded.
To verify Rana's claim, Catch went back to Akhlaq's house and found that it's separated from Prem Singh's house by a wall at least 30 feet high, over which it would be impossible to peep.
Such facts, though, don't seem to matter in the charged atmosphere that has now gripped Dadri, and beyond. Political parties are doing nothing to diffuse the communal tension and prevent it from leading to large-scale violence. It's not surprising given that the assembly election in UP is barley months away, and arguably all parties in the fray see electoral benefit in letting communal passions simmer.
More in Catch - Beefed up BJP, weak SP: Is Dadri heading for Muzaffarnagar 2.0?
BJP's formula to win UP: play communal ball with SP